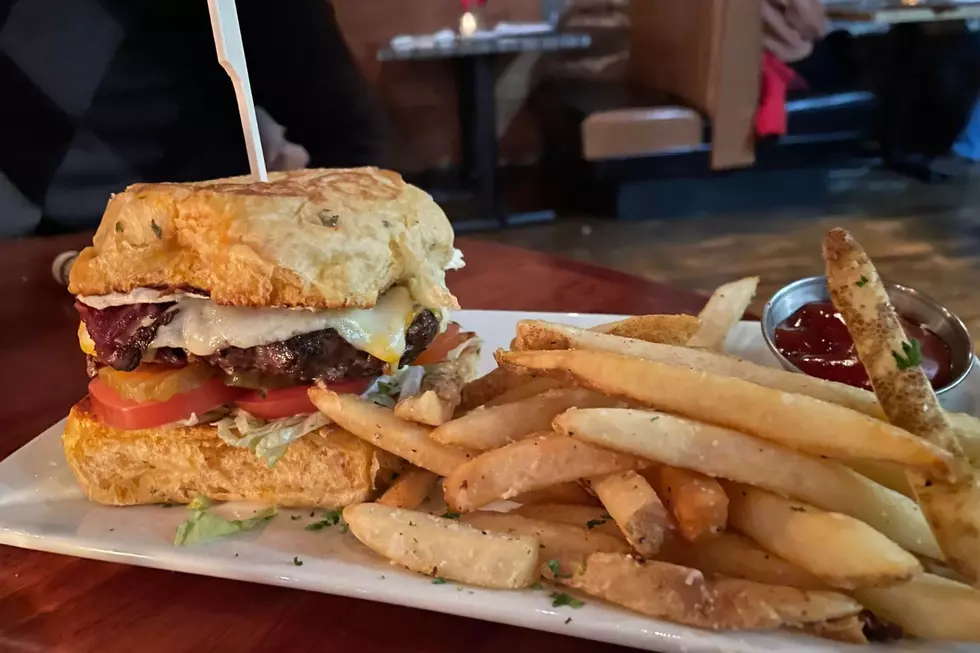 Sioux Falls Burger Battle: Chef Lance's 'The Big Bison Burger'
Christine Manjka (TSM)
January in Sioux Falls only means one thing...Burger Battle! This year's Downtown Sioux Falls Burger Battle is pretty intense. 32 savory burgers from local Sioux Falls restaurants are looking for your stomachs and votes.
When it comes to burgers, there definitely is one for everyone, especially in Sioux Falls! Sponsored by First Western Bank & Trust, the 10th annual Downtown Sioux Falls Burger Battle features burgers residents can sink their teeth into. Looking to satisfy your sweet tooth or for a little extra heat with your meat? You'll find it on this year's Burger Battle ballot.
Chef Lance's on Phillips (the reigning champions) is the next stop on my Burger Battle journey. This restaurant is one of the many local jewels in the Sioux Empire. The food is so delicious and the expectations are high for its "Big Bison Burger."
According to a previous article from my co-worker Jeff Harkness, the Big Bison Burger is an "8 oz Fresh Ground Buffalo Burger topped with Beef Bacon, Cheddar, Provolone, and Boursin Cheese on a bed of Shredded Lettuce, Tomato and Pickle, drizzled with Sriracha Ranch. Served with our house-cut fries." Just reading this description is making me hungry all over again.
The Big Bison Burger lives up to its name. The height of the burger itself can be a little intimidating. The first bite even packs a big punch. Multiple flavors stand out in the Bison Burger, especially a salty taste. The house-cut fries from Chef Lance's on Phillips are always mouth-watering with or without ketchup. My favorite part of this burger has to be the bun. The soft, flaky bun is akin to a buttery croissant.
I'll be honest: I only had a couple of bites of this burger. However, my fiancé enjoyed this meal and was left satisfied...also full.
Don't forget! Residents can vote for their favorite burgers by TODAY Tuesday, January 31st on the DTSF Mobile Passport. Get to eating, Sioux Falls!
Best Bars in Sioux Falls
There is always something different to try when you visit a local
Sioux Falls
bar or brewery. There could be a specialty drink at one bar and a new beer recipe at the next. It's kind of like a smorgasbord of drinks to taste test. The only problem is deciding which bars are the best bars in Sioux Falls to explore with your family or friends?
This is a difficult decision just because there are so many great local options. Luckily, our friends at
Yelp
identified the top ten bars in Sioux Falls thanks to numerous reviews on each establishment.
The next time it's your turn to select a bar for a night out on the town, be sure to visit one of these ten bars highly reviewed by
Yelp
.
Here Are 13 of Your Favorite Fried Foods
Some foods need a fryer, others should never go near one. Forget baking. We are so obsessed with eating deep-fat fried foods. And every time you turn around, there's another menu filled with most of the items that have bathed in a hot-boiling fat vat.
There seems to be no end to what a deep fat fryer can cook. And we prove it every day with our love of crispy, greasy, burnt-tongue, salty foods.
I won't argue that an order of onion rings or sweet potato fries is the best marriage partner to a burger. Especially when they are made from scratch. So, pile them high.
What are some other delights that need the fryer?