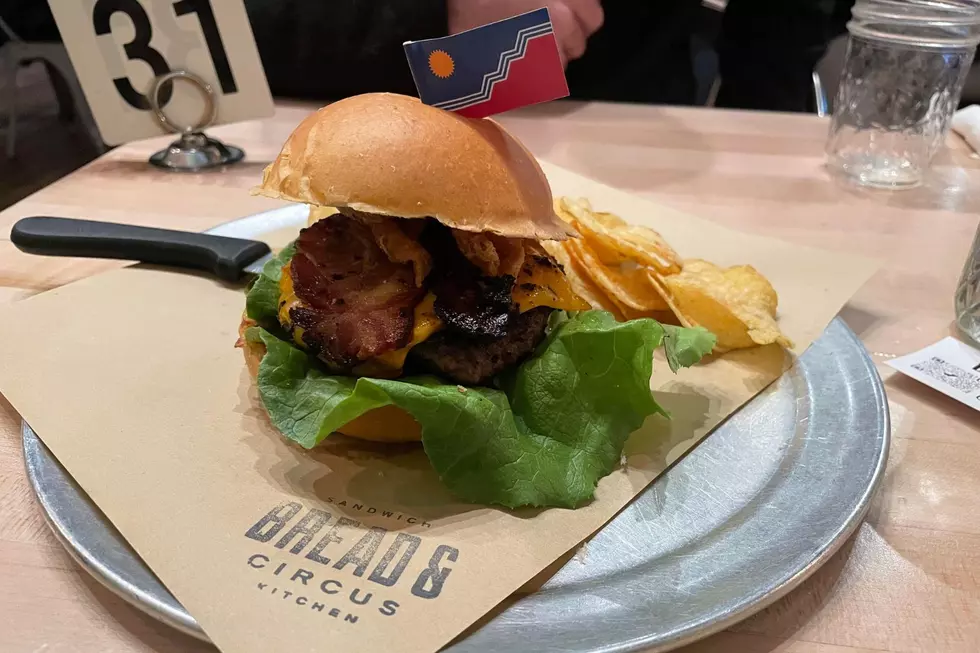 2023 Downtown Sioux Falls Burger Battle: Bread & Circus
Christine Manika (TSM)
January in Sioux Falls only means one thing...Burger Battle! This year's Downtown Sioux Falls Burger Battle is pretty intense. 32 savory burgers from local Sioux Falls restaurants are looking for your stomachs and votes.
When it comes to burgers, there definitely is one for everyone, especially in Sioux Falls! Sponsored by First Western Bank & Trust, the 10th annual Downtown Sioux Falls Burger Battle features burgers residents can sink their teeth into. Looking to satisfy your sweet tooth or a little extra heat with your meat? You'll find it on this year's Burger Battle ballot.
It's hard to decide which of the 32 burgers to try. But someone has to do it! This next burger is the Chicken Bacon Ranch Burger from Bread & Circus Sandwich Kitchen. This small but mighty burger is called the "Chicken Bacon Ranch Burger." The local sandwich shop is known to create delicious meals, including ones for the annual Downtown Sioux Falls Burger Battle.
According to a previous article from my co-worker Jeff Harkness, the Chicken Bacon Ranch Burger is a "6oz Certified Angus Beef, House-Ranch Bacon, Smoked Cheddar, Fried Chicken Skins, Butter Leaf Lettuce, House-Buffalo Ranch, Brioche bun from Look's."
Some people might not be the biggest fan of fried chicken skins. Personally I wish I could taste more of the chicken on the burger. Despite its smaller size, the burger still is a great meal to enjoy with plenty of juicy flavors!
As a heads up, patrons should allow ample time for their Chicken Bacon Ranch burger. Bread & Circus Sandwich Kitchen can get pretty busy! While you're waiting for the meal, enjoy a local brew with your crew.
More reviews from this year's Downtown Sioux Falls Burger Battle can be found here:
Don't forget! Residents can vote for their favorite burgers by Tuesday, January 31st on the DTSF Mobile Passport. Get to eating, Sioux Falls!
Restaurants That Are Dog Friendly In Sioux Falls
My Top 5 Favorite South Dakota Made Foods
As I was slicing a piece of cheese off my block of
Dimock Dairy
Colby cheese and boiling a ring of
Bluebird Locker
German sausage on the stove, I started thinking, "What foods is South Dakota known for?'
Then I realized the state is known for some of my favorite foods, are they're actually made right here in
South Dakota
!
So, I decided to search my cupboards and refrigerator looking for other South Dakota-made foods and came up with my Top 5.