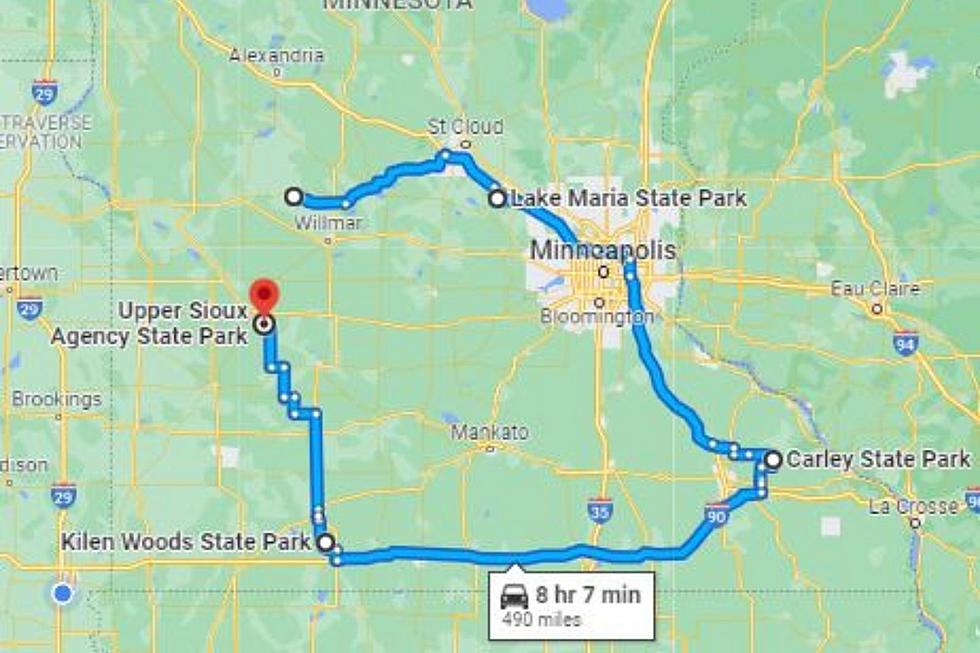 Take the Minnesota 'Hidden Gem' Road Trip
Credit: Google Maps
It's just about time for road tripping season in Minnesota, but rather than visiting all of the usual hot spots, why not try some off-the-beaten-path hidden gems like the ones on this list?
Avoid the crowds and see some truly extraordinary sights at these five parks in the Land of Ten Thousand Lakes.
According to Only In Your State, the trip takes a grand total of 8 hours and covers nearly 500 miles.
Monson Lake State Park: This diamond in the rough is located just outside of the town of Wilmar. With an abundance of hiking, fishing, camping, and picnic areas, it's a great place to begin your road trip.
Lake Maria State Park: Head east and you'll soon find Lake Maria State Park. A place where you can get lost in the forest, experience some of the best bird watching in the state, find some great fishing spots, and even hop in a canoe.
Carley State Park: Next up, head south for 2 hours until you run into Carley State Park, where you can fish for trout, see the abundance of wildflowers, and hike along its numerous trails.
Kilen Woods State Park: Make your way westward and make a pit stop at Kilen Woods State Park. This is an excellent place for paddling along the rapids, hiking, and the perfect spot for a picnic.
Upper Sioux Agency State Park: Saving the best for last? You betcha! Upper Sioux Agency has breathtaking views from its bluffs, plenty of wildlife, and even a number of historic sites.
Story Source: Only In Your State Minnesota
TRENDING FROM RESULTS-TOWNSQUARE MEDIA SIOUX FALLS:
$11 Million Minnesota Mansion For Sale Is Beyond Belief
Ya ever wondered what kind of home you could get in Minnesota for $11 Million? More than I could imagine. It's a lot!