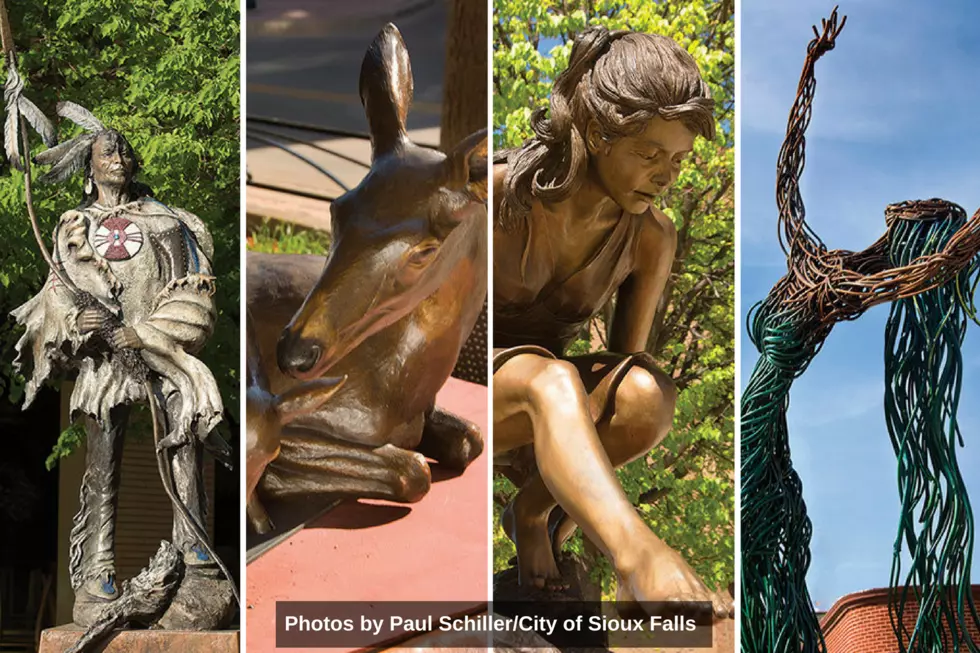 SculptureWalk Organizers Removing Most Pieces in Sioux Falls
Paul Schiller/City of Sioux Falls
All of the Sculptures from the SculptureWalk are being taken down in Sioux Falls and organizers are okay with it.
The removal of the art pieces throughout Sioux Falls began on Saturday (April 21) starting with the most prominent pieces on Phillips Avenue according to organizer Jeff Hanson in a statement. "Four volunteer teams, along with welders, cranes and forklifts take down the existing sculptures to be transported to their next destination." said Hanson. "The next two weeks are spent relocating and scraping and painting all 50 plus pedestals in preparation for the 2018 exhibit. The Bison sculpture, Ikicin, at 12th and Phillips and the plane sculpture, When Pigs Fly, at 13th and Phillips will be moved on April 28."
SculptureWalk Artist Reception is scheduled for May 4 from 5:00 PM to 8:00 PM at the Holiday Inn City Center Starlight Ballroom.
The SculptureWalk 2018 15th Anniversary Exhibit installation of 57 new pieces starts May 5. This year features a number of large sculptures that will be interesting to see how they are installed according to Hanson. "The sculpture "Mushroom" will be one of the highlights of the exhibition and will be installed in front of The Phillips Avenue Diner."
Also on May 5, the Artist Parade will include over fifty of the artists and their families on a progressive dinner and tour of Downtown Sioux Falls starting at 5:00 PM.
---