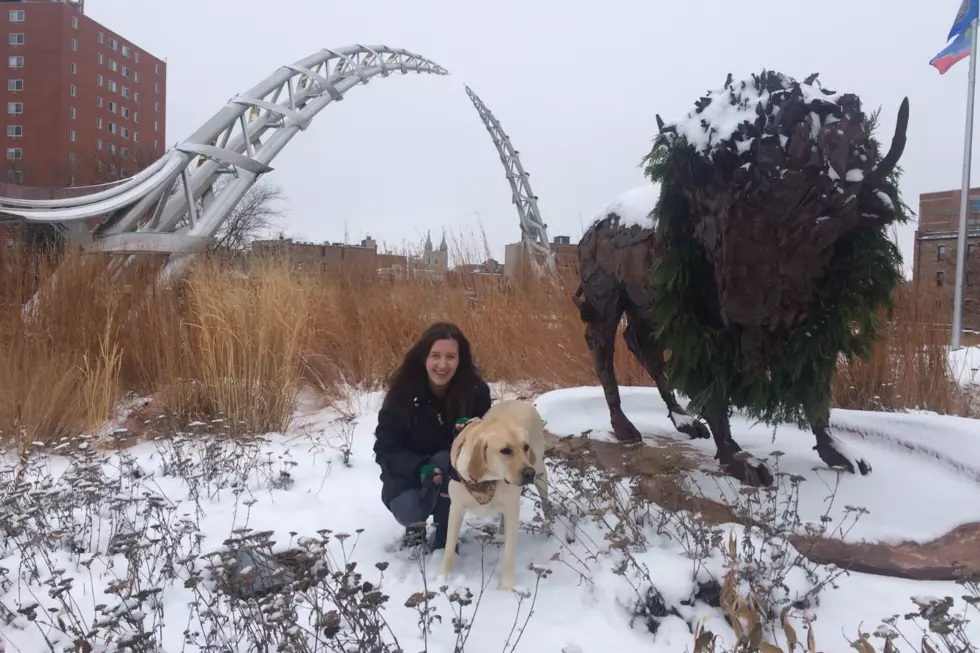 Vacation Wanderings: Honey Takes Over The Sioux Empire!
Credit: James Manika
After months of anticipation, my puppy, Honey traveled to the Sioux Empire, along with my dad of course (haha)!  It was great spending time with some family over the Thanksgiving holiday.
The weather didn't really cooperate, however we made the most of it! One of the major things on my dad's to do list was to visit the Arc of Dreams.  When he approached the new Sioux Falls attraction, his words were, "It's pretty cool to have this massive sculpture in your city.  I hope this means there will be more development along the riverwalk."
Downtown Chicago is known for the Chicago Riverwalk, and my dad loves to walk along the river when it's a nice day. He thinks this feature enhances city life, and Sioux Falls could benefit from this sort of development.  It's certainly a great idea!
Aside from exploring the downtown area, my dad cooked a ton during his visit.  I can cook...but not as well as he can.  He taught me how to cook some of my favorite meals including salmon pasta and chicken lemon rice.
Honey did a lot sleeping, playing, running, and meeting new people who owned dogs.  My dad and I also entertained Honey when we were playing the Wii.  We get competitive.  Honey was pretty interested in what we were doing in front of the television. This was Honey's first Wii experience!
Having a little slice of home visit me for a few days sure was fun! I cannot wait until I return home for Christmas to see my entire family and my friends!  Like the song says, "Home for the holidays, I believe I missed each and every face!"