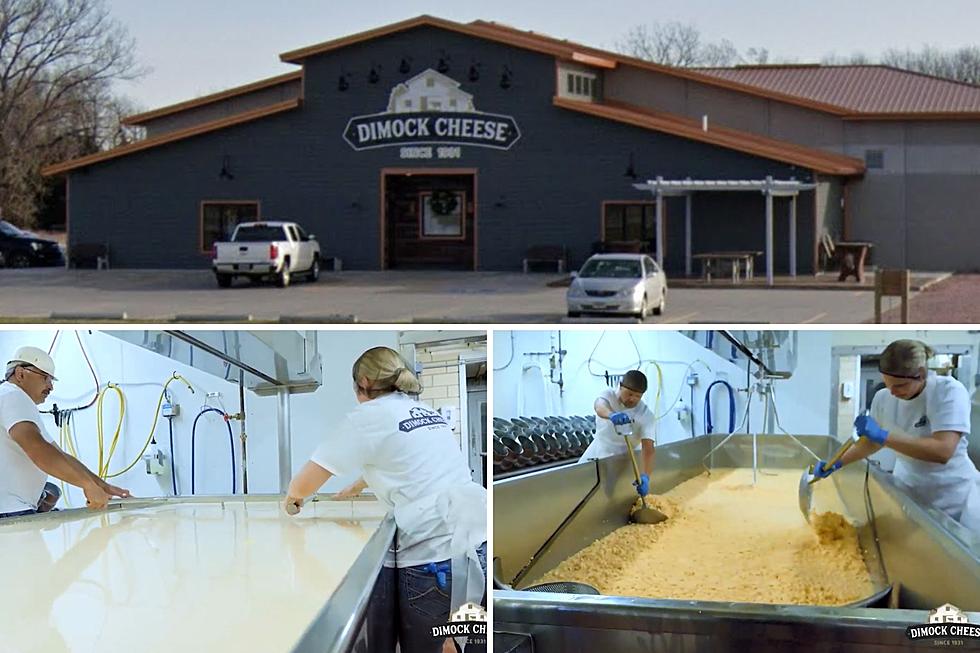 South Dakota Cheese Maker Keeping Delicious Tradition Alive
PHOTO: Midco via YouTube
When a business, and especially a business in 'small town South Dakota' has been around for longer than you have, well, something special must be going on!
Dimock Dairy in Dimock, South Dakota is a producer that is preserving a traditional way of making cheese and is focused on using milk from South Dakota producers.
South Dakota Cheese Maker Keeping Delicious Tradition Alive
Dimock Dairy in Dimock, South Dakota can rightfully and proudly proclaim to be South Dakota's oldest cheese plant, opening its doors before I was even a glint in my daddy's eye.
They've been making cheese in their place just south of Mitchell since 1931 to be exact.
The Oldest Cheese Plant in South Dakota
And when a business, any business, but especially a small town business, has been around for 90 years it tells me at least 2 things:
They have great people working there, and;
They have an incredible product.
Dimock is a producer that is preserving a traditional way of making cheese. They also are focused on using milk from South Dakota producers.
"All our producers live within about 20 miles of the plant," General Manager Bryce Havlik told Hungry For Truth SD.com.
"We take pride in making quality cheese by hand, the old-fashioned way"
You can find Dimock's cheese in grocery stores all over South Dakota.
The list of the kinds of the best cheeses you'll ever taste seems almost endless! From aged cheddar to bacon and onion, black pepper to chipotle, Colby, dill, ghost pepper...oh heck, just check the delicious flavors here.

Dimock is smack dab in the middle of South Dakota pheasant country to boot. But why wait until pheasant season for the best cheese in the state? Go ahead and contact them now and you can place your order online, too.
So pass the crackers and let's have a snack!
My Top 5 Favorite South Dakota Made Foods
As I was slicing a piece of cheese off my block of
Dimock Dairy
Colby cheese and boiling a ring of
Bluebird Locker
German sausage on the stove, I started thinking, "What foods is South Dakota known for?'
Then I realized the state is known for some of my favorite foods, are they're actually made right here in
South Dakota
!
So, I decided to search my cupboards and refrigerator looking for other South Dakota-made foods and came up with my Top 5.
Food Network Shows That Have Been To South Dakota
Living here in the upper midwest we are don't end up on national TV shows very often. That's probably a good thing in the long run.
But it is pretty cool when something from South Dakota is on TV. Three shows from the
Food Network
family of shows have showcased South Dakota restaurants.
A few years ago the Travel Channel Show
Food Paradise
visited Deadwood.
If you remember the 'golden age' of Foot Network, back when Rachel Ray was the queen of the channel, she took her show
$40 a Day
to Rapid City in 2005.