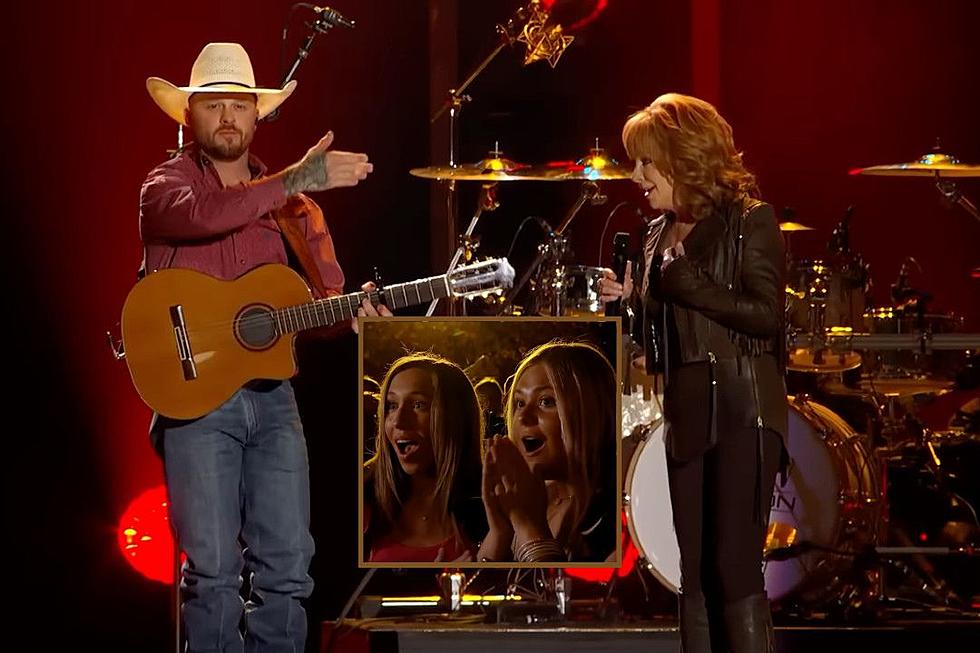 Reba McEntire and Cody Johnson Mesmerize Fans With Surprise CMA Fest Duet [Watch]
YouTube/Country Music Assocation
Even if you were in Nashville for CMA Fest last month, there's a good chance you missed one of the most unforgettable moments of Cody Johnson's Night 2 set: The priceless looks on fans' faces when Reba McEntire walked out onstage to join him for a surprise duet.
When the CMA Fest television special aired on Wednesday night (July 19), the cameras offered an up-close-and-personal look at just how shocked and delighted fans in the crowd were when they realized McEntire was coming out onstage. They cheered, clapped and cried during the performance, some in the audience even jumping down in excitement as McEntire finished singing and turned towards her fans, arms outstretched.
Johnson appeared for two songs in the special: One was a solo performance of his mega-hit, "'Til You Can't," while the second as a cover of McEntire's 1986 hit "Whoever's in New England." The song choice didn't immediately set off alarm bells that a duet might be coming, since Johnson released a cover version of the song in 2020.
But this was no ordinary performance, and after playing the first verse and chorus solo, accompanied only by guitar, McEntire walked onstage and chimed in with the second verse, making for one of the festival's most unforgettable moments from 2023.
Johnson and McEntire, two country traditionalists who share a background as rodeo professionals, have sang together in the past. They teamed up for a duet called "Dear Rodeo" in 2020.
The CMA Fest special aired on ABC on Wednesday night, highlighting the best Nissan Stadium performances from the 2023 CMA Fest, which took place in Nashville in June.
50 of CMA Fest's Most Unforgettable On-Stage Collaborations
For 50 years CMA Fest has been all about the fans. What started as Fan Fair has blossomed into a multi-day country music takeover of Nashville. And boy do the artists come to play! Over the years, there have been some major collaborations on stage that have both captivated and stunned audiences. From on-stage performances of studio collaborations to unexpected out of genre guests and everything in between, we've got it all.