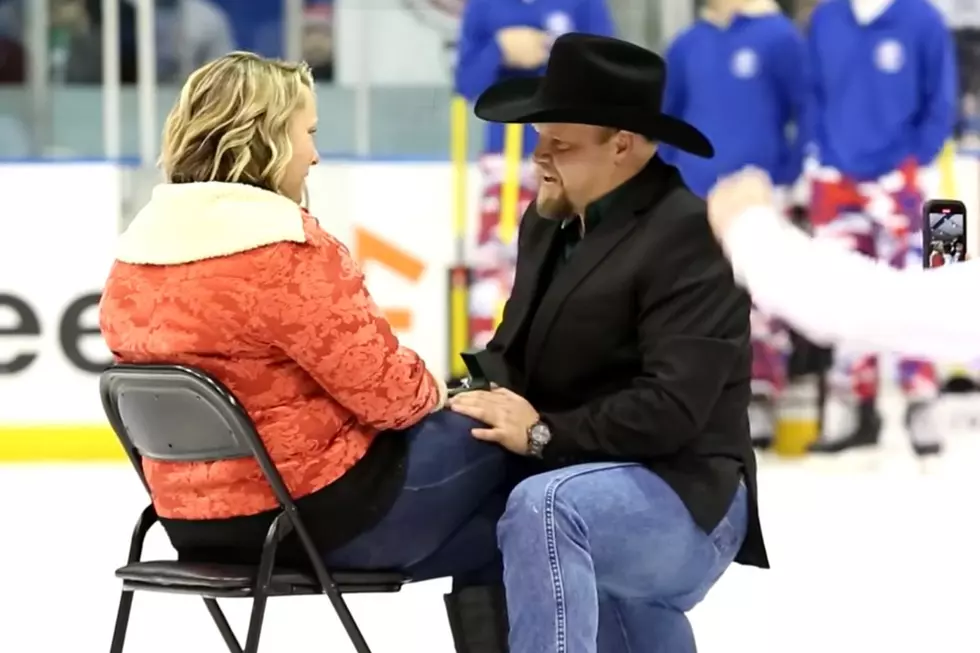 Huge Crowd Sees Iowa Man Slide Into His Wedding Proposal
Des Moines Buccaneers (via Facebook)
Going to a sporting event is always exciting! You truly never know how each game is going to play out. In fact, one woman did not think a hockey game would end in a marriage proposal.
During a break in action at the Des Moines Buccaneers game, staff pulled people from the crowd for a friendly game of musical chairs. lisha Martin attended the game on Friday night with her friends and family. She thought the night was going to be about having a good time! Little did she know, the plan was to celebrate her and her now fiancé, Joe Mahers.
lisha, Joe, and their friends played the game on the slippery ice. From the looks of the video posted on the Des Moines Buccaneers' Facebook page, everyone knew the goal of the game...to get lisha engaged! It's pretty funny to watch the acting skills unfold while sliding all over the ice. This proposal was truly a team effort!
The boisterous crowd at the Des Moines Buccaneers game went wild for the couple! You can tell lisha was unaware that Joe was planning this epic surprise. After expressing his love, lisha happily accepts Joe's marriage proposal! Joe even celebrates by gliding off the ice.
The Des Moines Buccaneers congratulated the newly engaged couple by defeating the Sioux City Musketeers in a shoot-out! It was a win-win for everyone at the Buccaneers Arena!
Congratulations to Joe and lisha! Happy wedding planning! Maybe trade heels for a pair of ice skates on your big day?
13 Famous Iowans
It's a great day for Iowans. The first ever Major League Baseball game was played in Dyersville, Iowa last night (August 12) in The Field of Dreams game and it was awesome!
What a great way to showcase a beautiful state and celebrate the hospitality of Iowans.
Iowa may seem far away from Tinsel Town, but The Hawkeye State has produced many famous actors, musicians, and athletes!
The following 13 are just the tip of the iceberg!
Have You Ever Explored the 'War Eagle Monument' on the South Dakota/Iowa Border?
Originally being from the Sioux City area, I grew up knowing about the War Eagle Monument perched on a bluff along I-29. There was at least one field trip for every kid in the area to the monument.
However, speaking with folks from
Sioux Falls
, they didn't seem to know what I was talking about. All they know about I-29 in Sioux City was that it was usually under construction.
When crossing into Iowa from South Dakota on I-29, look up!