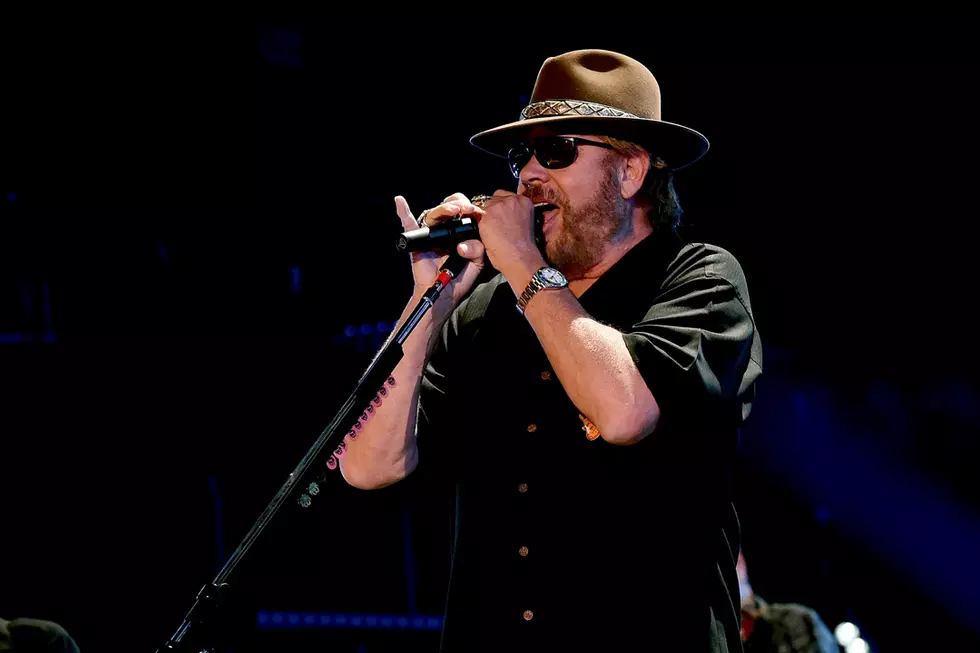 Point: Hank Williams Jr. Could Be a Country Music Hall of Famer, If He Wanted To
Rick Diamond, Getty Images
Imagine there is an artist who defined an era of country music, scored multiple No. 1 hits across a dominant decade (although not as many as you'd think), won multiple Entertainer of the Year awards and played to sold out crowds nationwide for several decades.
This artist was also tremendously influential on future generations of country musicians — you can't find many contemporaries with a similar style who don't point back to some of the old albums as the reasons he, she and they are making country music today.
Is this a Country Music Hall of Famer's resume?
Politics and lack of congeniality will cost this artist Hall of Fame votes, because let's face it, what's seen as swagger or moxy to one person strikes another as rude, selfish and arrogant. Hank Williams Jr. has been described as all of the above, often in the same stories. He's not in the Country Music Hall of Fame for the same reasons Barry Bonds is not in the Baseball Hall of Fame: not enough people approve of his character.
The crux of this month's Point/Counterpoint will revolve around whether or not character should matter. Hank is "Hank," the Boot will surely argue. But who is he if you're under 40? Is he the guy who recorded "A Country Boy Can Survive" or the firebrand who compared President Obama to Adolf Hitler? Older members of the committee that decides Country Music Hall of Fame candidates will recognize that his contribution makes him an overwhelmingly strong candidate (on paper he should have been in a long time ago), but anyone who has worked with him may pause.
Character does matter, especially in country music, and frankly we're better for it. It's a genre that finds artists treating fans with respect and gratitude, you know ... that whole Golden Rule thing. The songs (usually) reflect morals that if adopted by everyone would make our world a little kinder.
In a series of tweets remembering the late Troy Gentry, Shooter Jennings told a Hank Jr. story that is common in how it ends. How do you view this behavior?
We're reminded of Bill Brasky, a recurring Saturday Night Live character from the late '90s that anyone not in the room can tell is a real jerk, but somehow those who've made contact with him idolize him. They understand when Jennings says, "Classic Hank."
Most institutional Hall of Fames feel they need to protect how they're perceived, and Hank is a risk. Does he even want it? Twelve months worth of media and positive press would all but ensure his inclusion, but maybe this would be conciliatory. If you need precedent for how all of this plays out, look no further than Buck Owens, a brilliant artist and polarizing businessman who was inducted 20 years after losing his foothold on country radio charts, and 30 years after (as the Cocaine and Rhinestones podcast recalls) he ran a controversial advertisement in Nashville's Music City News that let everyone know he was a proud country music artist. He didn't apologize for flipping the establishment the bird, and it cost him time.
It's been 30 years since Williams Jr. ruled country radio, but if he's not inducted in 2018 it will be for the same reason the artist described in the opening paragraphs won't soon be inducted. In making Hank Williams Jr.'s case for the Country Music Hall of Fame, you're also making the case for another legendary country act known — perhaps unfairly — for for talent and petulance: the Dixie Chicks.
The Boot and Taste of Country's collaborative Point/Counterpoint series features staff members from the two sites debating topics of interest within country music once per month. Check back on April 20 for another installment.