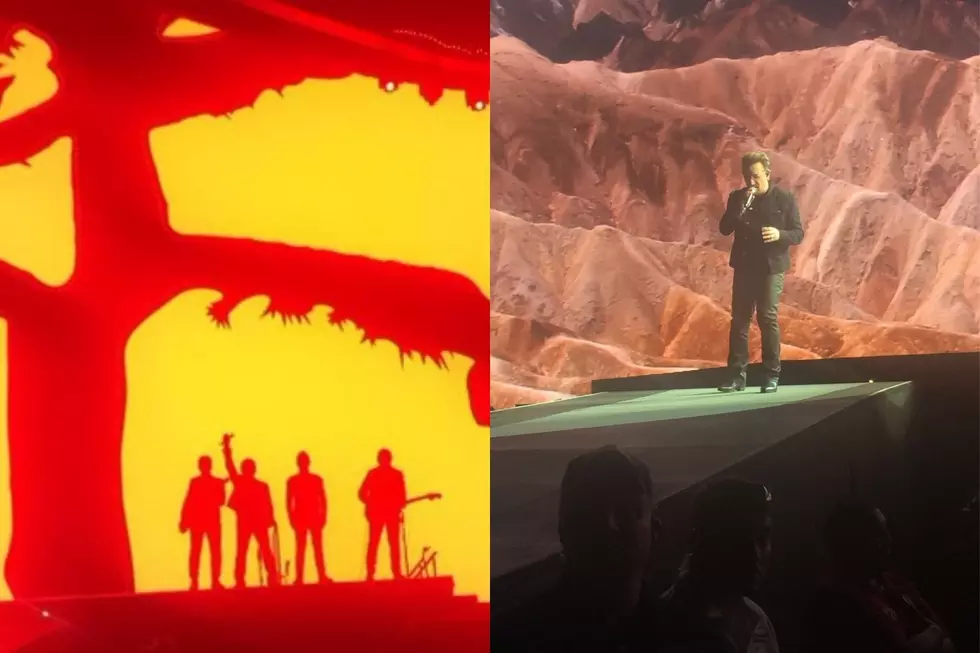 Bourbon on the Rock: Jameson Black Barrel Meets U2's 'Joshua Tree'
Christine Manika (TSM)
This episode of Bourbon on the Rock has been a fun one to plan. U2's iconic Joshua Tree album is going to be paired with another Irish classic, Jameson Black Barrel. On the eve of St. Patrick's Day, it only seemed appropriate. Let's go!
As always, we start by opening the bottle of goodness.
Christine is back as a guest taster. She's Irish so this was a no-brainer. She picks up the double-char on the nose. It's a major factor in Jameson's distilling process so that was a great thing to pick up on. She also picked up on a perfect blend of fire and sweetness. By God, this girl is really coming along as a rookie bourbon/whisky fan. However, she isn't there yet. She asked us to add something to this drink to weaken it a bit so Scott, our other guest taster, whipped her up a Big Ginger. This guy's brilliant.
Scott and I really loved this whiskey. For me, the vanilla really popped on the front. And Christine was right, a little sweetness and heat hit on the back. I really love this and will be a go-to regular from here on.
Scott:  "Of all the Irish whiskies I've ever tasted - and that's about 3 of them - Jameson Black Barrel is the most buttery. It's the most delicious whiskey offering from the British Isles' potato-eaters that I've ever tasted.  It was recommended to me by a friend.  I liked the sales pitch that they use on the label, "triple-distilled...double charred".  And so is my liver..."triple-distilled...double charred".  I'm out...."
Christine: " I am still not a huge bourbon or whiskey person.  Give me a glass of wine and I'm set to go.  Give me whiskey...well I hesitate a bit more.  Danny has especially been guided me through this world.  Like COVID-19, this was and still is uncharted territory for me.  I'll be honest, this was a tough whiskey for me to take.  However, Scott had the brilliant idea to make my drink a 'Big Ginger.'  So much better with the ginger ale.  My advice if you're not a huge fan of whiskey, make the Big Ginger.  If you like a good, strong, and fiery-woody like whiskey, then Jameson Black Barrel is the drink for you!"
We paired Jameson Black Barrel with one of the best albums we could think of that would stay with our Irish tribute. The Joshua Tree is brilliant by U2. It was released in 1987 and immediately became an album destined to become a classic.
As for all Bourbon on the Rock episodes, we track from side A through side B. Beginning with 'Where the Streets Have No Name' and 'I Still Haven't Found What I'm Looking For' the tone was set. 'With or Without You' is next and these first three songs make this a very relaxing whiskey to sip to, Don't forget the deeper cuts such as 'Bullet the Blue Sky' and 'One Tree Hill.'
This is vinyl that should be in everybody's classic rock collection. It should be noted that Christine saw her first U2 concert when she was 9, in which she went from nose-bleed seats to floor seats, to onstage with Bono and Edge! It's safe to say this is her all-time favorite band - and with very good reason. Here she is:
Christine: "U2 was my very, very first concert ever!  I had no idea I was going to the Vertigo Tour until my mom pulled out the video camera and we were driving in the United Center.  10 years later, I was 19 years-old seeing my favorite group for only the second time.  My third concert was the 30 Joshua Tree Anniversary Tour in 2017.  Although I was not around for the first tour in 1987, I felt like the crowd was experiencing this amazing concert for the first time with me.  I have to thank my dad for introducing me to this group.  I would truly not be the person I am without U2.  Once concerts are back, you can guarantee 'I Will Follow' a U2 concert any day."
Scott: "I had the rare honor of attending the original U-2 Joshua Tree tour in 1987 when it made a stop at the St. Paul Civic Arena in 1987...  And then I had the treat to see U-2 for the 2nd time on their 30th Anniversary of the Joshua Tree Tour when it hit US Bank Stadium in Minneapolis in 2017.  And the SUPER unbelievable treat to attend BOTH concerts with the same friend, Greg Woodall.  I also attended the Twin Cities concert with my friend. Dana Ray.  Greg is on your left.  Dana's in the middle.  That's ME, next to The Edge...the dude with the Steely Dan t-shirt.  All I have to say about the Joshua Tree album is...exquisite...a MUST OWN album for anyone over 50 years, or their children.  Can't pick a favorite song.  Who doesn't love the Vegas video of "I Still Haven't Found What I'm Looking For"?  Bono's passionate, "With Or Without You."  The POWERFUL, "Bullet the Blue Sky".  The methodic, "Red Hill Mining Town".  Or the vividly picturesque, "One Tree Hill."  By the way...WAY to go Christine, and Christine's dad (for buying her a ticket to the U-2 concert when she was ONLY 9 YEARS OLD!"  What the..??"
KEEP READING: Here are 50 of the most famous sports goofs