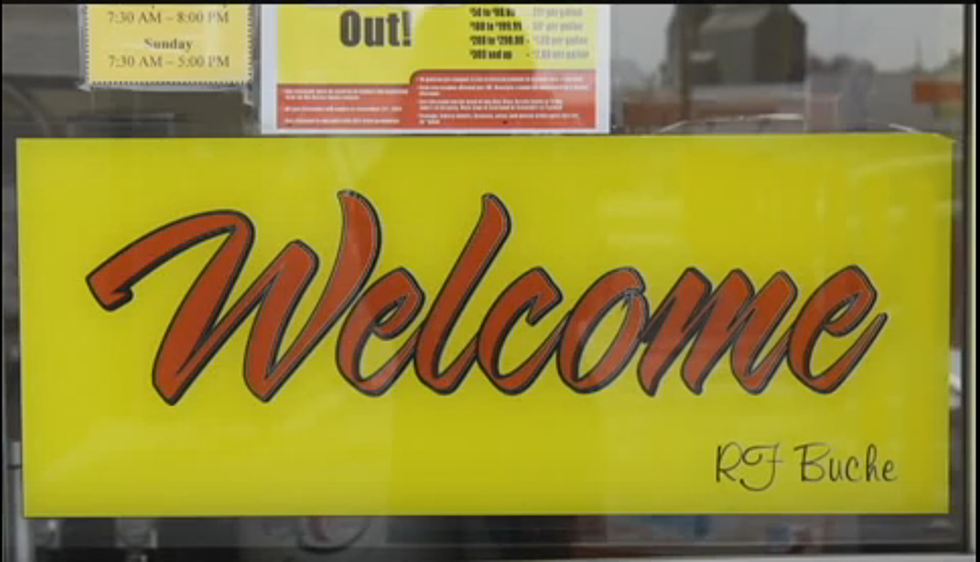 You Can Get Happy, Make New Friends, Save Money at Buche's!
Via YouTube
OK, let's hop into the 'ol time machine and head on back to the 'old day's.'
Well, the old day's to some, but to me it seems like the day before yesterday. It's 1974. Richard Nixon is still the President (barely) and the Vikings lost the Super Bowl (again).
There I am, 18 years old and still hair up there on the noggin. It's my first radio job at KWYR in Winner, South Dakota and I'm all set to do one of the first of thousands of radio commercial's over the year.
Well, this looks easy. It's an advertisement for Buche's in Gregory. So into the recording room I went and recorded the ad.
Boo-Cheez. That's how that first advertisement went out on the air.... and just one time.
A sales representative by the name of Chuck Hogue came into the studio. I can still remember what he said, and might I add, in a friendly, gentle way.
'Ahhh, you're not from around here, are you?'
[button href="/newsletter/" title="Sign Up for Our Daily Newsletter" align="center
And so back into the recording room (remember big 'ol reel-to-reel tapes?) and for the first time ever, I got it right.
Over the next few years that I lived in Winner I would make the short drive down to Gregory and shop at Buche's. At first it was the price's I loved (money was hard to come by in those days - oh wait, it still is). But then it became the people that worked there. Friendly, happy, and they got to know me (and others) on a first name basis.
Well, I eventually left Winner and worked at radio station's around the state. Several years ago (I won't say how many, let's just go with several) I moved to Sioux Falls. And yes, I shopped some of those big box stores, the big chains, trying to save a little money and discovering, well, often times the people didn't seem all that happy and, while they were cordial enough, we weren't exactly on a first name basis.
And then, a few years back, I saw it, right here in good 'ol Sioux Falls.
Buche's Bargain Butcher is right up there on Kiwanis, just a block north of 12th and Kiwanis. In fact, there's Buche's in Wagner, Lake Andes, Mission, White River and of course, my old haunt right there in Gregory.
I've had the pleasure of meeting the folk's at the Sioux Falls Buche's and yep, they have the same 'small town' feel of the other store's. In fact, I've broadcast from Buche's Bargain Butcher and look forward to doing it again.
And remember, it Boo-Ease - not Boo-Cheez! I learned that lesson years ago!
---