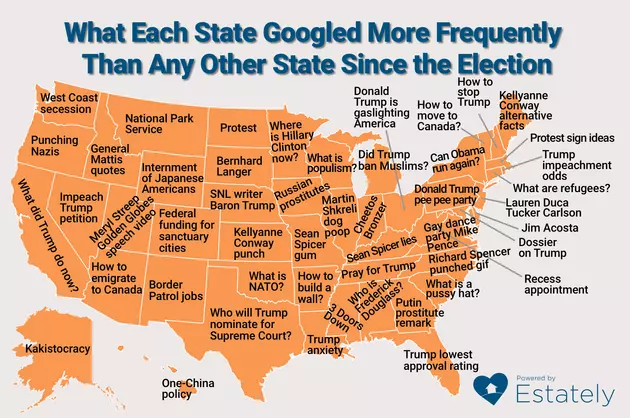 What South Dakotans Have Been Googling Since Election
Estately.com
It is so amusing and amazing to check out the above map and accompanying article because of the picture it paints of our country and the humans populating it.
Yes it is true, many of us are certainly obsessed with a myriad of political issues, but others among our countrymen and women are concerned with things like the National Park Service (Montana) or professional golfer Bernhard Langer (South Dakota).
Good for us here in South Dakota! That indeed was the thing state residents googled more than any other state since the presidential election. Why? I have no idea. Other things South Dakotans wanted to know more about include:
Did President Obama ban refugees in 2011?
Where is Syria?
Kellyanne Conway's inauguration outfit
The notorious "bathroom bill" here in our state
And last, but not least, author George Orwell's Animal Farm
Minnesotans looked up: "Who is Al Franken" and "where is Hillary Clinton now?", more than any other state, which is weird considering Al Franken is the junior senator from Minnesota!
Finally, Iowans were apparently busy looking up "Russian prostitutes" and "where is Yemen" more than any other state. Hmm.
A plethora of weird, interesting and perhaps even educational Google info can be found in the complete article by Estately.com.
---