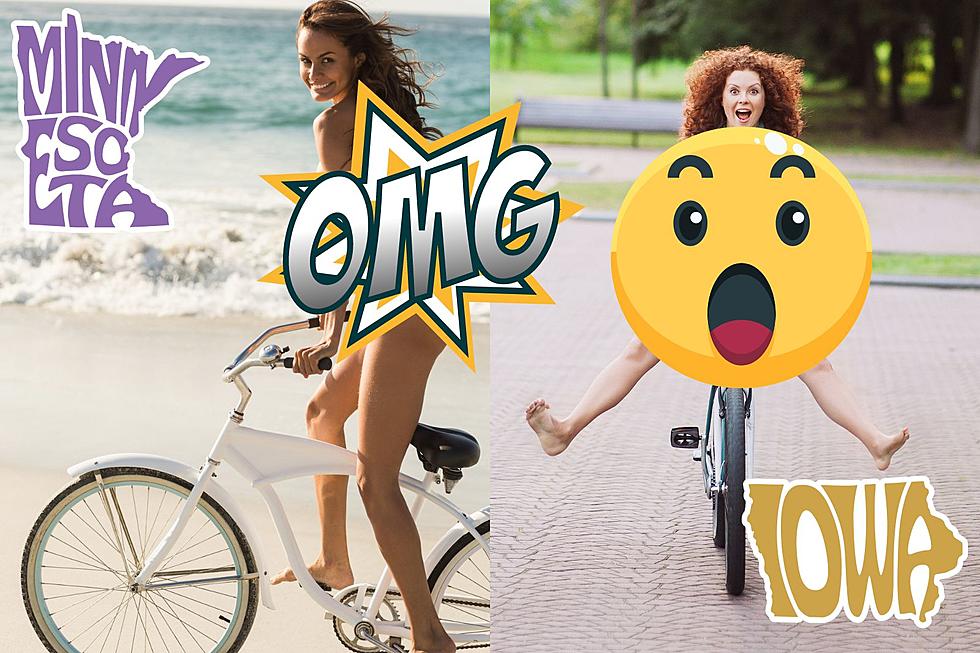 Want To Ride Your Bike Naked? Visit These Iowa & Minnesota Cities
Getty Images, Canva
Riding your bike is a great exercise to stay in shape...especially if you prefer to ride your bike in the nude.
Believe it or not, June is known as "World Naked Bike Ride" month. This month is dedicated to people around the world who enjoy riding their bikes while naked. There are cities in Iowa and Minnesota that actually encourage biking in your birthday suit.
Our friends at Lawnstarter found the 2023's Best Cities for Naked Biking. They compared 200 of the biggest cities in the US and "looked at naked biking events, local interest in nude cycling, bikeability, and legal bumps in the road (like public nudity laws), among 11 total metrics."
Some readers could be wondering if Sioux Falls made the Best Cities for Naked Biking list. Sioux Falls did make the list. However, it's one of the worst cities to ride your bike naked. Sioux Falls sits at #182 on the list.
So which Minnesota and Iowa cities are the best to ride your bike naked?
Ranking at #43 is the city of Des Moines, Iowa! Apparently, Des Moines is a really "nudest-friendly" city.
Ranking at the #53 spot is Minneapolis, Minnesota. This statistic might not be too surprising for some people, but Minneapolis is one of the most "cyclist-friendly" cities. The city also doesn't mind naked bike riding.
Here are the top ten cities of the 2023's Best Cities for Naked Biking list from Lawnstarter:
Philadelphia, Pennsylvania
Portland, Oregon
Seattle Washington
 New York, New York
Austin, Texas
Los Angeles, California
Chicago, IL
San Francisco, California
Madison, Wisconsin
Milwaukee, Wisconsin
More details on the 2023's Best Cities for Naked Biking list can be found here.
Feel free to let it all hang out the next time you visit these Iowa and Minnesota cities.
Inside Minnesota's Largest Candy Store
I had been to Minnesota's Largest Candy Store once before, but they did some pretty cool things since the last time I was there. They added a bunch of superheroes, Star Wars stuff, and a candy band.
According to their
Facebook page
, Jim's Apple Farm is actually how the now huge candy store got its start. It is located in Jordan, MN and you can't miss it. It is a huge yellow building.
Even though candy is mentioned in the name, they have a little bit of everything. They have fresh baked pies and cookies and fudge. We walked in and it smelled amazing!
They also have the largest selection of sodas! Then there is chocolate and taffy and gummies and chips and puzzles and games. So much stuff!
They even have a Zoltar machine like in the movie, Big. I had to check that out. He told me the only helping hand is at the end of my arm. Gee, thanks Zoltar.
There were even crickets and worms! Not gummy worms, but actual worms.
They also have candy from all over the world!
The store is seasonal, however. November is their last month of operation for the season.
Top Things Most Iowans Were Afraid Of When They Were Kids
If you were a kid in Iowa chances are you were afraid of many of the scary things on this list. Now be honest!