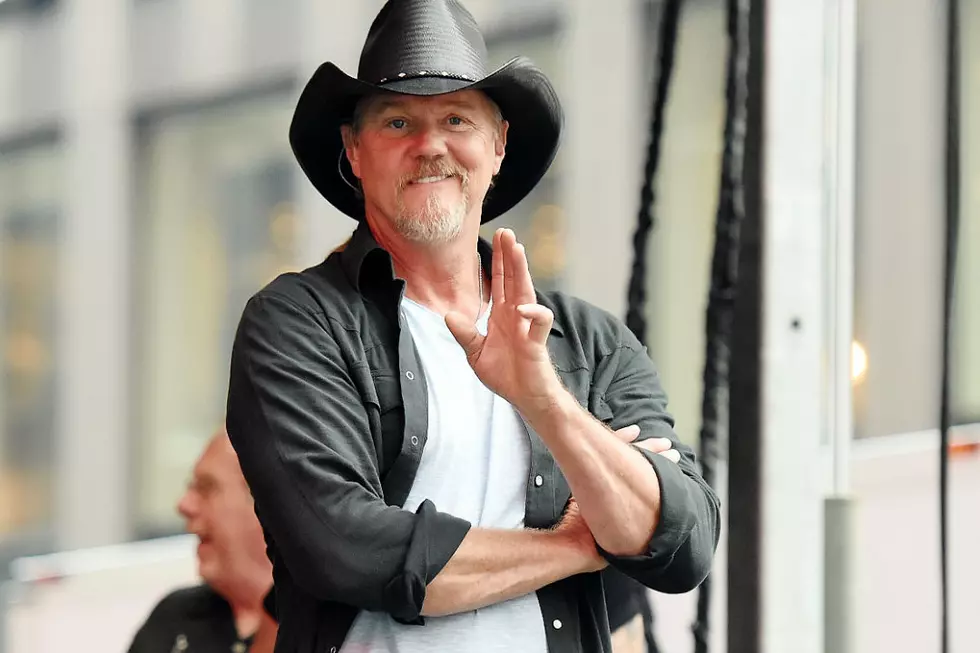 Trace Adkins Reveals 2019 Don't Stop Tour Dates + Details
Nicholas Hunt, Getty Images
Trace Adkins will be on the road throughout 2019! The country singer announced his Don't Stop Tour on Tuesday (Jan. 22).
Adkins' 2019 Don't Stop Tour will begin on Feb. 9, with a show at the San Antonio Rodeo in Texas. Adkins will hit a total of 40 cities during his headlining tour, which will extend into November. A full list of currently announced stops is below.
"I'm excited to get back on the road," Adkins says in a press release. "I am loading up the buses and bringing my band, a new set and new music to my Don't Stop Tour 2019, and I'm looking forward to seeing the fans again this year and feeling the energy they bring to each and every show."
For ticketing information for Adkins' 2019 Don't Stop Tour dates, visit TraceAdkins.com.
Trace Adkins, 2019 Don't Stop Tour Dates: 
Feb. 9 – San Antonio, Texas @ San Antonio Rodeo *
April 4 – Cleveland, Miss. @ Bologna Performing Arts Center *
April 5 – Biloxi, Miss. @ IP Casino
April 6 – Oxford, Ala. @ Oxford Performing Arts Center *
April 11 – Florence, Ariz. @ Country Thunder *
April 12-13 – West Wendover, Nev. @ Peppermill Concert Hall *
April 27 – Choctaw, Miss. @ Pearl River Resort
May 3 – Live Oak, Fla. @ Suwannee River Jam *
May 17 – Effingham, Ill. @ Effingham Performance Center *
May 18 – St. Louis, Mo. @ J. Scheidegger Center for the Arts *
May 19 – Greeneville, Tenn. @ Niswonger Performing Arts Center *
May 24 – Mahnomen, Min.. @ Shooting Star Casino
May 25 – Fort Yates, N.D. @ Prairie Knights Casino & Resort
May 26 – Forest City, Iowa @ Tree Town Country Music Fest *
June 13 – Tulsa, Okla. @ Hard Rock Hotel & Casino
June 15 – Mulvane, Kan. @ Kansas Star Casino
June 20 – Huntington, N.Y. @ The Paramount Huntington
June 21 – Jim Thorpe, Pa. @ Penn's Peak
June 22 – Charles Town, W.V. @ Hollywood Casino *
June 27 – Oshkosh, Wisc. @ Country USA *
June 28 – Cincinnati, Ohio @ Jack Cincinnati Casino
July 2 – Del Mar, Calif. @ San Diego County Fair
July 3 – Pleasanton, Calif. @ Alameda County Fair
July 5 – Paulina, Ore. @ LRS Music Festival *
July 6 – Stateline, Nev. @ Montbleu Resort Casino
July 10 – Cedar City, Utah @ America First Event Center
July 12 – Santa Ynez, Calif. @ Chumash Casino
July 18 – Monticello, Iowa @ Great Jones County Fair *
July 20 – Twin Lakes, Wisc. @ Country Thunder *
July 26 – Eldon, Mo. @ Shawnee Bluff Vineyard *
July 27 – Dodge City, Kan. @ United Wireless Arena
July 28 – Denver, Colo. @ Paramount Theater
July 30 – Rock Springs, Wyo. @ Sweetwater County Fair
July 31 – Great Falls, Mont. @ Montana State Fair
Aug. 3 – Mescalero, N.M. @ Inn of the Mountain Gods
Aug. 17 – Imperial, Neb. @ Chase County Fair
Aug. 22 – Mount Morris, Mich. @ Genesee County Fair *
Sept. 10 – Spokane, Wash. @ Spokane County Interstate Fair
Sept.14 – Shipshewana, Ind. @ Blue Gate Theater
Nov. 13 – Key West, Fla. @ Royal Caribbean Poll Deck *
* tickets already on sale
WATCH: Unforgettable Trace Adkins Moments