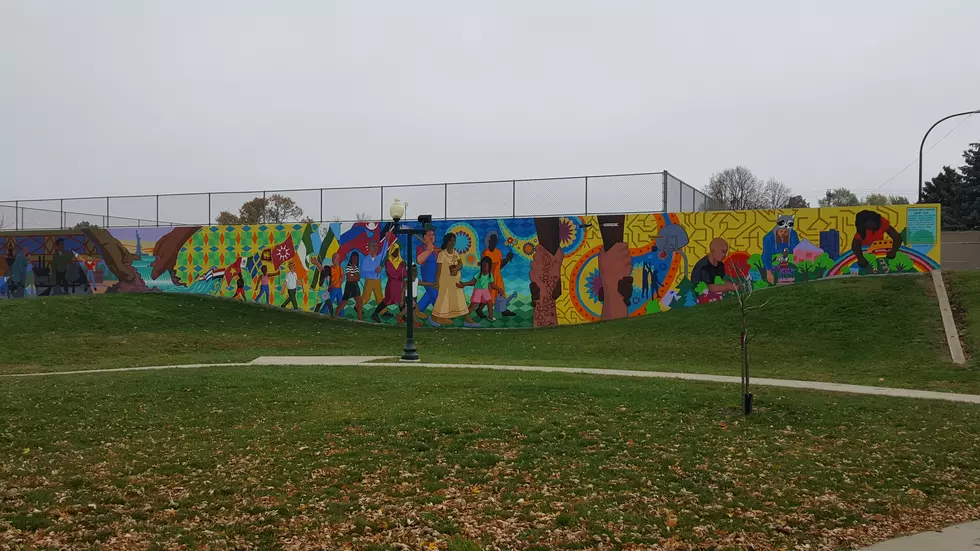 Taking Time to See: Whittier Neighborhood Park Mural
Ben Kuhns/Hot1047.com
I've lived in Sioux Falls for a decade, and one of the many things I like about this town is that it's big enough that there is always something new to see. I am an eastsider and drive by Meldrum Park on 6th street several times a week. It's a showcase of the best of Sioux Falls; often full of family gatherings, kids playing, sports; it's a true neighborhood park.
Prior to becoming public art, the wall in Meldrum Park in the Whittier neighborhood had been a sight of graffiti, when it wasn't just a plain concrete wall looming over the park. In 2011 a middle school art teacher inspired her students to make a difference.
Whittier Middle School eighth grade teacher Lela Himmerich assigned her students to consider ways of improving the Whittier neighborhood. The class approached the task with much enthusiasm, researching the area and coming up with a set of proposals, one of which was a mural for the wall in Meldrum Park. -National Endowment for the Arts
The Whittier neighborhood is one of the most diverse in the city, and the mural reflects the local community. Lead artist Dave Loewenstein, assisted by Ashley Laird, and Nate Buchholz, collaborated with the neighborhood and students to create and paint the mural. The wall was painted in the spring and early summer of 2013 with the help of the neighborhood.
Our mural welcomes people to Whittier, a working-class neighborhood that embraces its heritage, celebrates its dynamic cultural and ethnic diversity, and looks forward to addressing and overcoming challenges to a prosperous and peaceful future. Our mural recognizes this as the past and present home to Native Americans from many tribes, as well as the place where settlers have come from across the globe. Our mural sings with a chorus of many languages and radiates with the colors of many cultures. And, our mural shows the neighborhood working together to care for its natural beauty, the education of its young people, and the welfare of its most vulnerable residents. Our mural is beautiful, engaging, and is the product of many dedicated hands and minds. -Whittier Neighborhood Design Team

---