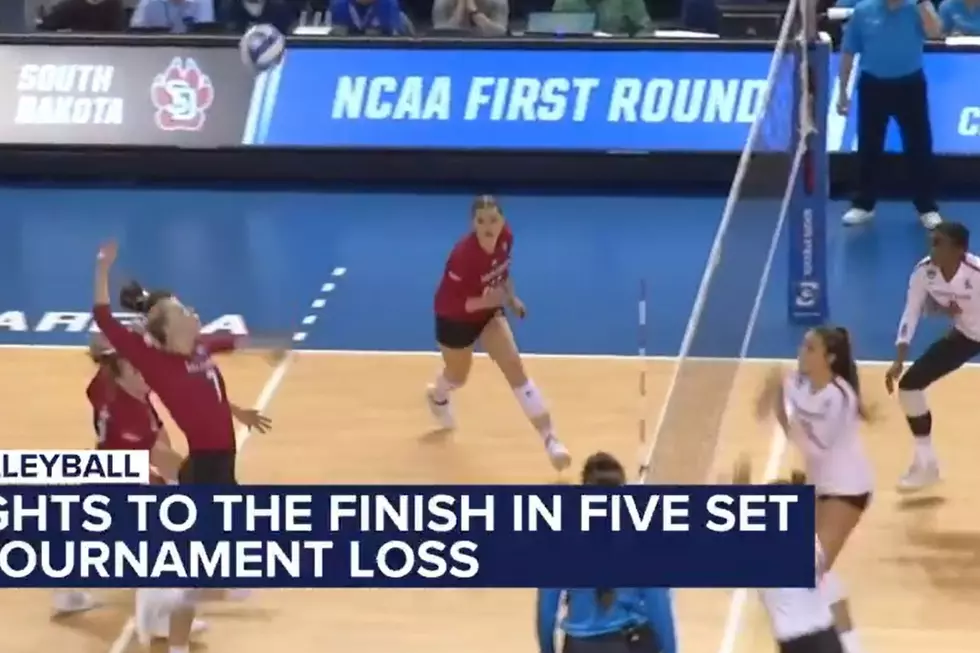 South Dakota Volleyball Makes ESPN..But They Aren't The Highlight
Dakota News Now (with permission)
It's always exciting to see South Dakota college sports make a major sports highlight on networks like ESPN. One South Dakota university just made an appearance on an ESPN highlight. However, this South Dakota team wasn't the main attraction in this epic video.
The University of South Dakota volleyball team was in an intense match against the University of Houston. This was the Coyotes opening round match of the NCAA Volleyball Tournament, where the winner of the game moves on to the next round. After a wild five-set battle, the University of Houston defeated the Coyotes. But after seeing this crazy dive from the University of Houston team, you could say they earned this win.
Multiple news outlets like ESPN and the New York Post are sharing this incredible dive from Kate Georgiades from the Cougars (University of Houston). She quite literally jumped over the table to keep this rally going. Stories relating to this outstanding play from Kate Georgiades are calling it one of the most memorable moments this year in sports. She really went for it!
In case you're curious, Kate is apparently fine. She did not even realize there was a table in front of her as she was going after the ball. KHOU-11 in Houston got Kate's reaction after the victory over the University of South Dakota.
"I was just looking up and I didn't even see a table there," Georgiades tells a reporter with KHOU-11 after the game. "I'm just thankful I got it up."
Our partners at Dakota News Now say this year's University of South Dakota volleyball team will "likely be remembered as the best to ever play college volleyball from the state of South Dakota, at least until the next group in this rising program hits the floor."
What a great highlight from the University of Houston! But that doesn't mean that the University of South Dakota didn't have a great season. Good job, Coyotes!
Iowa Born Sports Stars
What do each of these stellar athletes have in common? They all hail from the Hawkeye State.
The 10 Highest Paid Athletes in Minnesota in 2022
Who are the 10 highest-paid professional athletes in the Land of 10,000 Lakes in 2022? Take a look...