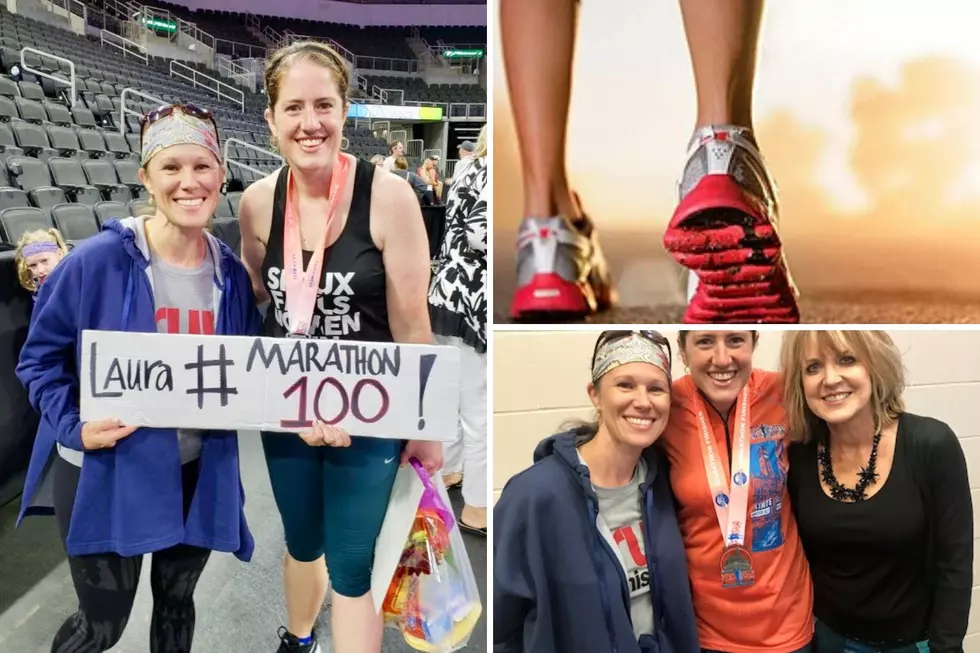 Sioux Falls Woman Runs Her 100th Marathon
Photos by: Patti Ward-Maguire/Thinkstock
Sunday, (September 9) was race day in Sioux Falls for thousands of people running to achieve their personal running goals, while helping to support the Children's Miracle Network through the Sioux Falls Marathon and Half Marathon presented by Sanford Hospital.
Every runner, be it a jogger, to a competitive racer knows that race day is a big day. Many have spent months preparing for this day. They have followed a regimented training schedule, rotated their shoes with precision, and scientifically analyzed each and every run leading up to the big day.  Many competitive runners set goals that vary from a PR, (personal record), to making sure they run the entire race, without having to stop and walk, to simply doing whatever it takes just to cross the finish line.
Then, there are shall we say more serious runners, people with much loftier goals, like completing their 100th marathon!
Allow me to introduce you to my friend Laura Raeder from Sioux Falls. Laura is one of those individuals. She works for the Sioux Falls School District and is a true inspiration to many runners like myself. Anyone that knows Laura knows she has a burning passion for the sport of running. This was abundantly clear on Sunday when Laura finished her 100th full marathon right here during the Sioux Falls Marathon.
This is the very race that she started her running career back in 2007 when she ran the Miracle 5K. After that, Laura acquired the much talked about runners high and became hooked on running! Setting various goals and crushing each one.
Laura has a run a marathon in all 50 states, qualified and run the Boston Marathon, and even completed the 'Triple 7', a series of 7 different marathons, featured on 7 consecutive days, on 7 different continents. I know, it's crazy to imagine, but just crazy enough for Laura to accomplish!
On Sunday (September 9), here in her home town, Laura finished another marathon milestone, by checking off number 100 from her list!
I am almost afraid to ask what's next? Hopefully, a little rest? Even if it's just for a couple of days. That's a hint, Laura.
Great job my friend! You have so many people proud of you!
---
See Also: