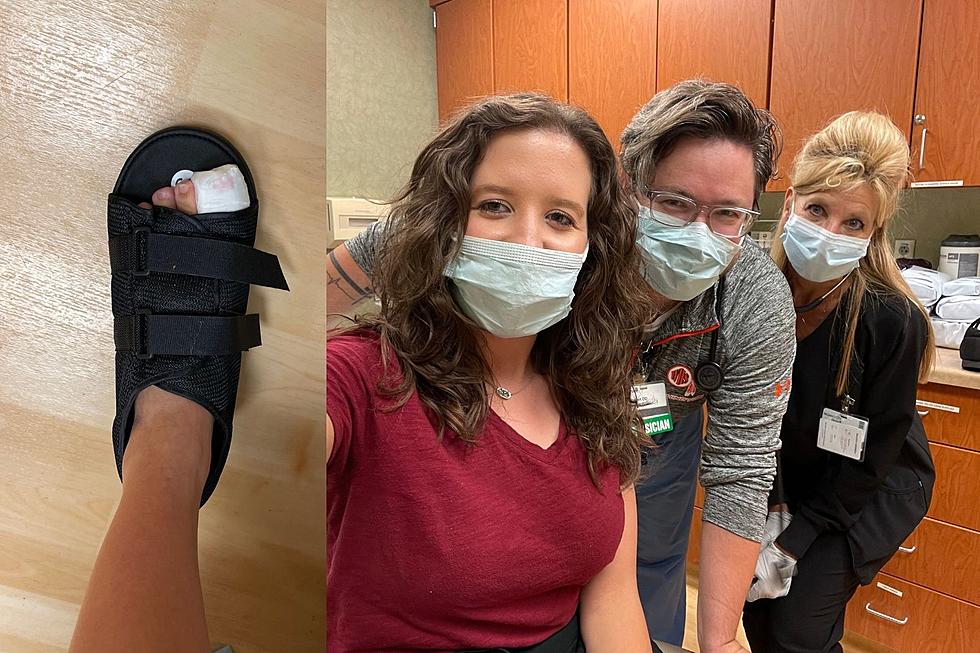 Remember Sioux Falls, The Door Will Always Win
Christine Manika (TSM)
There are two types of people in this world: People who don't get injured very often, and people who are just unlucky thanks to the one and only "Murphy's Law."  Unfortunately, there is one Sioux Falls resident that falls in the second category...me.
You really never know what life will throw at you, but this certainly was not a great way to start a weekend.  My mom has been spending the week with me, and she just loves to explore the city.  Well, just as we were heading out to the Downtown Sioux Falls Block Party, a steel door caught the top of my foot.  I think you know what happened next.
Without hesitation, we took a trip directly to the Avera Urgent Care Center just off of 69th and Western. I knew it was going to be bad. However, I did not see this lengthy course of action coming at all.
Thankfully, Dr. Nic and Nurse Terri from the Avera Health team did not sugarcoat anything about my big left toe and thoroughly prepared me for what was to come. I really messed it up! In the end, the only real solution was to perform a procedure that involved cutting half of the nail off along with the dead skin tissue.  There was only one problem. This process involved many, many injections of lidocaine! For anyone who isn't familiar with this anesthetic, lidocaine is commonly used to numb pain at a specific site.  Once the injection enters into your body, the lidocaine itself initially stings that particular area and this alone can be extremely painful.
Dr. Nic and Nurse Terri were just awesome! This was a pretty painful procedure, and they both did whatever they could to distract me and make me feel comfortable. It also helped that my mom and a good friend were with me during the entire process.  Fortunately, my toe is not broken. It's just very swollen and half of my nail needs to grow back. It looks like I won't be running on the bike trails for a while!
This whole experience made me realize how great our healthcare providers are no matter where you receive care.  We are very lucky in Sioux Falls to have outstanding healthcare providers like Avera Health and Sanford Health.  Take some time to thank a doctor or nurse if you can!  We would be truly lost without them.
Standing in Three States at One Time