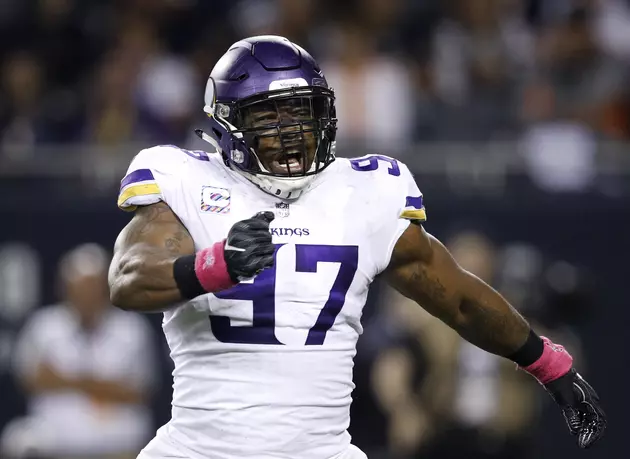 Minnesota Vikings Favored Over Buffalo Bills by Second Largest Franchise Point Spread
Joe Robbins/Getty Images
The Buffalo Bills will travel and play in US Bank Stadium for the first time this weekend, and they will do so as huge underdogs.
Buffalo has struggled in all areas of the game over the first two weeks losing to Baltimore 47-3 and to the Chargers 31-20. With a rookie quarterback, Vontae Davis deciding it was time to retire, LeSean McCoy injured, and an offensive line that is in shambles, the Bills roll into Minnesota hoping to survive.
At least that's how the oddsmakers in Las Vegas are looking at it. Minnesota has opened as heavy 16.5 point favorites over the Bills on Sunday. CBS Sports reports that the Vikings were 16-plus point favorites against the Bears in 1998 and the Lions in 2009. A trip through the Oddshark Database shows the game against the Lions in 2009 was a 17-point spread, which is still the largest in franchise history. This game against the Bills could potentially reach that level if the bets continue to fly in on the Vikings.
Last year the largest point spread in favor of the Vikings was in Week 17 when they hosted the Chicago Bears. Minnesota was favored by 13.5 points and went on to win 23-10.
Minnesota is coming off a tie game against division rival Green Bay this past weekend and is looking to get back on full track. The tie game was the least of the uniqueness when it came to Minnesota last weekend. The game against Green Bay was the first time in a long time that the Vikings didn't lose a game after trailing by eight or more with two minutes or less left in the game according to ESPN's Courtney Cronin.
Minnesota and Buffalo meet on Sunday at 12:00 at US Bank Stadium. Minnesota leads the series 8-5 overall, but the Bills have won four of the last five meetings.