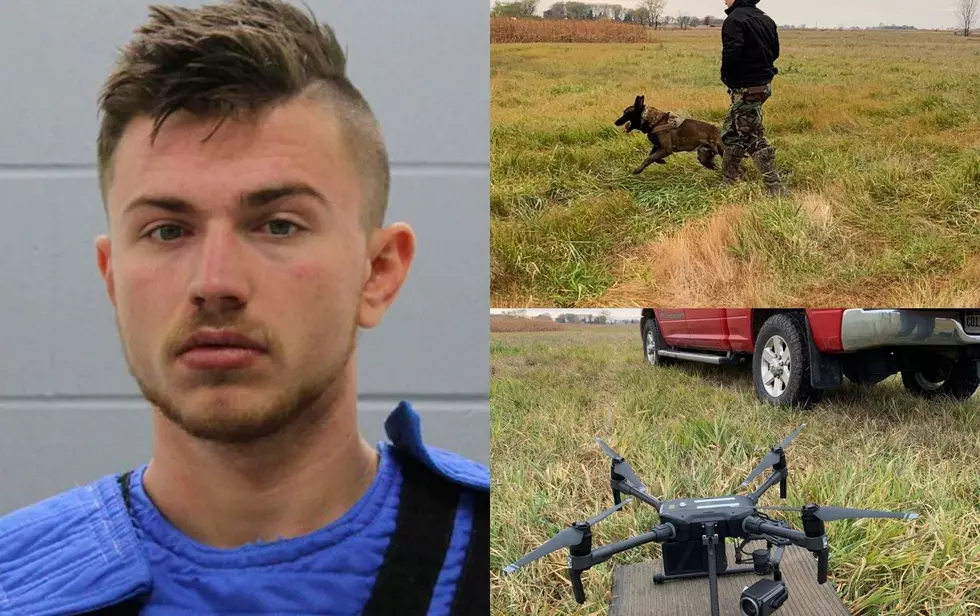 Man Identified In Harrisburg Shots Fired Home Invasion
Lincoln County Sheriff / Dakota News Now
Authorities have identified a man they say fired multiple shots at a homeowner during a burglary attempt near Harrisburg, South Dakota.
Lincoln County Sheriff's Office posted a press release updating information on what unfolded Wednesday morning involving a home invasion and shots fired at a homeowner just west of Harrisburg.
The Lincoln County Sheriff's Office stated that at approximately 5:22 A.M., Lincoln County Deputies responded to a residence near 272nd St. & Willow View Cir, just west of Harrisburg, for a possible home invasion with shots fired.
The suspect fled on foot while multiple agencies responded including Canton PD, Tea PD, Lennox PD, South Dakota Highway Patrol & K-9, South Dakota DCI, Minnehaha County Sheriff's Office, Sioux Falls Police Department & K-9, South Dakota Game Fish & Parks and Lincoln County Emergency Management.
All responded to the scene and helped set up a perimeter. Harrisburg School Staff was notified about the incident due to the proximity of the Harrisburg Schools. Extra deputies were sent to the schools as a precaution. Lincoln County Emergency Management and the Minnehaha County/Sioux Falls drone teams were able to successfully locate the suspect hiding in a slough. Officers were able to take the male into custody without incident.
Upon further investigation of the scene and evidence, it is believed the suspect was caught in the act of breaking into cars by homeowners. They confronted the suspect and the suspect fired multiple rounds from a handgun and then fled to a nearby residence and entered their back deck.
It is believed the suspect fired more rounds toward neighboring houses from that deck. The homeowner heard the shots from his deck and confronted the suspect. The suspect then fired a round at this homeowner. The suspect fled the scene and ran into an adjacent slough. A drone was used to locate the suspect hiding in the slough.
Officers were eventually able to locate the gun as well as other pieces of evidence in the slough. The suspect was identified as 21-year-old Colton Nichols of Sioux Falls, SD. Colton was transported to the Minnehaha County Jail and lodged on charges of Attempted 1st Degree Murder, Commission of a felony while armed, Discharge of a firearm at an occupied structure, Aggravated assault x 2, possession of a controlled substance.
Colton is currently on parole in SD and he will appear in front of a Lincoln County judge Thursday morning.
Enter your number to get our free mobile app