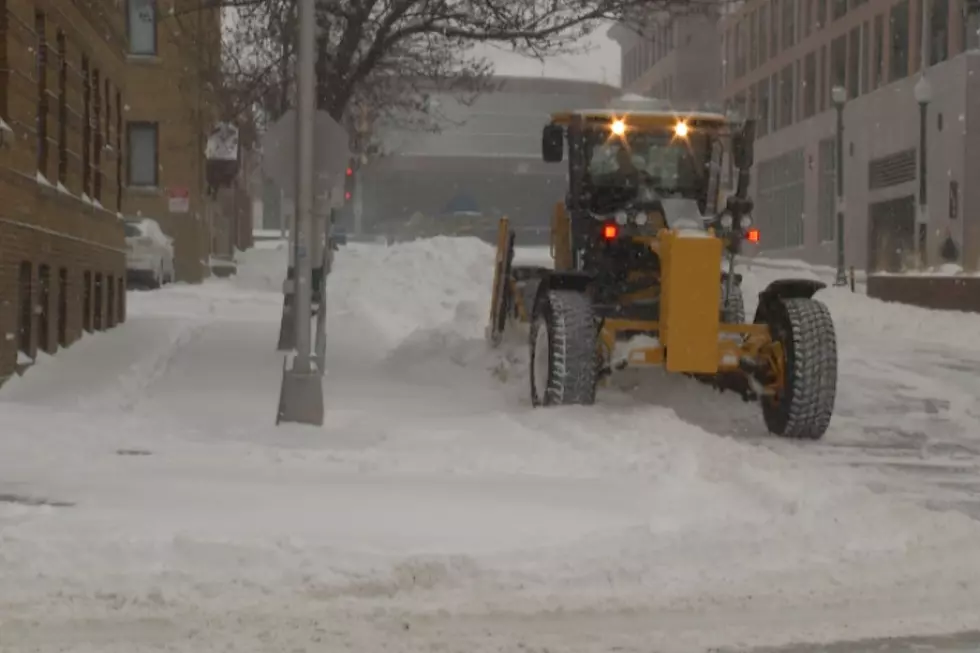 Is Sioux Falls Getting A Big Snowstorm on Tuesday?
Dakota News Now (with permission)
We all knew that snow was going to grace our presence eventually this winter. Based on multiple reports from our friends at the National Weather Service in Sioux Falls, it looks like Tuesday we will see our first significant snow of the season.
The National Weather Service in Sioux Falls says that most of the Sioux Empire will be under a Winter Weather Advisory beginning on Tuesday. This does include Sioux Falls.
The Winter Weather Advisory will be in effect in Sioux Falls on Tuesday morning until around 6 PM Tuesday evening. This impending snowfall will affect drivers in their morning and evening commutes. On top of the snow on the roads, drivers can expect icy conditions. Here is the official report on road conditions from the National Weather Service in Sioux Falls:
Plan on slippery road conditions. Patchy blowing
  snow could significantly reduce visibility. The hazardous
  conditions could impact the morning or evening commute.
How much snow will Sioux Falls see on Tuesday?
Depending on where you live, residents can see between 2 to 4 inches of snow. Luckily, Sioux Falls appears to be right in between two snow bands in the area. The heavier amounts of snow looks like it will further north of Sioux Falls near Mitchell and further south towards Sioux City.
The official report on the Winter Weather Advisory from the National Weather in Sioux Falls does a great job describing what Sioux Empire residents can expect on Tuesday:
Mixed precipitation expected. Total snow accumulations
  of 2 to 4 inches and ice accumulations of a light glaze. Winds
  gusting as high as 35 mph.

* WHERE...Portions of northwest Iowa, southwest Minnesota,
  northeast Nebraska and southeast South Dakota.
On the bright side, the rest of the week looks pretty decent after the first official snow of the season in the Sioux Empire.
Remember when you're driving during the day on Tuesday, be patient with other drivers. Some people just forget how to drive in the snow. Take your time, leave earlier to get to your destination, and remain calm.
Stay up to date with the latest weather information with the National Weather in Sioux Falls by following its Facebook page. They always update its page with new weather updates.
Do You Remember These 10 Crazy Snowstorms In South Dakota?
Here's some news that some South Dakotans prefer not to hear this time of year. Winter is coming. In denial? The dropping temperatures and early snowstorms out west by
Deadwood
speak for themselves.
Slowly but surely, people of the
Sioux Empire
are bracing for colder weather and snow-covered roads. Even though snow will soon be gracing the Sioux Empire with its presence, some snow showers will not compare to these ten dreadful snowstorms that hit South Dakota.
Only In Your State
highlights these ten snowstorms in
South Dakota
as a reminder for people to always be aware of the roads during the winter. These South Dakotan winters can be harsh, which is why it is always a good idea to plan ahead and prepare for the worst.
Do you remember any major snowstorms that hit South Dakota?
The Coldest Temperatures in Sioux Falls History
When a polar vortex rolls through
Sioux Falls
, it can get even the heartiest dreaming of indoor fires, baking, and hot chocolate.
Mr. Bendo is tough enough but for the love of Pete, someone put a scarf on the Statue of David!