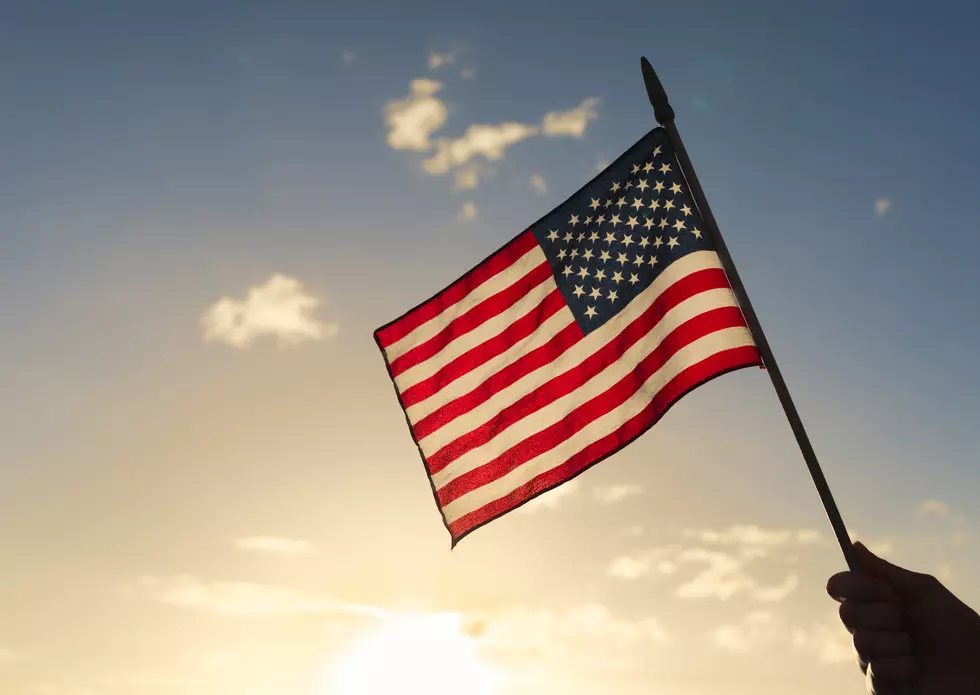 Feel Great Moment at South Dakota Football Game
Getty Images/iStockphoto
Now, this is good. I was thumbing through my Facebook feed when I saw a post from Margie Streitz. She had shared a post from Sandra Frickson. Sandra recently did something that made her feel uneasy at a High School Football game in at Sully Buttes.
Update: Thanks to Coleen for setting me straight. Sully Buttes is not a town but is a school district made up of the towns Agar, Blunt, and Onida. The football field is in Onida.
As a Veteran this made me tear up tonight.  We played Sully Buttes in football.  This playground is beyond the fence of the football field.  This is after the national anthem had been played, as the colors were retired to the end of the field.  These kids stood with their hands over their hearts from the time the colors entered until they left the field.  I felt a bit guilty taking the picture but with all the negative in the world I wanted to show how it is done RIGHT!  If you are a parent of any of these children, be very proud! To the Sully Buttes School District Thank You for instilling pride in our flag to your students!!!!
Sandra Frickson is originally from Aberdeen. She attended school at Roncalli in Aberdeen.  She did 12 years in the Army National Guard as a truck driver and is a Veteran of Desert Storm. Frickson lives in Bowdle and works at Avera St. Lukes as an outreach physical therapist. Her oldest daughter is at USD and twins that are sophomores at Bowdle. Her son plays Football at North Border. By the way, his twin is a girl. North Border is a consolidation of Bowdle, Eureka, Leola, and Fredrick. (yes, I had to ask!)
We live in such a 'gotcha world' that it's nice to see someone getting 'gotchya'd in a good way! (That's a new word!) It stood the hair on the back of my neck straight out when I saw it!
How about you? Have you seen anything like this in your town? If you have, I'd love to hear from you so I can share it with our readers especially since we are sneaking up on Veteran's Day! You can email me at any time at jdcollins@kikn.com.
Thank you for sharing this story with your friends, that stand for the flag and our Star-Spangled Banner.
Enter your number to get our free mobile app
10 Absolute WORST Tourist Incidents at Yellowstone National Park