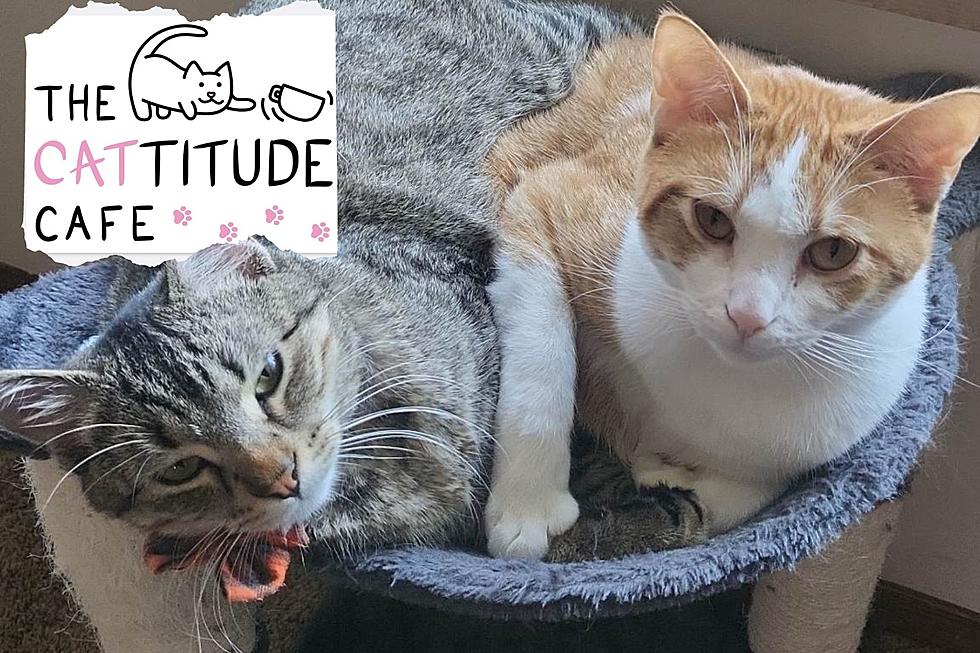 Cat Lovers Rejoice! New Sioux Falls Cat Café Opens Next Month
The Cattitude Cafe (via Facebook with permission), Heather Wendlandt (with permission)
If you're someone who loves cats and enjoys visiting local cafés, there is a new spot in Sioux Falls to visit. The very first cat café in Sioux Falls is about to open its doors.
Located in downtown Sioux Falls in the Johnson building at 11th Street and Second Avenue, The Cattitude Cafe is set to open next month. Patrons can enjoy a fresh cup of joe while relaxing with cute kitty friends.
The Cattitude Cafe is such a unique business. Not only does the business add to the growing Downtown Sioux Falls area, but it also allows cats a second chance. The cats that will be at The Cattitude Cafe are from the Sioux Falls Area Humane Society. The two entities are partnering together with the goal of finding cats a new home.
Our news partners at Dakota News Now spoke to The Cattitude Cafe owner Heather Wendlandt about this exciting new café. Heather says The Cattitude Cafe provides an "opportunity to have coffee and snacks in a relaxed environment with a separate space to spend time with multiple adoptable cats." So for those who are allergic to cats, you're still welcome to enjoy The Cattitude Cafe. Heather explains all the safety precautions that will be in place:
"We did go above and beyond and we put a separate HVAC and ventilation system in the cat room, versus the rest of the café. So the same air won't be circulating through the kitchen or the dining area that will be circulating around the cats. Even people who are allergic can certainly come in and enjoy a cup of coffee."
Interested in trying the new Cattitude Cafe? You can reserve a space in the cat room online beginning Saturday, July 8th at TheCatttitudeCatCafe.com. Heather tells me the website is still a work in progress. But it will be up and running soon! Here is when The Cattitude Cafe will be open:
Monday through Saturday from 6:30 AM to 7:00 PM 
Sunday from 6:30 AM to 4:00 PM
We can't wait to say hi to our new cat friends at The Cattitude Cafe soon!
Sioux Falls' Most Underrated Restaurants
LOOK: Most commonly seen birds in South Dakota
Stacker
compiled a list of the most common birds seen in South Dakota from Project FeederWatch.