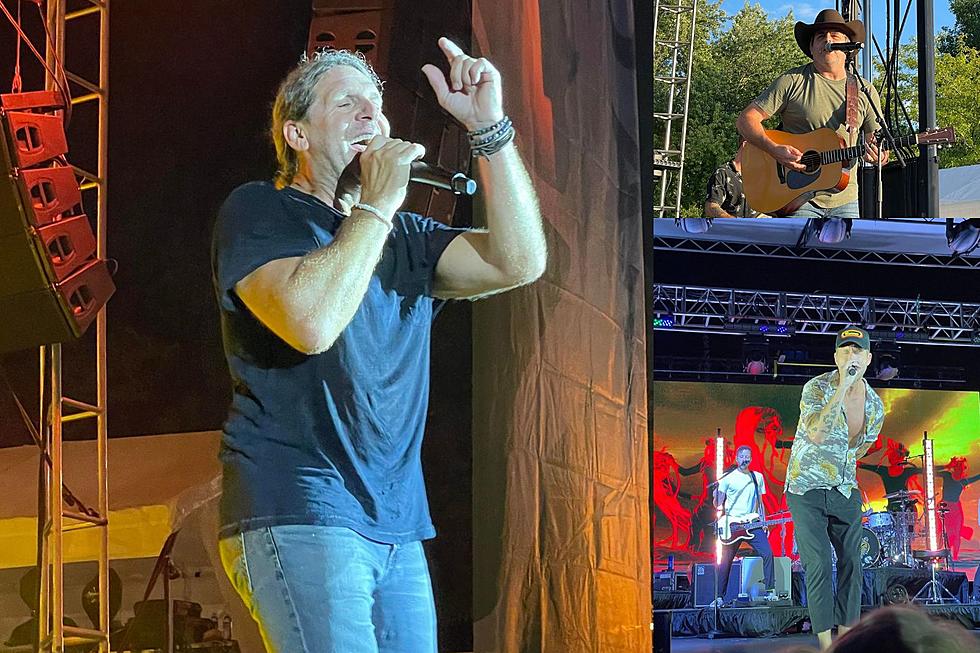 Billy Currington, OneRepublic Perform Exclusive Sioux Falls Show
Christine Manika (TSM)
The Dakotas Tour is a professional golf tour that is played in parts of South Dakota, Minnesota, Iowa, and North Dakota.  There are 18 events total during this year's tour.  One of the most anticipated events of The Dakotas Tour is the annual First Dakota Pro Am Jam.
Not only is it a weekend of friendly competition between professional and amateur golfers at the Country Club of Sioux Falls, but it's also a weekend full of live concerts. Yep! Live music!  Some of the biggest names in music perform exclusively for the players and members of the Country Club of Sioux Falls during this private event.
The 2023 First Dakota Pro Am Jam at the Country Club of Sioux Falls featured three major music acts this past Friday and Saturday. A local musician Jeremy Brech (AKA DJ Jer) along with Grammhy-Nominated group OneRepublic rocked the course on Friday night. Country songwriter and singer Rhett Akins and Billy Currington wrapped the weekend concert series on Saturday.
First Dakota Pro Am Jam is one of the hottest tickets to come by, and I was fortunate to once again attend the festivities and obtain the exclusive highlights from these electric live shows.
Check out all the wild and energetic moments from these concerts!
Sioux Falls Pro-AM Jam 2023
OneRepublic got the Pro-AM Jam party started on Friday night. Their first song of the night was "Stop and Stare" from the 2007 "Dreaming Out Loud" album.
Sioux Falls Pro-AM Jam 2023
OneRepublic played all the hits throughout the night, including this hit from 2009.
Sioux Falls Pro-AM Jam 2023
Truly, this was a night dedicated to the hits. "Secrets" is one of the group's biggest songs.
It's hard to list all of the songs Ryan Tedder has written and produced. Leona Lewis's "Bleeding Love" was actually co-written & co-produced by Ryan.
"Rumor Has It" is another huge song that Ryan Tedder wrote and produced. This is one of the handful of songs that Ryan wrote with Adele.
If you have seen the movie "Top Gun: Maverick," then you have heard this song before. Ryan Tedder told the Sioux Falls crowd that Tom Cruise personally asked OneRepublic to do a song for the movie.
This song dates back to 2007. This was probably the song that put OneRepublic on the map. In fact, OneRepublic was the featured artist for "Apologize."
You couldn't find a person who wasn't singing this song in 2013. This was one of the songs OneRepublic ended their show with.
Sioux Falls Pro-AM Jam 2023
Over the years, Rhett Akins has written so many songs for country artists. Throughout the night, Rhett performed songs that he wrote like "Honey Bee" by Blake Shelton and "Huntin,' Fishin,' and Lovin' Everyday" by Luke Bryan.  He even played his song "That Ain't My Truck."
Billy Currington took the stage to celebrate the second day of the Pro-AM Jam. Like the show before, Billy played all the hits. He started the show with "Good Directions."
Sioux Falls Pro-AM Jam 2023
Billy played this song for all the people celebrating this year's Pro-AM Jam. Some people are "pretty good at drinkin' beer."
Billy did an awesome tribute to one of the greats of country music...Kenny Rogers. Everyone was singing along!
From his "Little Bit of Everything" album, Billy played his 2008 hit. Lots of country boys and gals were feeling the beat of this song.
Sioux Falls Pro-AM Jam 2023
"Must Be Doin' Somethin' Right" is a classic song that you'll probably hear at weddings. Billy decided to strip down this song for the Sioux Falls crowd.
Billy ended his show with one of his biggest songs "People Are Crazy." It was nominated for two Grammy Awards for Best Male Country Vocal Performance and Best Country Song. This song was also nominated for "Song of the Year" at the 2010 Academy of Country Music Awards.
Clearly, it was another successful First Dakota Pro Am Jam! Thank you to everyone involved for hosting such a great event for The Dakotas Tour.