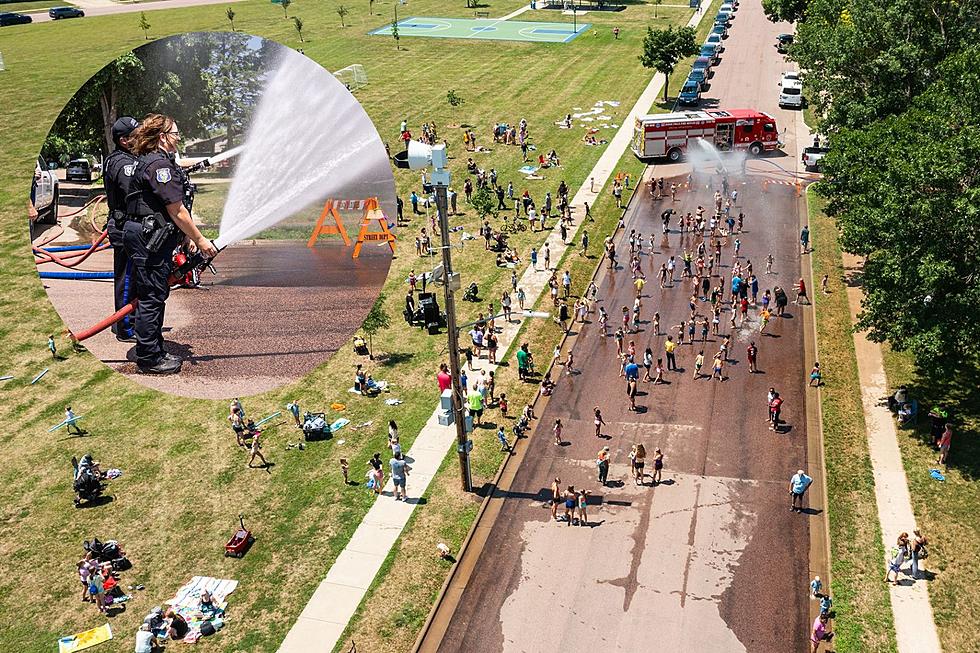 Beat The Sioux Falls Summer Heat With Hydrant Block Parties
City of Sioux Falls - Municipal Government (via Facebook), Canva
Summers in South Dakota can be hot, humid, and maybe sticky. People find the closest pool so they can stay cool.....or a fire hydrant.
The City of Sioux Falls is lucky to have a creative Parks and Recreation Department. With the help of the Sioux Falls Fire Rescue, Sioux Falls Police Department, and Falls Community Health, the crew at the Parks and Recreation Department brings the Hydrant Block Parties to life!
A Hydrant Block Party is exactly what you think it means. Lots of water and fun! The Hydrant Block parties happen on Thursdays throughout the dog days of summer.
Here are the upcoming dates for the Hyrandt Block parties in Sioux Falls. The water fun happens on Thursday afternoons between 1 PM to 3 PM:
July 20th: Linwood Park (4409 E Walker Way)
July 27th: Prairie Meadows Park (6805 S Grange Street)
August 3rd: Whittier Park (1009 E 3rd Street)
August 10th: Whispering Woods South (5820 S 69th Street)
August 17th: Granite Valley Park (1601 E 69th Street)
So what's the weather this week around the Sioux Empire? Thanks to our weather partners at Dakota News Now,  the temperatures around the Sioux Empire look pretty mild. After this week...it looks like the heat is coming. Aaron Doudna with Dakota News Now gives us a look at the latest:
We could see a few lingering thunderstorms on Wednesday with highs back in the 80s. After that, dry weather will settle into the region. It will be nice on Thursday and Friday. We'll see plenty of sunshine and highs will stay in the 80s for most.

Temperatures then will begin to be on the rise over the weekend Highs will be in the mid 80s. By Saturday and Sunday, highs will be in the mid to upper 80s for most of us with 90s out west. Early next week, we're looking at highs in the 90s and staying dry.
Even though some days the heat is unbearable, the Hyrandt Block parties are great opportunities to be outside and out of the house!
Road Trip-Worthy Restaurants Within 90 Minutes of Sioux Falls
Veer off the beaten path. Take a road trip and try some favorite small-town eateries. Just by driving a few miles, you could find some delicious hidden gems.
From steaks to seafood, chislic to chicken, these are out-of-the-way unexpected finds that will make your taste buds tingle.
Here's a list of 14 Road Trip-Worthy Restaurants within 90 minutes of Sioux Falls.
Iconic Sioux Falls: Rosie's Cafe