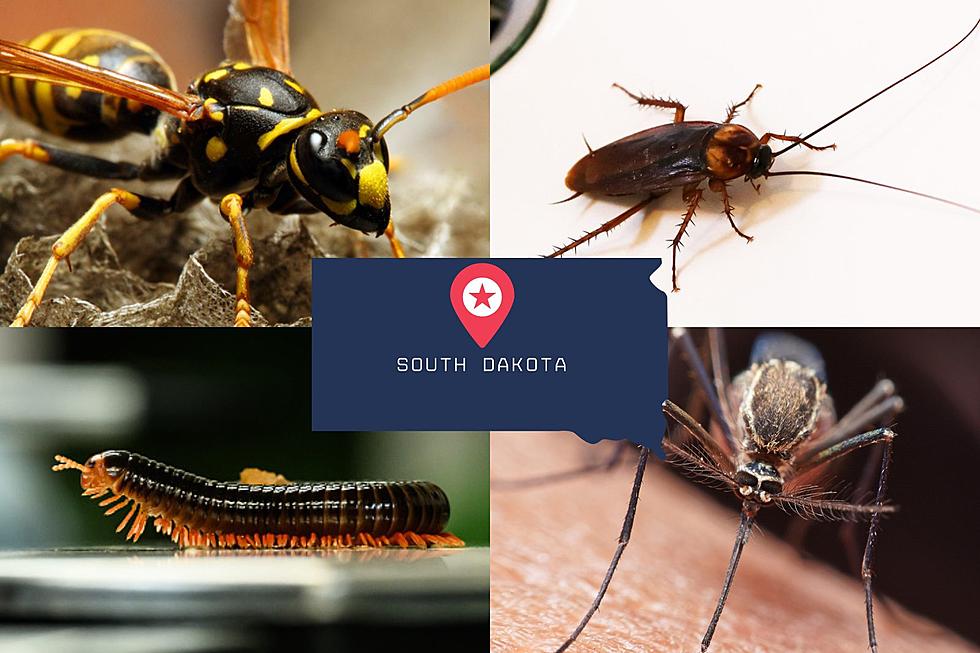 9 Disgusting Bugs In South Dakota You Need to Watch Out For
Getty Images, Canva
South Dakota is no stranger to creepy crawlers lurking in our backyards or even inside our homes. In fact, there are nine different bugs in South Dakota that are more common than most people think.
These common pests are annoying for any homeowner. Luckily with the cooler weather approaching the Sioux Empire, we won't have to worry about most of these nasty insects until next summer.
There is a website called Miss Ollie's Pest Control that lists the nine common bugs that call South Dakota home. The website Only In Your State also names some annoying pests throughout the Sioux Empire.
These are the nine common bugs you will find in South Dakota
Cockroach
These bugs are not only annoying but also they're pretty gross. They can carry all sorts of harmful bacteria. The most common cockroaches found in South Dakota include the German cockroaches, Oriental cockroaches, and American cockroaches.
Bed Bugs
This is another nasty bug that can be found inside your home. They can cause serious damage to your furniture like sofas, mattresses, headboards, and more. They feed off of human and animal blood...yuck.
Earwig 
These bugs are also known as pincher bugs. Only In Your State explains these bugs are harmless overall. They mostly live around damp areas like your basement.
Beetles
Miss Ollie's Pest Control says there are over 180 different species of beetles in South Dakota. These bugs like to feed on grains, flour, and other packaged foods inside your home.
Mosquitos
These bugs are always so annoying in the summertime. Mosquitos do carry harmful diseases like Malaria and West Nile. Fun fact: Only female mosquitos bite.
Hummingbird Moth
These South Dakota bugs are pretty tricky. Only In Your State says the Hummingbird Moth got its name because "they seem to transform into hummingbirds." You can expect to see these bugs fly at dusk.
Centipedes and Millipedes
These bugs are actually not insects. They are categorized as arthropods, which are related to insects. They can be found in sheds, garages, and other humid places inside your home.
Bees and Wasps
These insects pack a huge punch. Their sting is painful for animals and humans. They like to hide in dark and quiet places.
Ants
Ants are everywhere. They are outside on your patio or even sitting in your kitchen. They find ways to take over your home. At least they are harmless...just annoying.
Crickets
If you hear random chirping inside your house, chances are there's a cricket living inside. They can be a nuisance. Crickets can even chew on paper, fabrics, wallpaper, and some furniture.
Always keep your eyes peeled for these nine annoying South Dakota bugs!