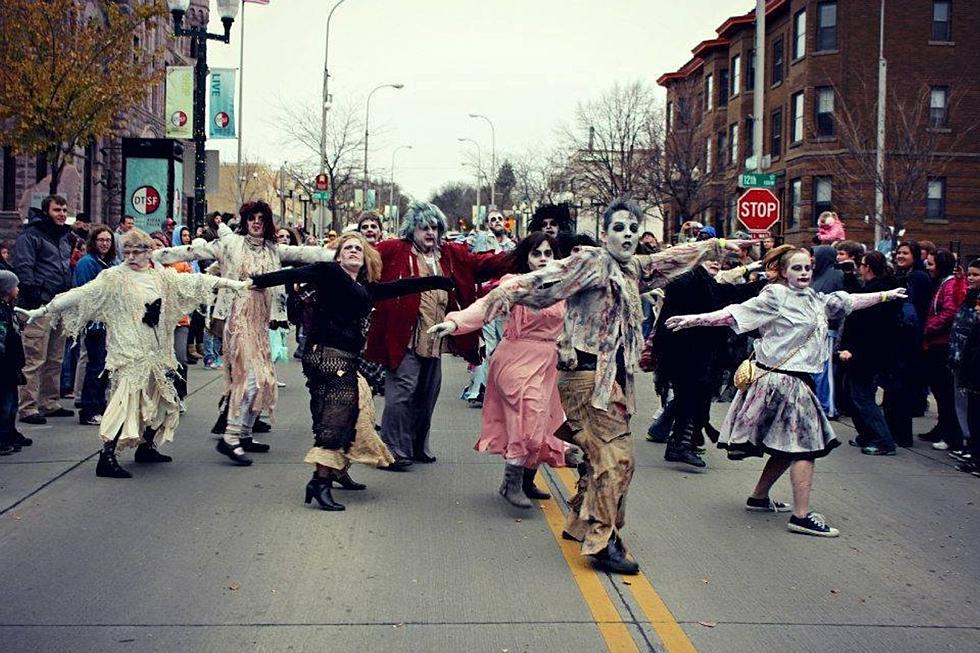 Zombies Are Taking Over Sioux Falls Streets For 'Thriller' Dance
Pigeon605 (with permission)
"Spooky Season" is underway throughout the Sioux Empire. Store shelves are stocked with candy and scary Halloween decorations will soon sit on front yards. Before you know it, zombies will be crawling on the Sioux Falls streets.
The annual Sioux Falls Zombie Walk is set to take place on Saturday, October 28th in the downtown area. Along with the zombies creeping on the streets, they will also be performing a famous dance to get residents into the scary spirit.
Zombies will be performing Michael Jackson's "Thriller" dance during the Sioux Falls Zombie Walk. This year, officials with the Sioux Falls Zombie Walk are encouraging walkers to actually learn the dance. Our friends at Pigeon605 are reporting there will be classes "available through Sioux Falls Community Education and held at Eugene Field Elementary. They start at 6 PM on Thursdays, and there are options to make up classes if you miss any. The class is taught by Lisa Myhre." It's a great opportunity to learn something new and to get involved with the community!
The walk is now organized by the Sioux Falls Roller Dollz. This walk alone raises money for various charities around the Sioux Empire.
The theme for this year's Sioux Falls Zombie Walk is the 1980s. Some costumes could be a bit gory. But the "zombies" are discouraged from screaming or scaring people who come see the parade.
The 16th Sioux Falls Zombie Walk will begin at 4 PM on Saturday, October 28th from the 8th & Railroad Center at 401 East Eighth Street. More information about the event can be found here. It's going to be such a "thriller!"
Don't forget! You can get the latest Sioux Falls news when you "adopt a pigeon" with Pigeon 605.
Tour the 2023 Downtown Sioux Falls Burger Battle
If you've never participated in the Downtown Burger Battle, this is how it works:
Review the participating restaurants and their burgers
Make sure you check their schedule and hours before you go
Go to one of the restaurants
Eat the burger
Use the DTSF Digital Passport to vote and rate the burger
Repeat
And you could win prizes
And you help one downtown restaurant win the Burger Battle and reign supreme for one whole year!
Voting criteria consist of patty, creativity, toppings, bun, and customer service.
Gone But Not Forgotten - Iconic Sioux Falls: Whiffer's Sandwiches
The Merriam-Webster definition of iconic is "widely recognized and well-established." That would definitely describe Whiffer's Sandwiches which used to call North Minnesota Avenue home.
The gone but not forgotten sandwich shop was located in an old house at 1133 North Minnesota Avenue. It served sandwiches to Sioux Falls from November 1978 until the
summer of 2020
.