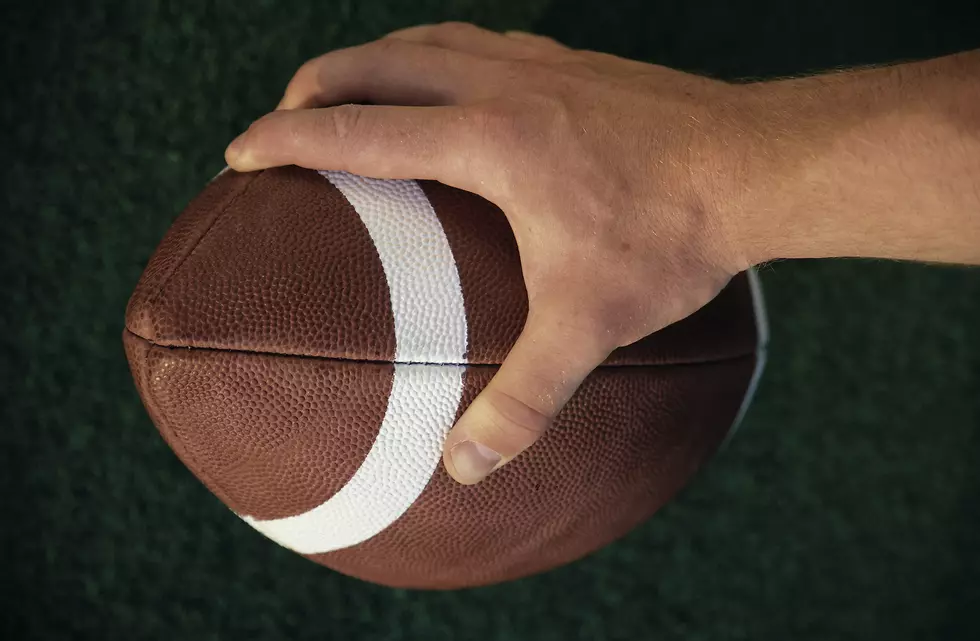 Semifinals Set for South Dakota High School Football Playoffs
Clipart
A cold, windy night started the high school football playoffs in South Dakota. Here are the teams that have moved one step closer to Vermillion.
Class 11AAA went as expected with results, but there were a couple of chances for an upset bid. Sioux Falls Washington rolled over Rapid City Central, while Brandon Valley beat Rapid City Stevens. O'Gorman managed to score the game deciding touchdown with a minute left to beat Aberdeen Central, while Roosevelt stormed back in the second half after trailing 9-7 to beat Watertown.
Washington 56, Rapid City Central 24
O'Gorman 21, Aberdeen Central 14
Brandon Valley 35, Rapid City Stevens 17
Roosevelt 30, Watertown 16
(4) Sioux Falls O'Gorman @ (1) Sioux Falls Washington - 4:00
(3) Brandon Valley @ (2) Sioux Falls Roosevelt - 7:30
Class 11AA is completed outside of one game. Yankton and Douglas will meet on Friday night (Oct. 27) to determine who gets to face Pierre. The Govs beat Brookings 35-14. Mitchell had no issues with Sturgis, and Harrisburg won another edition of the "Tiger Bowl" as they defeated Huron.
Pierre, 35, Brookings 14
Mitchell 41, Sturgis Brown 12
Harrisburg 27, Huron 8
Yankton/Douglas - Playing October 27, 7:00 CT
Yankton/Douglas @ (1) Pierre
(3) Harrisburg @ (2) Mitchell - 7:00
A couple of teams that were in lower seeds ended up winning on Thursday night. 6th seed St. Thomas More defeated Dell Rapids 21-20, while 5th seed Milbank also advanced with a 55-0 win over Todd County. The top two seeds Madison and Dakota Valley had shutout victories to advance to the semifinals.
Madison 43, Tea Area 0
Milbank 55, Todd County 0
Dakota Valley 58, Pine Ridge 0
St. Thomas More 21, Dell Rapids 20
(5) Milbank @ (1) Madison - 7:00
(6) St. Thomas More @ (2) Dakota Valley - 6:00
Sioux Falls Christian has moved on after a dominate win over Groton Area on Thursday night. They will host Woonsocket/Wessington Springs/Sanborn Central next week after the Blackhawks took care of Red Cloud. Sioux Valley remains the team to beat in the class as they have moved on and will be set with a Week 8 rematch with Bridgewater-Emery/Ethan.
Sioux Valley 46, Aberdeen Roncalli 0
Bridgewater-Emery/Ethan 18, Winner 8
SF Christian 48, Groton Area 14
Woonsocket/Wessington Springs/Sanborn Central 60, Red Cloud 6
(5) Bridgewater-Emery/Ethan @ (1) Sioux Valley
(3) Woonsocket/Wessington Springs/Sanborn Central @ (2) Sioux Falls Christian - 7:00
9-Man Semifinal Rounds - All games played on Friday, November 3rd:
(4) Miller/Highmore-Harrold @ (1) Gregory
(7) Kimball/White Lake @ (3) Irene-Wakonda
(4) Howard @ (1) Corsica-Stickney - 7:00
(3) Britton-Hecla @ (2) Warner - 7:00
(5) Colome @ (1) Sully Buttes - 7:00
(6) Castlewood @ (2) Colman-Egan - 7:00