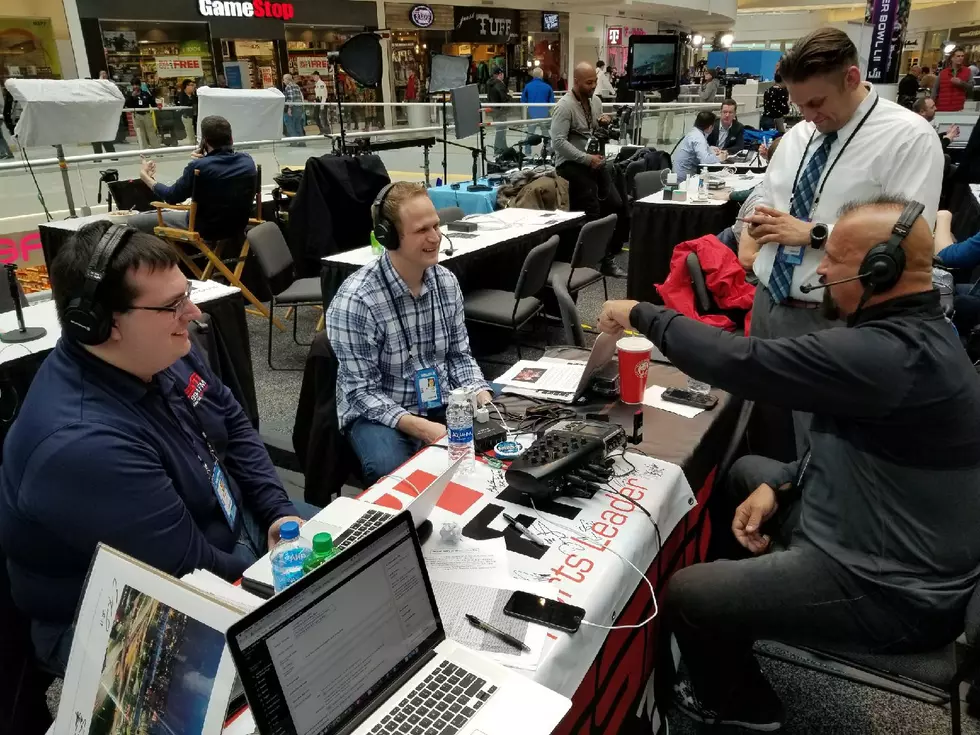 Observations from Radio Row in the Mall of America Food Court
Jerry Palleschi/ESPN 99.1
I had the opportunity to be on Radio Row for a couple of days as part of our Super Bowl coverage on ESPN 99.1. Here's some observations from my experience.
This year's Radio Row is being hosted at the Mall of America. Right outside of the North food court, and I mean right outside of the food court. It truly did feel like the most upper-midwest thing.
That's not a bad thing. It was pretty nice to be able to get out of the working area of Radio Row and find some lunch pretty easily. Trust me, Jeff was all over that.
Radio Row is controlled chaos. When it begins on Monday there's only a few people scattered around as most don't come into town until Tuesday or Wednesday. Tuesday felt like a much different animal as the rows continued to fill up making moving around a little difficult. The entire event peaks on Wednesday and Thursday with it slowing down again on Friday. There are radio stations from all around the world that come in for Radio Row, including a station from Mexico City that were broadcasting behind us.
There's a hodgepodge of big names that attend each year. I had the opportunity to meet Animal from the Road Warriors/Legion of Doom, Stefon Diggs of the Minnesota Vikings, and even the likes of Doug Gottlieb and Bruce Murray. Jeff has said that you never know who would show up at Radio Row and that I'm able to confirm.
Most of the people that you see throughout the media or the players on TV are rather nice and laid back. Gottlieb talked with us all the way up until he went on air for FOX telling us stories about his college basketball playing days and even the Sioux Falls Skyforce. That's just one example, but everyone that I ran into on Radio Row was great. Also of note, most of the personalities that you see on TV are much shorter than what you think that they are. Jim Rome has always appeared to be around 6'2-6'4 on media platforms and in person looks more like 5'8. Just one example.
Overall it was a fantastic experience over the first couple of days up in the cities. Jeff will continue to bring us guests throughout the rest of the week from Radio Row.
If you have the opportunity to go up to the cities today or tomorrow, stop on by the Mall of America and check it out. It's free to do so. Just part of the great events going on in the cities for the Super Bowl.
---