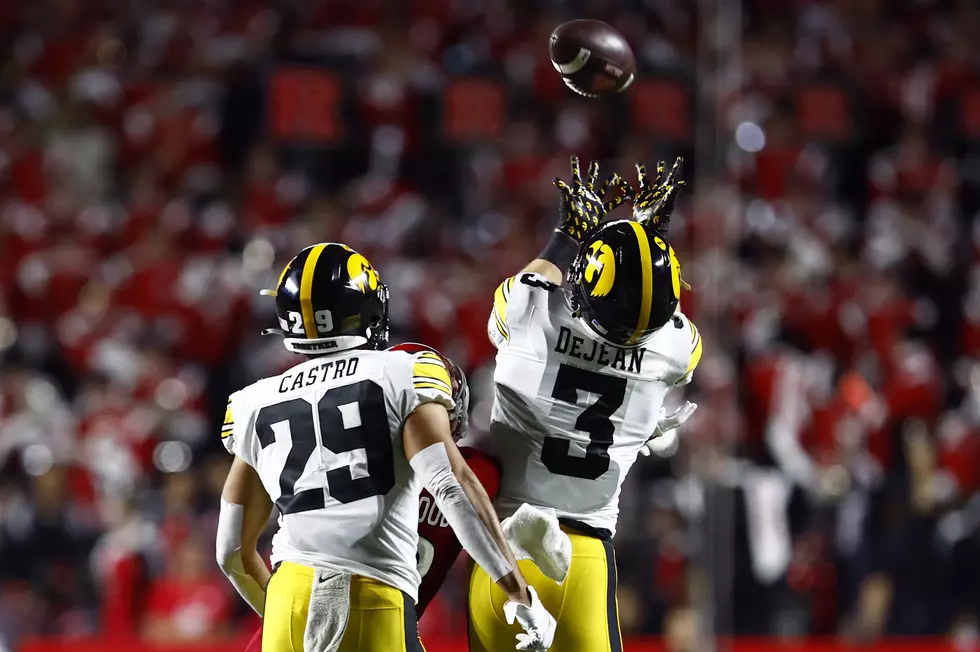 NFL Teams Are Already Scouting These Hawkeye Players
Getty Images
The 2023 NFL Draft was again very kind to the Iowa Hawkeye football program. Four former Iowa players heard their names called over the weekend in Kansas City. Lukas Van Ness, Jack Campbell, Sam LaPorta, and Riley Moss will all be playing on Sundays this fall. NFL general managers love the Iowa football program because they produce players ready to star at the next level. And the cupboard is far from bare in Iowa City. Here are some current Hawkeyes that NFL scouts are already drooling over for 2024.
Iowa defensive back Cooper DeJean had an amazing 2022 season and is one of the top returning defensive backs in college football this fall. 247 Sports reports that DeJean had 75 tackles, five interceptions, and 3 picks returned for touchdowns last season. Perhaps his greatest strength is his versatility. Head coach Kirk Ferentz stated that he believes that DeJean can play all five DB positions. His athleticism makes him a sure-fire target for NFL teams. Cooper still has one year of eligibility remaining following the 2023 season.
The University of Iowa has become Tight End U of late. Names like T.J. Hockenson, Noah Fant, and George Kittle at tight end have made Iowa the place to go for aspiring NFL tight ends. This year the Hawkeyes have another outstanding due in Michigan transfer Eric All and Luke Lachey. Lachey stepped up when Sam LaPorta went down due to injury. He finished the year with nearly 400 yards receiving and four touchdowns, according to 247 Sports. Lachey is a great pass catcher and athlete and is only scratching the surface of his talents. A big 2023 season could put him in the conversation for the NFL Draft. Lachey has one year of eligibility left after 2023.
Our final Hawkeye that just might hear his name early in next year's NFL Draft hasn't even suited up in uniform for the Hawkeyes. Nick Jackson arrived in Iowa City via the transfer portal from Virginia. 247 Sports reports that he chose Iowa over the likes of Oklahoma and LSU, and appears to be the heir apparent to the middle linebacker spot that Jack Campbell turned into a first-round selection by Detroit. Jackson was Virginia's top tackler the past two seasons and will probably be near the top for Iowa in 2023. In his final year of eligibility, watch out for Nick Jackson and the Iowa defense!
Most Memorable Moments of the 2022 Iowa Football Season
Iowa finished the season 8-5, including a 21-0 shutout win over Kentucky in the Music City Bowl. The 2022 season will be remembered as one that was carried by the defense while its offense struggled mightily throughout the season.
Our Favorite Photos From Iowa's Run to the NCAA Championship Game
The 2022-23 Iowa women's basketball season started on November 7 and concluded in the NCAA Championship Game against LSU on Sunday, April 2. Iowa went 31-7 and will be remembered forever for their five NCAA Tournament wins. Here are our favorite photos from the tournament.