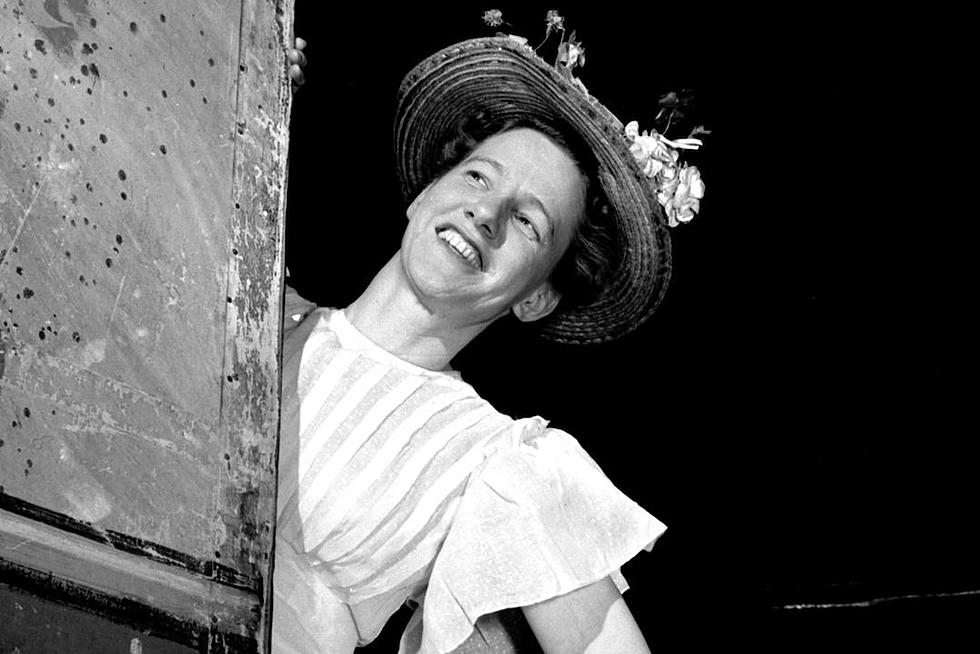 Meet Minnie Pearl: Legendary Country Comedian and Unifying Force
Michael Ochs Archives, Getty Images
Sarah Colley Cannon, a member of Nashville's upper crust, became an onstage inverse of a rags-to-rhinestones story every time she grabbed her hat -- with its $1.98 price tag -- and became one of country music's greatest comedians and best-loved ambassadors, Minnie Pearl.
The iconic performer was born on Oct. 25, 1912, in Centerville, Tenn. As a young woman, she traveled the South for a theater company. She found inspiration for the Minnie Pearl persona while staying in the Sand Mountain region of Northeast Alabama (the same fertile grounds that brought us the Delmore Brothers, the Louvin Brothers and the band Alabama). A woman offering Colley a place to stay told colorful stories and simply referred to the youngest boy in a house filled with children as Brother, inspiring Pearl's down-home delivery and her often-discussed sibling's name (and the lack thereof).
Minnie Pearl, a character that empathized with rural Americans' self-deprecating senses of humor, debuted on the Opry stage in 1940. Highlights of Pearl's set included gossip from the town of Grinder's Switch, Tenn. and stories about such characters as Brother, Uncle Nabob and Pearl's on-again, off-again "feller," Hezzie. Each appearance for decades began with a familiar salutation: "How-dee! I'm just so proud to be here."
Beyond her over-the-top introduction, instantly recognizable look and send-ups of small-town gossip, Pearl was a master of the one-liner. Preview screenings of Ken Burns' Country Music documentary do Pearl's story justice while incorporating the perfect line to tease her self-depreciating style: "When they handed out looks, I thought they said books, so I asked for a funny one."
Other jokes poked fun at family dynamics, from kids' experiences in Sunday School to spouses' date nights. For example, her former joke writer Kevin Kenworthy included this knee-slapper in his book The Best Jokes Minnie Pearl Ever Told (Plus Some That She Overheard): "A man and his wife were at a swanky, buffet-style dinner party in town when the wife whispered to her hubby, 'That's the fifth time you've gone back for more chicken. Doesn't that embarrass you?' He said, 'Not at all. I keep telling 'em that I'm getting it for my wife.'"
"The Sunday School lesson this week was about Noah's ark, and the teacher asked the children what they thought Noah might have done to kill the time for those forty long and dreary days. One little boy said, 'I bet he spent a lotta time fishing!' Another little boy said, 'He couldn't have done that. He only had two worms!"
Her dual identity as a high society woman and a cornball comedian allowed Colley to serve as a mediator at a time when the old money "Athens of the South" crowd resented the lower-brow ground level of what became Music City U.S.A. Colley's involvement in both sides of Nashville's identity helped the old guard to see fiscal possibilities of learning to stop worrying and love the Grand Ole Opry
Comedy albums, novelty songs and even a failed fried chicken franchise followed, but Pearl remained synonymous as the Opry, both with comedic sidekick Rod Brasfield from 1948 to 1958 and as a solo attraction. Later in her career, Pearl's role as Nashville's top emcee crossed over to the small screen, most notably when the rise of TNN (The Nashville Network) in the 1980's introduced her to a new generation of fans.
A June 1991 stroke cut short the still-active performer's career. After five years in a Nashville nursing home, the woman known to millions as Minnie Pearl passed on March 4, 1996. Her husband and former manager Henry Cannon (Aug. 11, 1917-Nov. 7, 1997) survived her by a little over a year and a half.
50 Country Songs Everyone Must Hear Before They Die