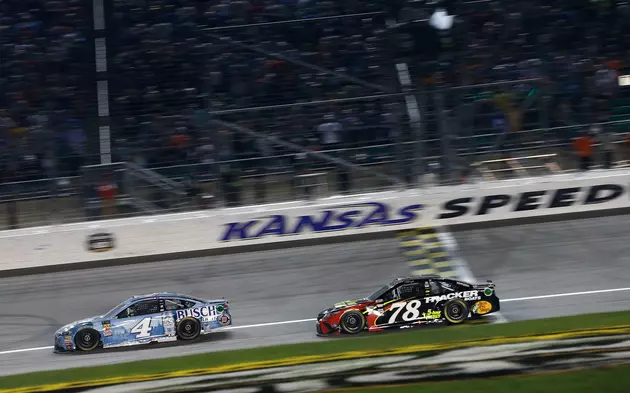 Kevin Harvick Wins NASCAR at Kansas Speedway
Brian Lawdermilk, Getty Images
Saturday night, the KC Masterpiece 400 Monster Energy NASCAR Cup Series event at Kansas Speedway was my kinda race! It got down to the final laps.
Kevin Harvick passed defending champion Martin Truex, Jr. with one lap to go for the win. Harvick crossed the finish line by a blink of an eye, translated to .3 seconds, ahead of Truex.
The real action began after the final restart with just eight laps to go. Harvick chased Truex down utilizing the top lane, mainly on the final five laps.
The winning pass was made thru the third and fourth turns. Truex was not on the top and Harvick was able to simply drive by.
Truex had earlier taken the lead by staying out on older tires after a caution for an accident involving Kyle Larson and Ryan Blaney on Lap 248. He thought he could keep Harvick behind him in the closing laps, but that was not what happened.
The victory was Harvick's second in a row and fifth in 12 starts this season. Joey Logano ran third, followed by Larson and Denny Hamlin. See where your driver finished.
The most violent crash Saturday night happened on lap 253, setting up the final restart mentioned earlier in this story. William Byron got loose underneath Clint Bowyer's Ford and knocked Bowyer up the track.
Byron slammed the wall hard and landed on the hood of Ryan Newman and slid down the track on fire. The crash involved seven cars all together. Drivers were shaken but not stirred.
---