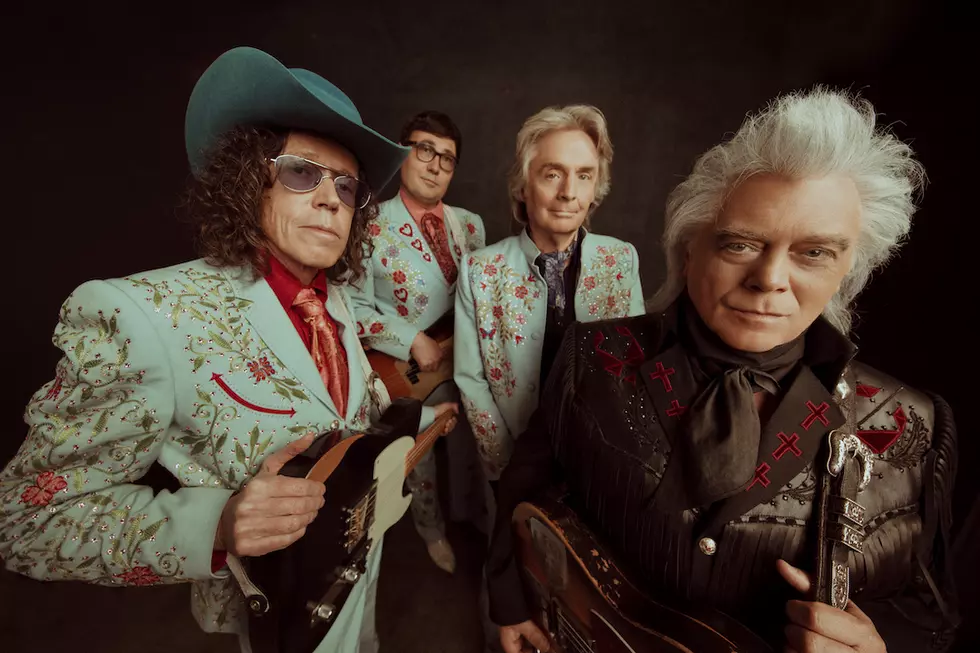 Marty Stuart Announces 'Altitude,' His First New Album in Six Years
Alyssa Gafkjen
On the heels of a landmark year filled with major career accomplishments, Marty Stuart is ready to check off another box on his to-do list. The 64-year talent is set to release Altitude, his first new album in six years, on May 19.
The recently-inducted Country Music Hall of Fame member stays true to his roots on the record's title track, which puts a thoughtful, modern touch on the traditional classic country sound.
"I've been quoted as saying the most outlaw thing you can possibly do in Nashville, TN, these days is to play country music. It can be done," Stuart notes. "On 'Altitude,' there's twin fiddles, steel guitar, and the legendary Pig Robbins playing piano on what turned out to be one of his last recording sessions."
Joined by his acclaimed band, the Fabulous Superlatives, comprised of Kenny Vaughan, Harry Stinson and Chris Scruggs, Stuart's immeasurable talents shine brighter than ever before.
"The song is a reminder to me, and to anyone else still interested, that there's a few of us out here who still know how to make authentic country music. I have an absolute belief that there's a world of people out there who still love it, as my wife Connie Smith says it's the 'cry of the heart,' Harlan Howard said 'it's' three chords and the truth' - that's country music."
Listen below:
The songs featured on Stuart's latest LP were largely inspired by his time on the road with The Byrds co-founding members Roger McGuinn and Chris Hillman in 2018, as they marked the 50th anniversary of their influential 1968 album Sweetheart of the Rodeo.
"I bought my first copy of Sweetheart of the Rodeo for $2.99 at the discount bin in a shopping mall record store in Goodlettsville, Tennessee, and it became the blueprint for my musical life," Stuart recalls. "Revisiting it on the road with Roger and Chris put me back under its spell all over again. I was writing songs in dressing rooms and soundchecks and on the bus, and then one day, I looked up and there was enough to make an album."
Although Stuart derives much of his inspiration from figures, songs and moments from the past, he's perfected the art of making those familiar sounds and stories into something bold and original. His ability to tap into the myriad of emotions unlocked by experiences we share is a talent only held by history's greatest songwriters.
"I've always loved songs that feel like old friends but still sound new and fresh," Stuart explains.  "The beautiful thing about country music is that the blueprint Jimmie Rodgers laid down—rambling, gambling, sin, redemption, Heaven, Hell—it's all just as relevant now as it ever was. It's the human condition, and if you're honest about it and you've got a real band around you, you can make something that's uniquely yours and stands the test of time."
You can find more information Altitude, including a full list of upcoming tour dates, at Marty Stuart's official website.
Marty Stuart, Altitude Track List:
1. "Lost Byrd Space Train (Scene 1)"
2. "Country Star"
3. "Sitting Alone"
4. "A Friend of Mine"
5. "Space"
6. "Altitude"
7. "Vegas"
8. "The Sun is Quietly Sleeping"
9. "Lost Byrd Space Train (Scene 2)"
10. "Night Riding"
11. "Tomahawk"
12. "Time to Dance"
13. "The Angels Came Down"
14. "Lost Byrd Space Train (Epilogue)"
PHOTOS: Marty Stuart Through the Years
Take a look back at these noteworthy moments from Marty Stuart's lengthy country music career.