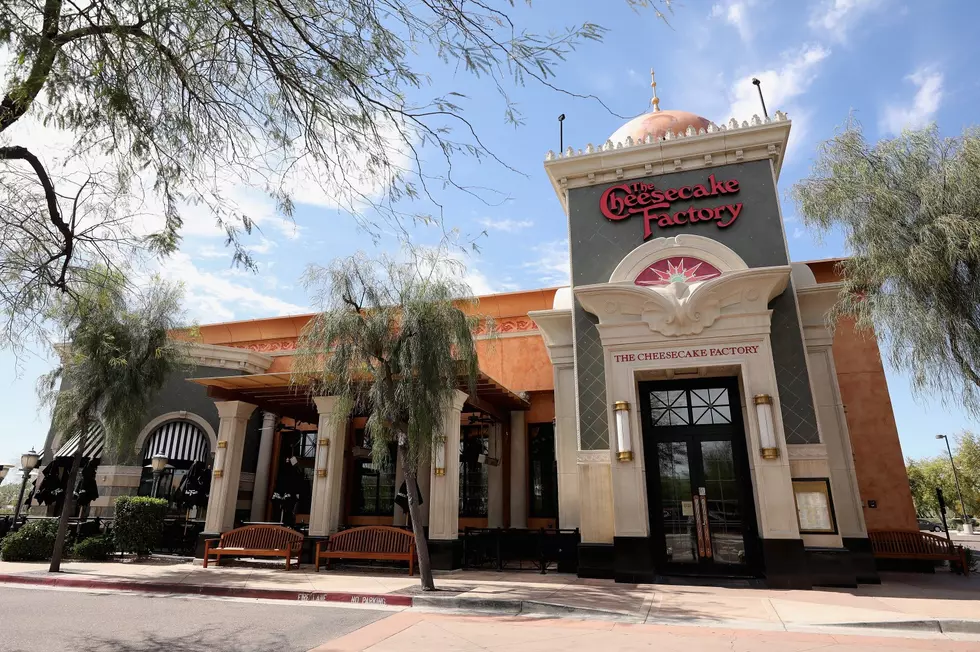 Where Can You Get Cheesecake Factory Cheesecake in Sioux Falls?
Getty Images
For years, food lovers in Sioux Falls have been collectively holding their breath in the hopes that The Cheesecake Factory would finally open a location in South Dakota's largest city.
But sadly, despite having 318 restaurants in the United States and Canada, the Mount Rushmore State remains one of 11 in the country shut out from all of that Cheesecake Factory goodness, with its over-the-top 20-page menu.
Omaha (185 miles), Edina, Minnesota (229 miles), and Des Moines (275 miles) are still our only 'nearby' options for the in-person Cheesecake Factory dining experience.
That doesn't mean you can't satisfy at least a small portion of your Cheesecake Factory cravings in Sioux Falls.
There are five different places in the city where you can walk out with a slice (or more) of cheesecake today.
The cafe tucked in the back of Sioux Falls' biggest bookstore has the best selection in town for a fresh slice of Cheesecake Factory cheesecake.
The current options are Godiva Double Chocolate ($5.95 plus tax), Original ($4.95 plus tax), and Coconut Cream Pie ($5.95 plus tax).
You can buy them by the slice or take home an entire cheesecake in those flavors.
Next time you're dining at either Sioux Falls Fazoli's location, you can add on one of two fresh Cheesecake Factory options for dessert: Original or Triple Chocolate for $4.29 (plus tax).
If you're in the Cheesecake Factory mood at Fazoli's, but don't want cheesecake, you can opt for the Chocolate Fudge cake.
Sioux Falls' two Target locations have a single Cheesecake Factory option to choose from.
For $17.29 (plus tax), you can pick up a seven-inch original cheesecake in the freezer section.
At Costco, you've got one option to choose from in the warehouse.
For $13.99 (plus tax), you can pick up a 54-count of cheesecake slices with a trio of flavors to choose from: Caramel Swirl, Raspberry Swirl, and Chocolate Swirl.
You have two cheesecake options here.
There's a seven-inch original cheesecake for $15.97 (plus tax) in the freezer section.
If you're looking for a little variety, there's the frozen Grand Cheesecake Selection, with White Chocolate Raspberry Truffle, Chocolate Mousse, Original with Strawberry topping, and Snickers Bar Chunks. That will set you back $18.48 (plus tax).
BONUS: Walmart also carries some of that incredible Cheesecake Factory brown bread, in dinner rolls or mini baguettes.
Sioux Falls' Most Underrated Restaurants
Check Out This 1962 Listing of Sioux Falls Bars and Restaurants - Do You Remember Any?
Check out this collection of
Sioux Falls
bars and restaurants. We have Giovanni's Steak House, The Rainbow Bar, Harry's Hamburgers, Eagle Bar and Lounge, Pancake House, Nickel Plate, and more. Do you remember any of them? Or how long any lasted?
Top 14 Restaurants That Should Come Back to Sioux Falls
Some friends and I were getting together for dinner and we were trying to decide where to go. That's when we started reminiscing about our favorite Sioux Falls restaurants that have come and gone. Here's a list of 14 restaurants I want to come back to Sioux Falls. What restaurants were your favorites that are no longer in Sioux Falls?