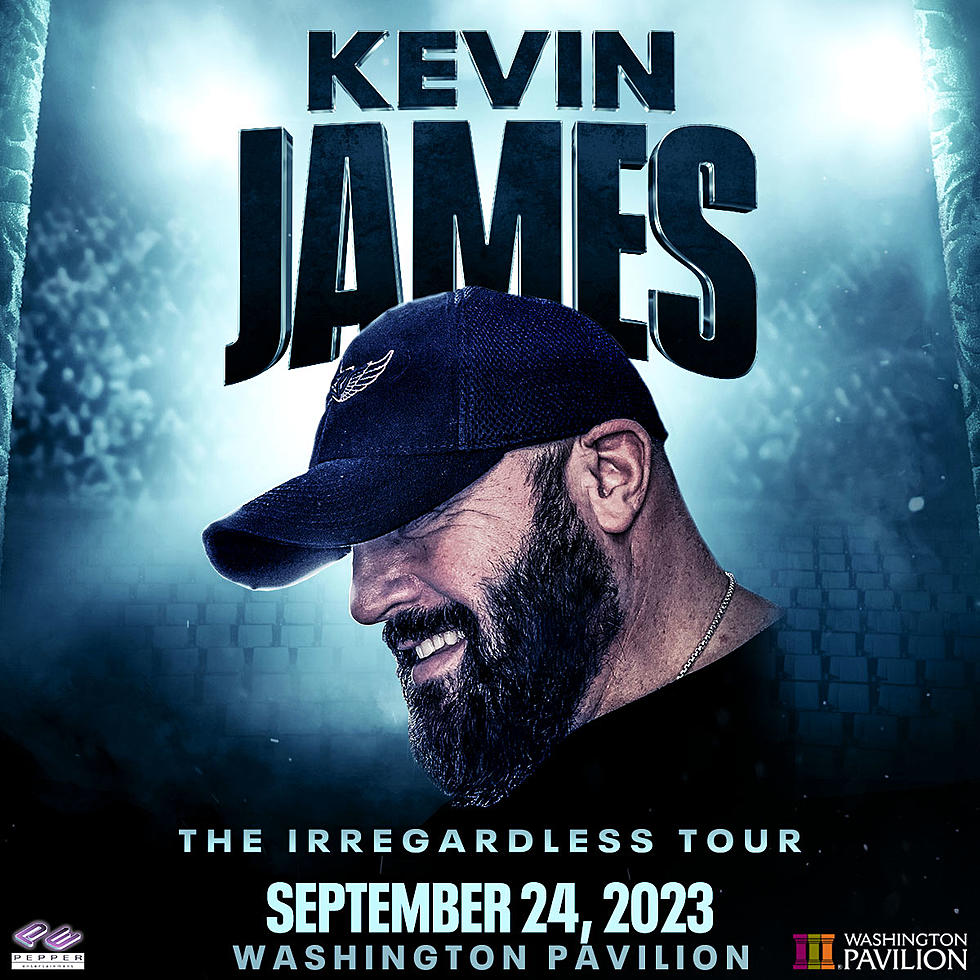 Comedian Actor Kevin James Adds Second Show!
Photo and graphics provided by Pepper Entertainment
UPDATE - 03/06/2023:
Due to overwhelming demand, Kevin James has added a second show on Sept. 24 @5P.M. at the Washington Pavilion! Tickets will go on sale this Friday, March 10 @ 10 am. Tickets available at: https://www.washingtonpavilion.org/event/kevin-james
Tickets for the second show will go on sale on Friday, March 10 at 10 am.
***Original story***
Oh, how we love this guy! Kevin James is coming to Sioux Falls in September and we'll be more than ready.
Kevin James: The Irregardless Tour is coming to the Washington Pavilion in Sioux Falls on Sunday, Sept. 24, 2023. Tickets go on sale Friday, March 3 @ 10:00 AM.
Grab tickets here and watch for presale specials other perks. Scroll down for more information.
Kevin James began his career as a stand-up on the Long Island comedy scene. After being discovered at the 1996 Montreal Comedy Festival, he signed a network development deal to create his own sitcom. The King of Queens, which premiered in 1998, ran for nine seasons on CBS with James starring and executive producing, and it garnered him an Emmy nomination for Outstanding Lead Actor a Comedy Series. The show concluded its run in 2007 but continues to air daily in syndication
across the country and around the world.
James brought his stand-up act to TV with Sweat the Small Stuff, a one-hour special for Comedy Central. Kevin James and Ray Romano executive produced and starred in the HBO Sports Special Making the Cut: The Road to Pebble Beach; a documentary about the Pebble Beach Pro Am Golf Tournament that was nominated for a Sports Emmy. His second comedy special Never Don't Give Up premiered on Netflix to critical acclaim.
His comedy movies are legendary. Paul Blart: Mall Cop and it's sequel are hysterical. And the same goes for Grown Ups 1 & 2 starring alongside Adam Sandler.
OK...some more details about tickets:
On-Sale Dates:
Wednesday, March 1 | 10 a.m. | Pavilion Donors
Thursday, March 2 | 10 a.m. | Pavilion Members and Subscribers
Friday, March 3 | 10 a.m. | Public
Donors, Members and Subscribers will need to log into their account to view this advantage!
Pre-Sale Instructions:
1. Click Buy Tickets.
2. Enter pre-sale Promo Code in the gray bar on the top of the page.
3. Click Buy.
Ticket buyers will not see a Kevin James button until they enter the promo code.
Grab your laugh pants and we'll see you in September.