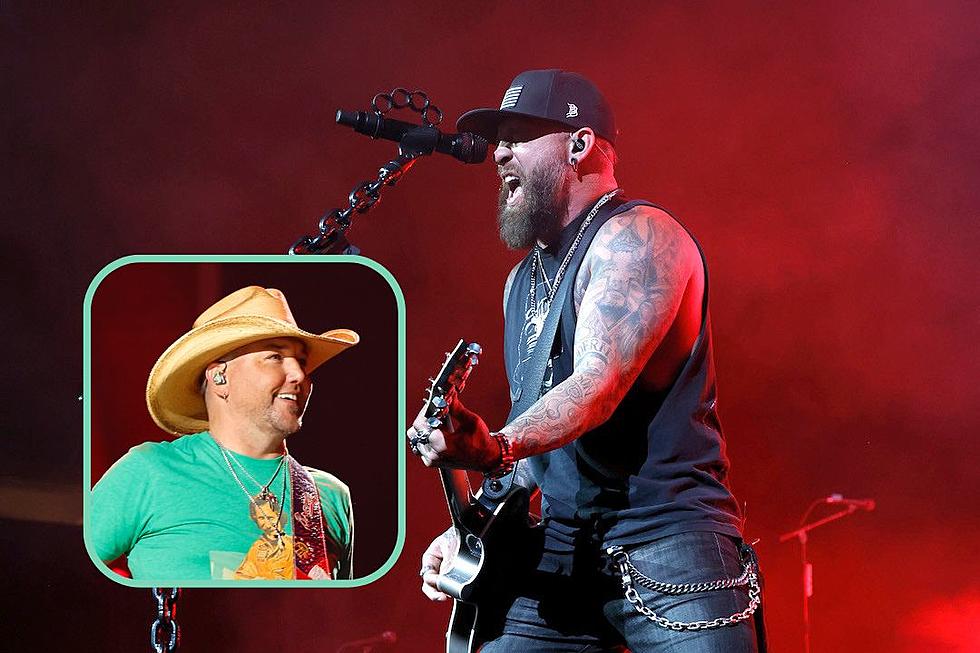 Brantley Gilbert Slaps Down 'Keyboard Warriors' as Jason Aldean Joins Him Onstage in Nashville
Jason Kempin (2), Getty Images
Brantley Gilbert hasn't spoken much on social media about the fracas surrounding Jason Aldean's "Try That in a Small Town," but while performing at Nashville's Bridgestone Arena on Tuesday night (Aug. 1), the singer hinted that it's been tough for him to bite his tongue about the issue.
Rock act Nickelback was headlining the evening for the Nashville stop on their 2023 Get Rollin' Tour, which features Gilbert as an opening act. He wasn't the only country guest of the evening: In fact, a slew of rock-friendly country stars appeared onstage on Tuesday, including Jelly Roll, Hardy, Bailey Zimmerman and — you guessed it — Aldean.
Aldean and Gilbert performed a couple of Aldean's Gilbert-penned hits — "Dirt Road Anthem" and "My Kinda Party" — and after Aldean left the stage, Gilbert made some comments that, while vague, seemed to speak to the controversy surrounding Aldean's current single.
"There's a lot of things going on in the world [right now] that I don't understand or give a s--t to," he said, according to the Tennessean. He went on to criticize "keyboard warriors," saying he'd prefer face-to-face conversation with those he disagrees with, and adding, "we live in a world where nobody gets punched in the face anymore."
He also said that even if he'd wanted to make a social media statement in support of Aldean, he wouldn't have been able to, because he previously made the decision to hand over his account passwords to his team.
"I don't have the passwords to my social media because I am a liability," Gilbert joked onstage.
Aldean himself didn't speak to "Try That in a Small Town" during his time onstage at Bridgestone, though he has addressed it at a couple of recent concerts of his own. Instead, he thanked Gilbert for writing "Dirt Road Anthem" and "changing my life with that song" during his time onstage in Nashville.
The negative attention to Aldean's "Try That in a Small Town" heated up in mid-July after the music video dropped. Critics denounced the song's lyrics as racist dogwhistling and glorification of gun-based vigilante justice. The music video was particularly subject to criticism because much of it filmed in front of Columbia, Tenn.'s Maury County courthouse, where a mob hung the body of a Black man named Henry Choate after lynching and murdering him in 1927.
See the Most Played Country Song from the Year You Were Born
Who had the most played country song during the year you were born? This list is a fascinating time capsule of prevalent trends from every decade in American history. Scroll through to find your birth year and then click to listen. Some of these songs have been lost through the years, many of them for good reason!