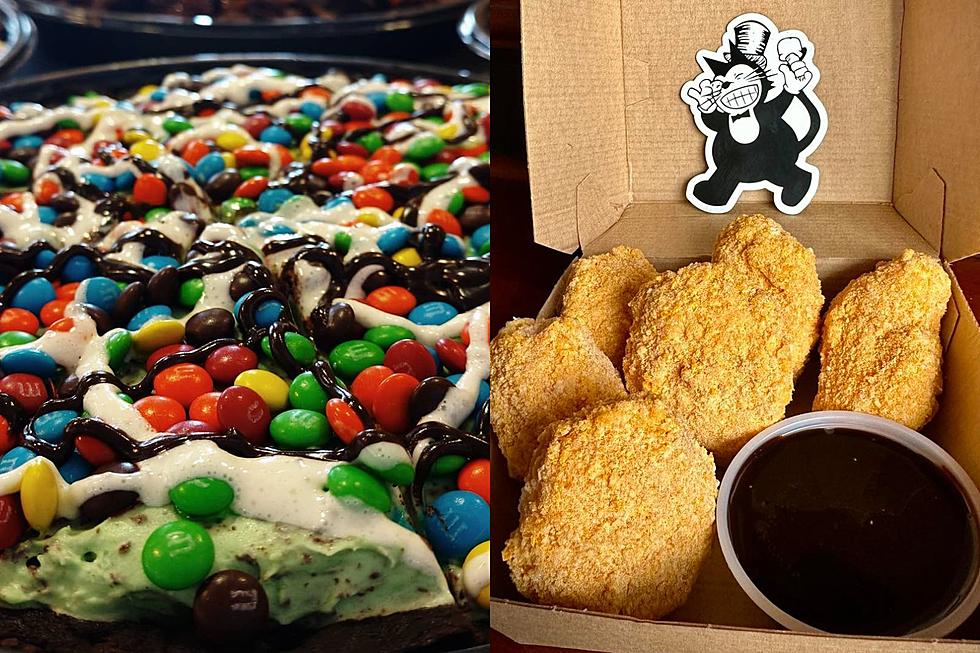 Iowa is Home to Ice Cream Pizza, Nuggets, Nachos, and More
Over the Top/Black Cat Ice Cream, Facebook
We told you a few weeks ago that the Blairstown Quick Stop is now offering Ice Cream Nachos, but they're not the only Iowa business offering fun ice cream treats!
In case you missed it, the Blairstown Quick Stop at 321 Locust St NW in Blairstown is offering a creative new ice cream creation this summer. Their Ice Cream Nachos consist of waffle cone chips, ice cream, whipped cream, and then the dipping sauce of your choice (chocolate, caramel, or strawberry sauce). They look amazing!
Another Eastern Iowa ice cream is also selling ice cream nachos, but their version is called Waffle Nachos. Like the Blairstown Quick Stop, Sugar Bowl Downtown in Decorah's nachos includes waffle cone chips, but they also allow customers to choose up to two ice cream flavors and two toppings. There are all sorts of fruits, nuts, and candies you can add!
These awesome ice cream creations inspired us to look for others here in the state of Iowa, and there are some good ones! You've heard of ice cream cake, but have you ever heard of ice cream PIZZA?
Over the Top is an ice cream shop in Pleasant Hill, Iowa that offers five different flavors of Ice Cream Pizza. The pizzas are cut into eight pieces and are made up of a baked brownie crust, ice cream, toppings, and drizzle. Your flavor options include Knee Deep in Chocolate, Peanut Butter Belly Buster, Cookies 'n Cream, Cookie Dough Delite, and English Toffee Crunch.
Over the Top has also offered something called an Ice Cream Taco on their menu in the past! It consists of a homemade waffle shell dipped in chocolate and sprinkles, and your choice of ice cream flavors with either chocolate or caramel. Top it with whipped cream and a cherry and voilà! You've got the Ice Cream Taco!
Have you ever had rolled ice cream before? According to Bigger Bolder Baking, it's a type of ice cream that's "spread thin on a really cold metal surface then scraped up into a perfect spiral." There are a few different places that serve rolled cream here in Iowa, including a traveling food truck called Totally Rolled! I tried them for the first time last summer and I absolutely love it! Totally Rolled also has a storefront at 5545 Mills Civic Pkwy in West Des Moines.
Another Iowa business that sells rolled ice cream is Sweet Swirls, which has locations in Ankeny and Bondurant.
When it comes to unique ice cream creations, Black Cat Ice Cream in Des Moines has one of the best. They offer Ice Cream NUGGETS! They're basically balls of ice cream that are hand-dipped in chocolate and coated with different cereals. Some of the flavors they've offered include Red Velvet Oreo, Brookie, S'more, Birthday Cake, and Banana Pudding.
And finally... there are lots of places that serve milkshakes in the state of Iowa, but not all milkshakes are created equal! Zombie Burger in Des Moines is known for their variety of cereal milkshakes, like Zombie Unicorn, Cinnamon Toast Crunch, Reese's Puffs, and Crunch Berry.
Here in Eastern Iowa, Frydae in Marion is a popular stop for epic milkshakes. They're constantly coming up with unique new flavors, like Glampfire, Dirt Cup, Candyland, Coffee & Donuts, Pumpkin Cheesecake, Banana Pudding, and more. Plus they serve Ice Cream Pie, which looks AMAZING.
To close out the list, we have to tell you about a place over in Bettendorf and Waukee called Central Standard Craft Beer & Burgers. Their milkshakes are insane! Can you imagine trying to finish one of these by yourself?!
Do you know of any awesome ice cream creations here in Iowa? Let us know in the comments!
The Highest-Rated Cedar Rapids Restaurants on Yelp (July 2023)
We have a ton of great local restaurants in Cedar Rapids, but which ones are the best of the best? To determine the top 15 restaurants in Cedar Rapids, we looked at
Yelp
reviews for businesses that are within city limits. Here are the highest-rated restaurants as of July 5th, 2023:
LOOK: Most common fast food chains in Iowa
Stacker
compiled a list of the most common chain restaurants in Iowa using data from the Friendly City Lab at Georgia Tech.
The following statistics are based on data from the year 2022