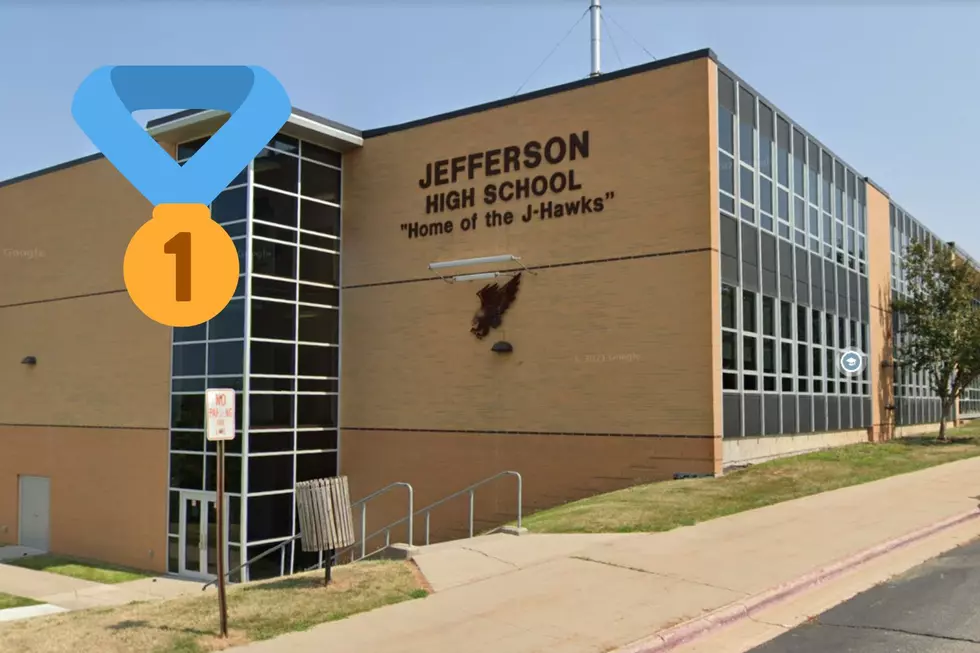 Iowa High School Football Player Makes History
Google Maps, Canva
A Jefferson High school football player recently made school history. Anytime you're the first person to do something, I'd say that's pretty impressive. Making the history books is something I think every high school athlete secretly really wants to accomplish and this Jefferson High School kicker has done just that.
Lillian Ulrich is a two-sport athlete at Jefferson High and is now the first female to score a point in a Jefferson High School varsity football game. Her main sport is soccer and the varsity football team ran into an issue where they didn't have a kicker. She was approached with the idea of possibly kicking for the football team. It'd be fair to say she wasn't all too thrilled with the idea...at first. She told KCRG
Oh no, I'm not going out. I didn't want anything to do with this.
It turns out Lillian isn't the only football player in her family. She received some inspiration to play from her younger sister. Lillian has a younger sister named Lulu, who also plays football. She's been playing tackle football for years and is currently on her middle school team.  Lulu told KCRG, she loves being able to tackle.
I like hitting kids and I like catching the ball. You can hit kids as hard as you want without getting in trouble.
It sounds like Lulu has that football attitude you hear coaches talk about. I can think of plenty of NFL players who weren't a fan of tackling opponents. Does the name Deion Sanders ring a bell to any football fans?
Lillian has been able to find inspiration from her younger sister. She also admits to not being quite as tough as her. She told KCRG
I hate to say it she's like my idol, I was like if she can do it I can do it. She is just so tough because she actually plays I mean she's just not the kicker.
It hasn't always been easy for Lillian, especially at the start of the season. Imagine trying to learn a new sport and also being one of the very few, maybe the only, girl on the field. It's not hard to imagine why that could be tough to deal with.
Through practice and hard work, she's greatly improved since the start of the season. She's been drilling field goals in practice and she admits to still having to control some nerves during the games. She told KCRG she remembers wanting to quit at the beginning of the season and she still gets a bit nervous.
I was like 'well this sucks. My parents said 'I didn't raise a quitter. The difference between it being in the game is so many nerves like your heart is beating fast and everything.
Lillian was able to show off all of her hard work as she recently made a field goal in Jefferson's homecoming football game. From that moment on, she's been cemented in the Jefferson High School record books. She told KCRG she was excited about the kick and hopes it can help open opportunities for other girls.
I felt so good. I wanna go back in. I want to kick more. It feels great like I can brag to my little sister about it. I feel like it opens up so many other opportunities for other girls that want to come out for football that are scared to.
Iowa Born Sports Stars
What do each of these stellar athletes have in common? They all hail from the Hawkeye State.
Ashton Kutcher's Childhood Home in Homestead, Iowa
The well-known actor hails from Iowa. Ashton Kutcher was born in Cedar Rapids and spent his formative years in Homestead. The later is where he helped his step-dad build this space nearly 30 years ago. In 2015, Ashton decided to give his mom the surprise of her life when he redid their basement space.