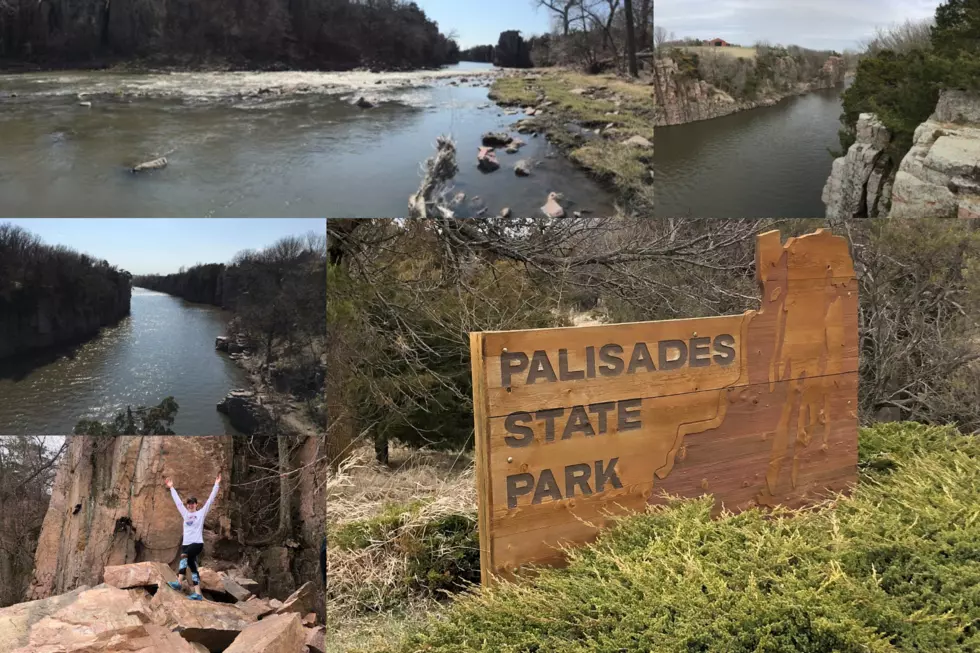 Hometown Tuesday: Palisades State Park
Credit: Christine Manika (TSM), Sam Wright
South Dakota is home to many local, state, and national parks.  There is always a new path to explore and new heights to climb, just like the scenic opportunities that are available at 
Palisades State Park
.
Located right outside of Garretson, South  Dakota, Palisades State Park is the home of Split Rock Creek and the Sioux quartzite formations which tower above the creek's swiftly flowing water. According to its website, 
Palisades State Park
 park is filled with history dating back to the 1800s. The park was once occupied by a town that successfully ran a huge flower mill overlooking 
Palisades State Park
.  In the late 1880s, silver was even discovered downstream. It was eventually determined that the silver was of very poor quality and thus virtually worthless.
The Sioux quartzite spires tower over the park and its trails.   The website states, "For millions of years, Split Rock Creek cut deep gorges through Palisades State Park. Geologists estimate the Sioux quartzite spires are 1.2 billion years old. Four hiking trails twist and turn through these beautiful Sioux quartzite formations. The cliffs and formations at Palisades are used by rock climbers to practice their scaling and rappelling techniques."
After living in the Sioux Empire for almost two years, I finally had the opportunity to visit 
Palisades State Park
.  My family and I always try to find great hiking trails to explore just like the ones at 
Palisades State Park
. The park definitely offers adventurous trails for rock climbers to pursue. You view the world from a different perspective when you're at the peak of any of the Sioux quartzite spires.
I'll admit, I have a little, tiny fear of heights.  However, it is truly a rewarding feeling when you conquer fear and reach the top!
Palisades State Park is currently in the process of expanding and developing its green space.   Governor Kristi Noem in conjunction with Game, Fish, and Parks joined forces with South Dakota Parks and Wildlife Foundation to acquire more land for future recreational growth.  For more information regarding the enhancement of the state park, click here!
Enter your number to get our free mobile app
Things I Miss as a Result of COVID-19