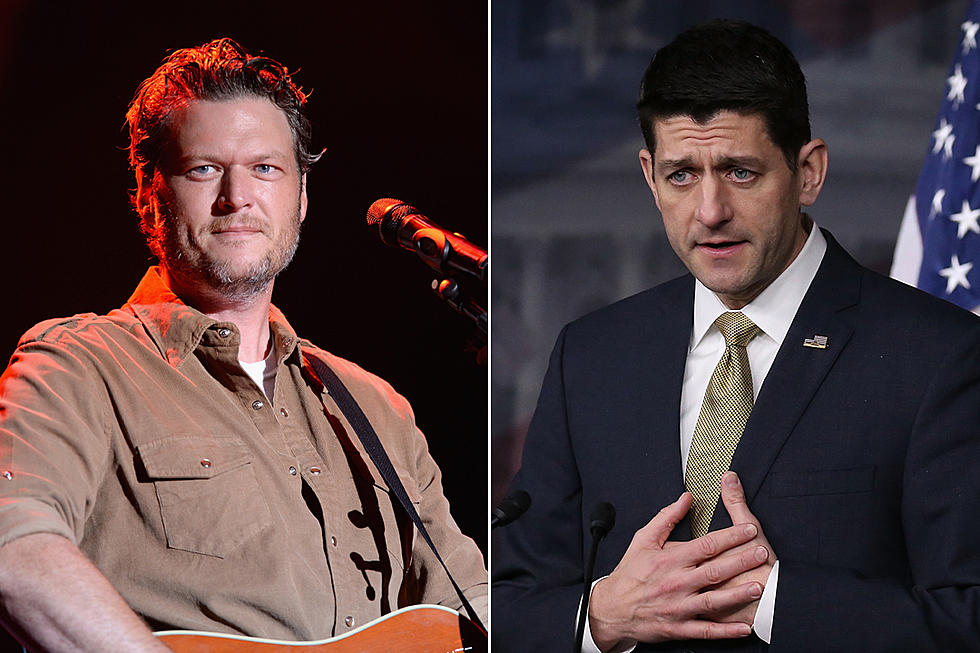 Blake Shelton Goes on Twitter Rant After Users Troll Him About Paul Ryan
Stephen Lovekin / Mark Wilson, Getty Images
Blake Shelton is used to seeing his every move splashed all over the headlines and the internet, but even he is astonished at the crazy reaction he's experienced after reports circulated that he was spotted with Speaker of the House Paul Ryan.
Shelton recently launched a venue called Ole Red in Tishomingo, Okla., and he and girlfriend Gwen Stefani were spotted there on Wednesday night (Nov. 29). Local resident Bobbie LaFevers tells KXII in Tishomingo that she was shocked when she just ran into them at random with Ryan.
"In walked Paul Ryan first, Speaker of the House and then double duty, we got to see Blake Shelton walk in, him and Gwen," LaFevers says, adding that it's not the first time she's seen Oklahoma native Shelton in Tishomingo, where he used to live with ex-wife Miranda Lambert. But it's the first time she's seen him with the Speaker.
Ryan is currently working on trying to push through a controversial tax bill that many detractors claim will ultimately raise taxes on the poor and middle class and cut taxes for the wealthiest few Americans, and a number of Twitter users called Shelton and Stefani out online for being seen with him. By Thursday afternoon, the country superstar and coach on The Voice decided he'd had enough, and turned to social media to address the absurd flap directly:
Shelton has no history of publicly supporting political candidates from either side of the aisle, but it's not the first time he's responded to an uproar over perceived support of a controversial political figure.
In July 2016 he posted a series of tweets explaining his position about not discussing politics in the public sphere after comments he made to Billboard about the 2016 presidential race were misconstrued as his supporting then-candidate Donald Trump.
"I purposely stay out of pushing my opinions on people," Shelton explained, adding, "I encourage young people to make up their own mind."
Blake Shelton Clarifies His Position on Donald Trump
Country Stars Endorse Blake Shelton for President? Kinda!