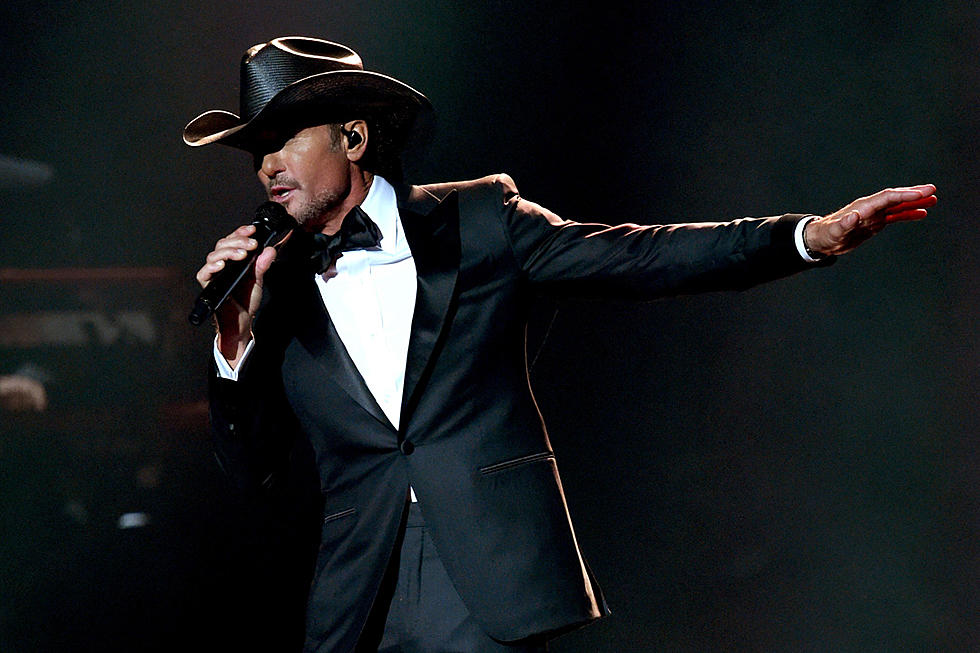 These 10 Tim McGraw Covers Prove His Music Has No Boundaries
Ethan Miller, Getty Images
If imitation is the sincerest form of flattery, then Tim McGraw has to be blushing daily. Dozens, if not hundreds and thousands of cover versions of his most famous songs permeate the internet. You'll find hits, deep cuts and covers of his covers on YouTube!
Here are the 10 best Tim McGraw covers from famous artists, country newcomers and fans. A father-daughter cover "Highway Don't Care" is a must-listen. So is a one-time The Voice singer's version of "Real Good Man." Did you know that while on tour together, Brett Young and Charles Kelley would cover a McGraw song every night? You will after you watch, and you might be a little upset you missed the You Look Good Tour!
Taste of Country RISERS act Jacob Davis chose a McGraw cover for his RISERS performance. It's one Louisiana singer paying tribute to another when these men join forces. Tell us your favorite McGraw cover in the comments section below!
10

"Where the Green Grass Grows"

Jacob Davis

Davis brings the funk to this cover of "Where the Green Grass Grows," adding his own vocal inflections across a very live version of the cut.

9

"Highway Don't Care"

Derek Cate and His Daughter Hailey

Honestly, we just love this father and daughter team and everything they stand for. They've done many covers songs together, with Derek's husky, Brantley Gilbert-like voice mixing well with his daughter's sweet sound. It's got 75,000 views, and we might be responsible for half.

8

"Humble and Kind"

Chandler Stephens

Great country covers can be simple guitar and microphone records, or fully produced music videos like this one from Chandler Stephens. Her emotional recreation of "Humble and Kind" reminds us of the first-time goosebumps we got from this McGraw song.

7

"Live Like You Were Dying"

Zach Seabaugh

The Voice is a haven for great cover performances and Seabaugh's 2015 cover of Tim McGraw's all-time greatest song seemed pulled from the contestant's songbook. Heavier guitars and a fuller chorus mark his version. We would have spun our chair for this cover song.

6

"Just to See You Smile"

Mitch Rossell

Four years before Garth Brooks would make his song "Ask Me How I Know" a single, Mitch Rossell was a cover artist on YouTube. This is one of his top covers, played often when he played four to six hours a day, six days a week to make a living.

5

"Something Like That"

Charles Kelley and Brett Young

Near the end of ever You Look Good Tour stop, Young would join Charles Kelley of Lady Antebellum for this almost too fun cover. The friends at times seem to be horsing around more than performing, but who's complaining? This Tim McGraw cover song wins for energy!

4

"I Like It, I Love It"

Scotty McCreery

We actually have no idea if Scotty McCreery's cover of McGraw's "I Like It, I Love It" is any good because the fans scream every word louder than he can belt it. One has to believe their cheers were sincere.

3

"Real Good Man"

Josh Gallagher

Josh Gallagher was a Season 11 finalist and this cover of McGraw's "Real Good Man" helped him get there. It's hard to deny Gallagher replicates the ethos of the country-rocker.

2

This deep-cut cover of McGraw's "Red Ragtop" came in 2017, and while it was the first time he'd performed the song, his command of the stage covered any blemishes. Lynch hangs his hat on the understated nature of this oldie.

1

"It's Your Love"

The Girls of Song Suffragettes

Song Suffrattes singer and Taste of Country RISERS artist Kalie Shorr holds down a complicated acoustic cover of McGraw and Faith Hill's "It's Your Love." Without lights (the power went out) this five some carry the same tune through to it's emotional end.