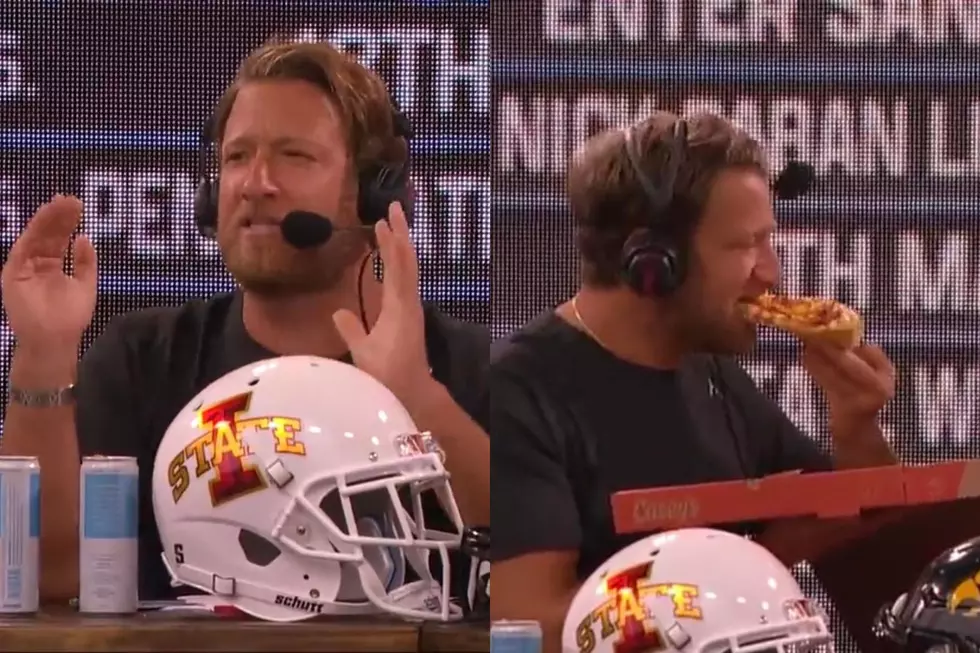 Barstool Sports Guy Says This Iowa Pizza Is 'Better Than Trash'
Dave Portnoy @stoolpresidente (via Twitter)
Barstool Sports is your home for all your sports needs. From college football to the NFL, Barstool Sports has your entertainment for the entire season. They also provide reviews of their favorite things...like pizza.
If you're a fan of Barstool Sports, then you have to know the fury Barstool Sports President Dave Portnoy causes just after eating pizza. Dave Portnoy ranks pizza from across the country on his legendary Pizza Reviews. He knows how good a pizza is just after one bite. That's the rule.
Last year during the second week of the college football season, Barstool Sports made an appearance in Iowa City, Iowa on Saturday. They caught all the action of the big Iowa and Iowa State game. Despite the tough Iowa Hawkeye loss, Dave Portnoy and the Barstool Sports crew brought the party to an Iowa bar. However, fans wanted revenge not just on the Iowa State Cyclones...but on Dave Portnoy.
A few years ago, Dave did one of his Pizza Reviews for a well-known Iowa gas station known for its breakfast pizza. Let's just say Dave wasn't too kind the first time he reviewed Casey's breakfast pizza.
"My Casey's pizza review is one of the more controversial reviews because the breakfast pizza...it was terrible! And everyone in Iowa was like 'Casey's this and that.' Listen, it's gas station pizza. That's what it is. You gotta be fair."
Dave was in a good mood and decided to try Casey's breakfast pizza again. Except this time, Casey's brought him the new Ultimate Beer Cheese Pizza for him to try in front of a live audience. Here's the full Twitter video of his reaction and review:
Dave Portnoy gave his honest review and ranks this pizza as a 4.9. Yikes. This is what he has to say about this pizza on his latest Pizza Reviews:
"It's better than the trash I had last time. I did Airliner pizza today and that was way better than this. No offense. Listen, it's breakfast pizza at a gas station it can't be that good."
Harsh...what do you think about Dave Portnoy's latest review on the new Ultimate Beer Cheese Pizza from Casey's?
Dives Worth a Drive in South Dakota, Iowa and Minnesota
Almost every small South Dakota town has a watering hole. It's where the locals go to kick back a few brews and engage in conversation.
Some of these establishments are located in
buildings almost as old
as the town itself. There might be a fresh coat of paint on the walls or new vinyl on the booth seats, but the ambiance is still reminiscent of a good ol' dive.
If you think a "dive" is all about the sketchy clientele, the smell of the Devil's lettuce, and stale
Grain Belt
, you'd be wrong. Not
every
dive has a bad reputation.
What makes a dive, a dive?
A dive has character. Neon beer signs and local memorabilia adorn the walls.
You might find a pool table, dart board, and a few video lottery machines.
The bartender knows the regulars by name and they know what you drink.
Some dives don't even serve food except for bags of chips and pickled eggs that sit in a jar of brine on the bar.
Dives aren't fancy. You might see 70's-style wood panels on the walls and wobbly tables leveled with a folded napkin.
Finally, the bathrooms. The bathrooms in dives are in a class by themselves and could be a whole topic on its own.
There are several small-town dives in our area with friendly faces, cheap booze with a burn, and even really good food! We use the term "dive" in the most affectionate way.
Here are some of the best and why you should go there.
Top Things Most Iowans Were Afraid Of When They Were Kids
If you were a kid in Iowa chances are you were afraid of many of the scary things on this list. Now be honest!