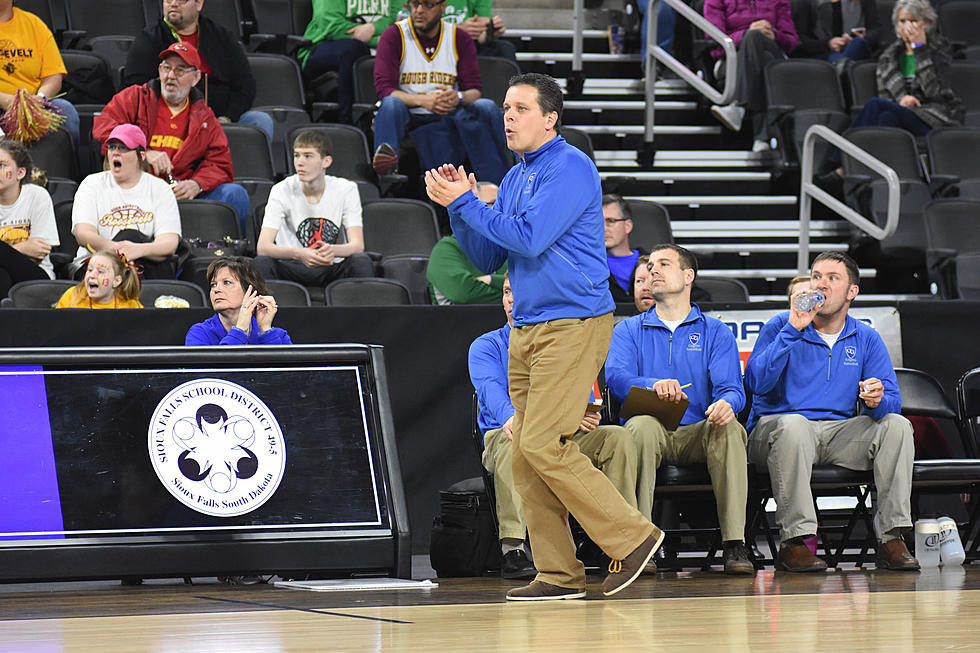 Derek Robey Sets Coaching Record for Boys Basketball at O'Gorman
South Dakota Public Broadcasting
Derek Robey stands alone on top of the record books. He now is the all-time winningest boys basketball coach at O'Gorman surpassing the record set by Mike Begeman.
Robey, who has been coaching at O'Gorman since 2005, has now won 218 games as the head coach of the Knights. He beats the former record of 217 that was held by Mike Begeman from 1987-2005.
Prior to the game I had a chance to bring up the situation to Robey. His response was pretty candid. "It just means I'm getting old," he said in the standard Derek Robey fashion.
In order to get the record on Tuesday night, Robey had to led his team in the ultimate twist of fate. His opponent on Tuesday night was the team's biggest rival in Roosevelt, who is coached by Mitch Begeman.
Yes, Mitch is the son of Mike.
Yes, Robey beat Mike's record by defeating Mike's son Mitch.
Robey had to direct his team to a come back victory against the Rough Riders. O'Gorman jumped out to a 2-0 lead right away, but after that Roosevelt led almost the entire way. The Rough Riders held a 12-point lead halfway through the third quarter.
It appeared that Roosevelt was on the verge of victory, but the Knights continued to chip away. O'Gorman outscored Roosevelt 24-12 in the 4th quarter and secured the lead with nine seconds left. The Knights went on to win 48-45.
Another chapter was written in the classic Roosevelt/O'Gorman series on Tuesday night, but a historical mark was also set. For Robey, this is just a number but his impact on the O'Gorman Knights will forever be enshrined in the record book.