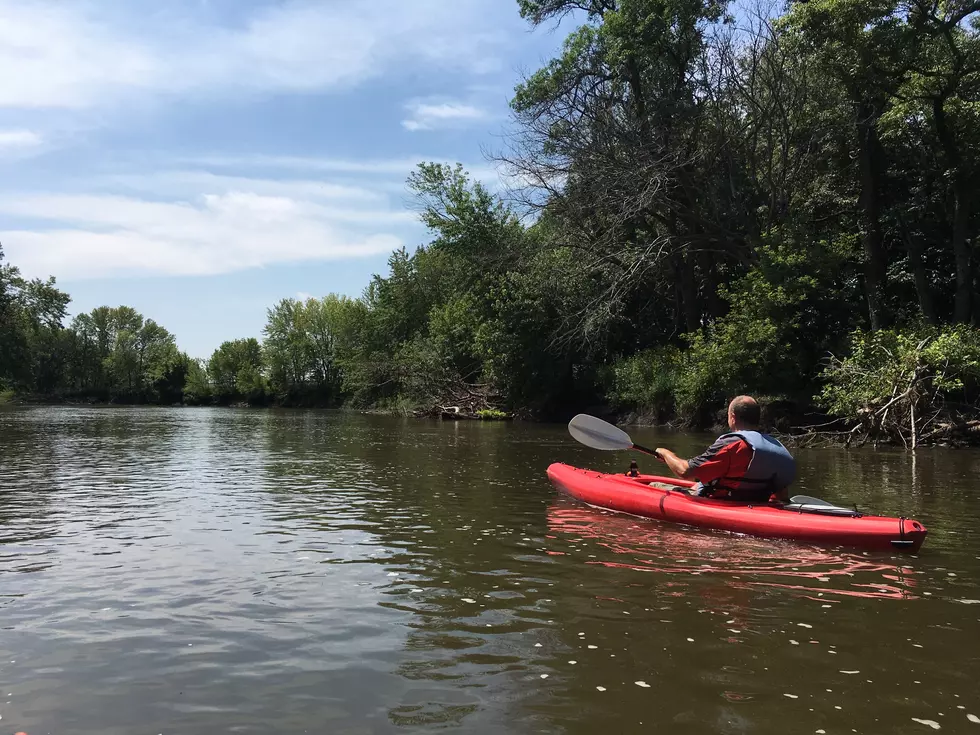 The Perfect Summer Day, Kayaking in Trent South Dakota
Beth Warden/Results Radio
If you want to have some fun kayaking on the Big Sioux River without the hassle of buying and towing your own kayaks, life jackets and arranging for drop off and pick up points on the water, The River of the Double Bend's Campground in Trent has all the details covered for you.
For only $25 per person for the choice of routes from two to eight hours on the water, we opted for the four hours estimated length. Autumn Kierkegaard took our reservation, welcomed us to Trent and had the bus ready for us, with the trailer of kayaks hooked up and ready to go.
The bus trip was short, only five and a half miles on the roads, but the water winds 12 miles through the same area.  Autumn shared stories of her parents, the history of their family campground and the love of the water on the drive.  She gave me a few first-timer tips, helped with the life jacket, got us in our kayaks and gave each of us a nudge onto the river.  I called back to her with thanks and laughed as I said, "If we don't show up later tonight, come looking for us!"  She laughed and replied that she certainly would.
The water was easy to navigate and held new discoveries around every bend.  The time frame is only an estimate, and you can stop at a sandbar anytime to take a break or stretch your legs.
I could write a thousand words to try to describe the beauty, the serenity, and the amazing sounds of various birds echoing across the water.  There's just no way to truly describe how amazing the experience was, but just to say you have to go!  I can't imagine you'd be disappointed.
Call to reserve your time with River of the Double Bend, 605-428-5472.  Leave a message if you get their voicemail and they'll call you back.
Bring sunscreen, bug spray a couple of towels, a hat, coat, beverages, snacks, paper towels and hand sanitizer.
Protect your stuff by putting them in plastic food bags, waterproof protectors for your cell phone.
Consider how you can keep things afloat if they fall in the water.  I got a float for boat keys and attached them to the cell phone pouches, and put empty water bottles in my coat pockets to keep it buoyant if it fell in.
Slow down and take your time.  Soak up the beauty and feel yourself relax as you enjoy the ride.
---