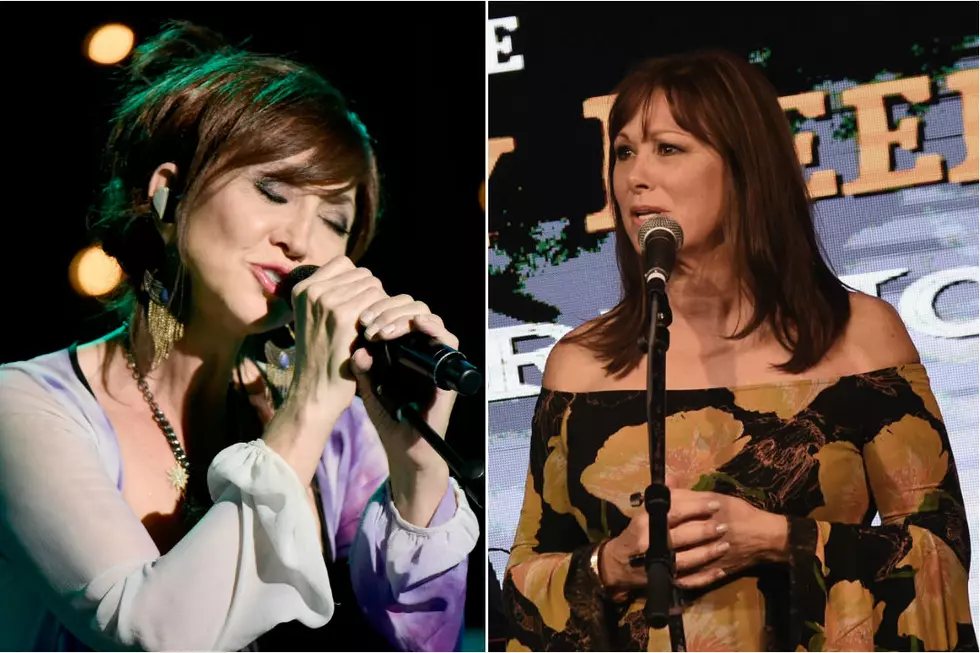 Suzy Bogguss Recalls Pam Tillis' Spontaneous Chicks With Hits Tour Pre-Show Haircut
Frederick Breedon, Rick Diamond, Getty Images
Ever since the outset of Suzy Bogguss' career, she has enjoyed the friendships she shares with her peers and fellow artists. "There was not a competition, there was a camaraderie -- like, 'I love that song you have out right now! I wish I had that song and you had a wart!'" the singer jokes to The Boot. "It was fun, and there was so much of that."
In fact, there still is: For more than a year, Bogguss has been teaming up with Terri Clark and Pam Tillis for the Chicks With Hits Tour. Although each of the trek's participants has a very different style, their friendship has made for a number of memorable moments, both on- and offstage.
"Both of them are a stitch," Bogguss relates. "Terri gets up bright and early in the morning, and she's like, into her phone and into a cup of coffee. Pam wakes up, and she's a Southern girl, so everything's slow. She's in her pajamas until 10:30, having a nice cup of coffee, nice and slow, and telling stories. She's sitting there in the craziest pajamas, the craziest outfits, telling stories. I'm being entertained every day."
Not only is Tillis funny, Bogguss adds, but she's not afraid to take risks. "One time, we were playing in Oregon, and it was like, five o'clock. The show was at 7:30, and we were having dinner," she recounts. "This little gal comes over to help us, and she's got all the food, and Pam says, 'Oh my God, I love your haircut. Did you get your hair cut here?'"
The waitress responded that she had, and that the hairdresser who had done it was a friend of hers. "Pam was like, 'Oh my gosh, do you think she'll cut my hair?' And I'm thinking, 'When is this gonna happen? After the show?'" Bogguss continues. "But Pam goes, 'Call right now and see if she'll squeeze me in.'"
Tillis hurried off to make a cut-and-color appointment before the show. Ten minutes before the gig was supposed to start, she came screeching into the venue with a brand-new hairdo. "Terri and I are just like, 'Oh my God!' I could never do that," Bogguss admits. "And we were in a small town! It wasn't like this was a big salon. But she went, 'Well, I love [the waitress'] haircut, so she's gonna take good care of me.' She's so trusting!"
The fun will continue, as Clark, Bogguss and Tillis' Chicks With Hits Tour is set to extend through the fall of 2019.
Modern Country Music's Female Trailblazers