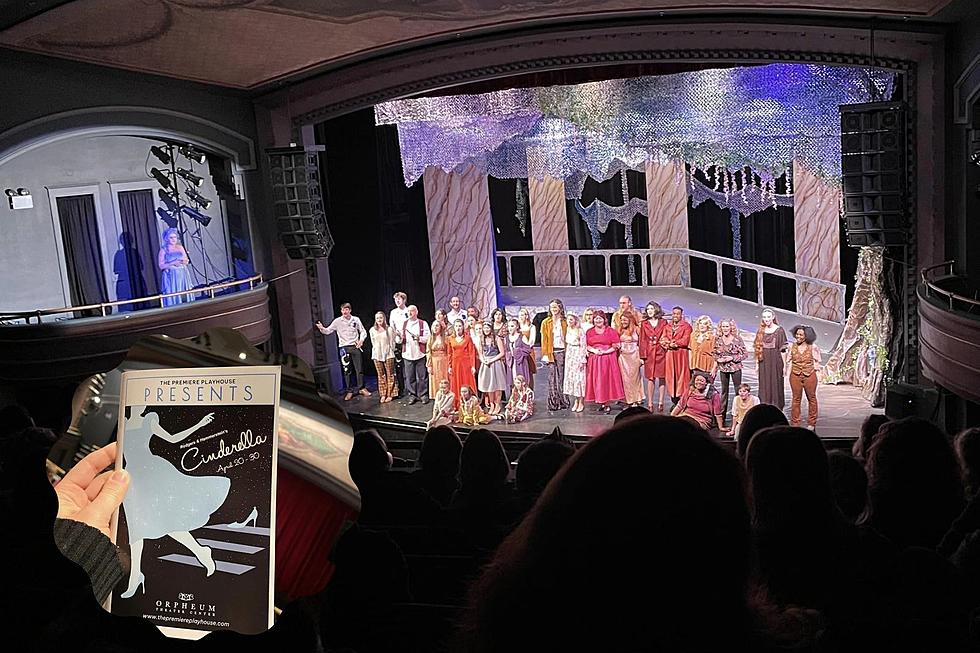 Sioux Falls Play Review: Premiere Playhouse Presents 'Cinderella'
Christine Manika (TSM), Canva
Sioux Falls is full of talented actors and actresses. There are plenty of opportunities to witness these brilliant performers. The Premiere Playhouse is one company that showcases local actors and actresses through various productions.
Each year, The Premiere Playhouse performs new shows that differ every season. In its 20th season, The Premiere Playhouse will bring to life a total of five shows and musicals. One of the shows happening right now at the Orpheum Theater is Rodgers & Hammerstein's Cinderella.
Everyone knows the classic story of Rodgers & Hammerstein's Cinderella. But this story from The Premiere Playhouse has a "groovy" twist...the story is set in the 1970s! The story shows off plenty of funky styles and vibrant colors, advocates for peace and love, and radical songs. Managing Artistic Director for The Premiere Playhouse Oliver Mayes explains:
"This groovy, intergenerational production is the true definition of community, Throughout our process, I have witnessed an inspiring level of collaboration and teamwork among a large theatre community to bring a familiar fairytale to Sioux Falls audiences in a new and exciting way."
This show is totally "far out!" Rodgers & Hammerstein's Cinderella from The Premiere Playhouse is one of the most creative shows I've seen in a long time.
I have never pictured Cinderella in the 1970s until I saw this show from The Premiere Playhouse. It's a great modern storyline about one of everyone's favorite princesses. The show is even better when you sing along with the music! Sidenote: Rodgers & Hammerstein's Cinderella is one of my favorite productions to see. So...I was singing during the entire show (haha).
You still have a chance to support the cast and crew of The Premiere Playhouse and go see their rendition of Rodgers & Hammerstein's Cinderella. Here are the showtimes for this "out of sight" production:
Thursday, April 27th at 7PM
Friday, April 28th at 7 PM
Saturday, April 29th at 2 PM & 7 PM
Sunday, April 30th at 2 PM
Congratulations to the cast and crew of Rodgers & Hammerstein's Cinderella from The Premiere Playhouse!
Best Bars in Sioux Falls
There is always something different to try when you visit a local
Sioux Falls
bar or brewery. There could be a specialty drink at one bar and a new beer recipe at the next. It's kind of like a smorgasbord of drinks to taste test. The only problem is deciding which bars are the best bars in Sioux Falls to explore with your family or friends?
This is a difficult decision just because there are so many great local options. Luckily, our friends at
Yelp
identified the top ten bars in Sioux Falls thanks to numerous reviews on each establishment.
The next time it's your turn to select a bar for a night out on the town, be sure to visit one of these ten bars highly reviewed by
Yelp
.
9 Sioux Falls Streets Visitors Have A Hard Time Pronouncing
If you are visiting or new to
Sioux Falls
and trying to find your way around, chances are you really don't need to pronounce street names correctly. All you have to do is enter your destination into Google Maps and your phone will show you the way.
But what if you are trying to tell someone where your cool friend or family member lives in our fine city? Some of our streets and avenues have tricky spellings that may throw visitors for a loop when trying to sound them out.
No one is going to mess up on the big thoroughfares like Minnesota Avenue, Western Avenue, or Louise Avenue but what about these?