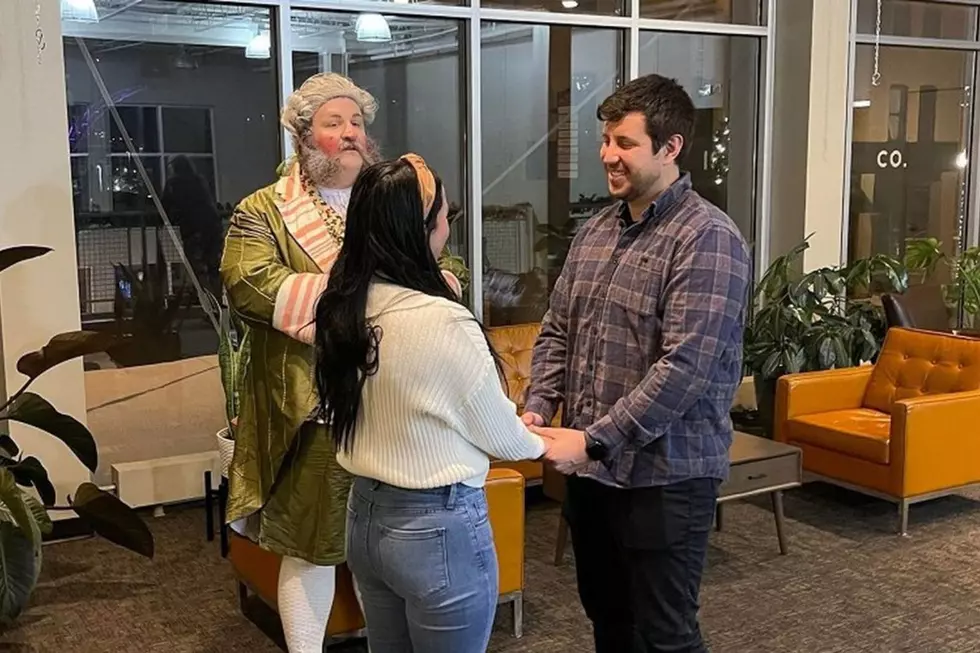 Sioux Falls Actor Runs Off Stage To Marry Local Couple
Dakota News Now (with permission)
It's always fun to go watch a musical or any production around the Sioux Empire. Sioux Falls really has talent! But little does the audience know that this talent goes beyond the stage. In one actor's case, it goes right to the lobby of the Orpheum Theater Center in Sioux Falls.
In between acts of The Premiere Playhouse's production of A Christmas Carol, one of the actors took time to marry a Sioux Falls couple during intermission on Wednesday evening. It was truly a Christmas fairytale for the couple.
Our partners at Dakota News Now is reporting that actor and wedding officiant Jake Cox married Victoria and Tyler Johnson during the intermission of A Christmas Carol. The best part? Jake stayed in character as Mr. Fezziwig while he performed the ceremony.
Jake Cox explains to Dakota News Now the couple wanted to get married on December 28th. However, due to his commitments to A Christmas Carol production, he thought he wouldn't be able to help Victoria and Tyler Johnson. Jake jokingly said they should just get married during the show. Luckily, the couple took his suggestion seriously. "Almost as a joke, I suggested they come to the play, and I'd marry them during intermission. They surprised me by immediately saying yes," says Cox.
With a little bit of Christmas magic, Jake was able to marry Victoria and Tyler in front of family members who also attended the show.
If anyone is looking to have their wedding during Jake's next show, he does own and operate Jacob Cox - Wedding Officiant business in Sioux Falls. Congratulations to the happy couple!
Best Bars in Sioux Falls
There is always something different to try when you visit a local
Sioux Falls
bar or brewery. There could be a specialty drink at one bar and a new beer recipe at the next. It's kind of like a smorgasbord of drinks to taste test. The only problem is deciding which bars are the best bars in Sioux Falls to explore with your family or friends?
This is a difficult decision just because there are so many great local options. Luckily, our friends at
Yelp
identified the top ten bars in Sioux Falls thanks to numerous reviews on each establishment.
The next time it's your turn to select a bar for a night out on the town, be sure to visit one of these ten bars highly reviewed by
Yelp
.
Road Trip-Worthy Restaurants Within 90 Minutes of Sioux Falls
Veer off the beaten path. Take a road trip and try some favorite small-town eateries. Just by driving a few miles, you could find some delicious hidden gems.
From steaks to seafood, chislic to chicken, these are out-of-the-way unexpected finds that will make your taste buds tingle.
Here's a list of 14 Road Trip-Worthy Restaurants within 90 minutes of Sioux Falls.