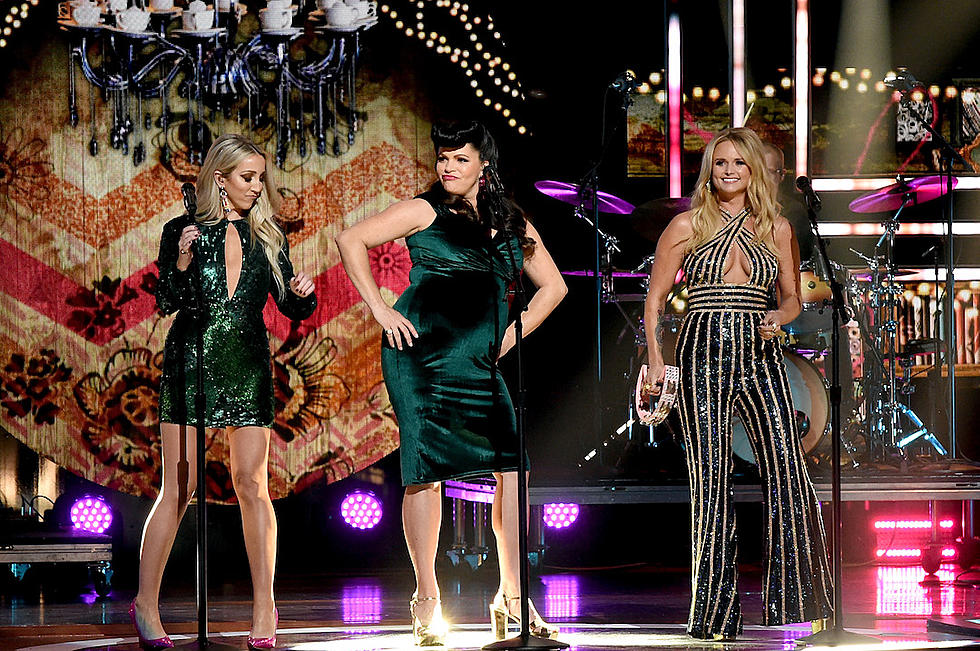 Pistol Annies' 'Interstate Gospel': 5 Must-Hear Moments
Rick Diamond, Getty Images
On Friday (Nov. 2), the Pistol Annies will debut their first new album in five years (and then some). The long-awaited record, Interstate Gospel, features 14 songs full of sass and wit, heartbreak and longing, and astute reflections of the trio's personalities.
"All three of us know all three of our secrets, more than anyone," Pistol Annies member Ashley Monroe tells The Boot of her relationship with her bandmates, Miranda Lambert and Angaleena Presley. "Because we can put our guards all the way down, it's not like a co-writing format with someone we don't know."
Among Interstate Gospel's 46 or so minutes of music are moments that will have fans chuckling, shedding a tear or two and doing double-takes. Earlier this year, Monroe characterized the track as "three girls telling our story very bravely," and while it's tempting to speculate about the stories behind these lyrics, it's more fun to listen and find yourself in them.
As fans take their first listens to Interstate Gospel, these five moments are particularly worthy of attention.
The Andrews Sisters-Inspired Interlude in "Got My Name Changed Back"

Near the end of Track No. 7, the let's-have-some-fun-with-divorce romp that is "Got My Name Changed Back," Lambert, Monroe and Presley drop into an old-school harmony reminiscent of World War-era swing groups such as the Andrews Sisters. Monroe tells The Boot that the sisters were among the musical ghosts she and her bandmates were hoping would inspire them when they were writing Interstate Gospel.

"We had been telling the Andrew Sisters, the angels of 'em, to come onto our record," Monroe recalls. "We wanted to do an Andrews Sisters part. That was the last song we expected them to pop up on!"

The Admiration in the Lyrics of "Cheyenne"

"She lives for the nightlife and trashy tattoos ... She finds plenty of pool table cowboys to hold her ... She knows how to make him wild in the eyes ... I bet she won't even cry when it's over." Cheyenne is the girl who will never get her heart broken, because she won't let herself get her heart broken.

Everyone knows a Cheyenne, and most of us wish we could be a Cheyenne. The song comes from a place of awe -- "Oh, if I could treat love like Cheyenne," the Pistol Annies harmonize in the chorus -- and yet, listeners will likely both admire and pity her. For her part, Lambert tells the Tennessean that she can find herself in both Cheyenne and the song's narrator.

The Personality Dropped Into "Sugar Daddy"

Are you Hippie Annie, Holler Annie or Lone Star Annie? Just as Sex and the City fans can quickly tell you if they're a Carrie, a Charlotte, a Miranda or a Samantha, Pistol Annies fans have most certainly thought about which Annie is their spirit Annie -- largely because of songs such as "Sugar Daddy."

"There ain't a damn man in Dallas / Who wouldn't put a ring on my hand," proclaims Lambert. "My sugar daddy's got chrome on his bike ... He's as wild as a buck," adds Presley, before Monroe lets loose: "I can call 'em down from the mountain / I can leave 'em high on the hog / I'll let him drink from the fountain / Leavin' 'em wantin' more like a boss."

"You get to see a little bit of our personalities in this song, and what we like in boys," the Pistol Annies say in an Instagram post about this song. "It's fun to play with your sexuality and the power that you have as a woman."

The Vocal Solo in "Milkman"

One of Monroe's favorite parts of Interstate Gospel comes on its 10th track, "Milkman." Leading into their recording session, the Pistol Annies knew they wanted some sort of harmony on the track, but they couldn't decide which of them should sing what."So [our producer] Frank Liddell, he muted each of us in our ears, so we could only hear ourselves," Monroe recalls to The Boot. "We didn't know what the others were doing ... So we just felt it out."

Then, Liddell put the three vocal parts together. "It was like three different puzzle pieces coming together, but still very different," Monroe adds. "I get deep chills every time I hear that part ... one of my favorite moments on the record is when that happened."

The Absolute Heartbreak of "Masterpiece"

This achingly gorgeous song compares a relationship to an artistic masterpiece, a rodeo and a country song. A beautiful, slow melody accompanies it, and near the end, a lonesome whistle accentuates the lyrics' longing.

"Who's brave enough to take us down? / Who's fool enough to lose the crown?" goes the chorus. "Maybe just another thing they'll all forget about / They'll be standing around laughing / Like nothing ever happened."

Lambert turns in the vocal performance of a lifetime on "Masterpiece." It's a song you'll find yourself playing over and over.