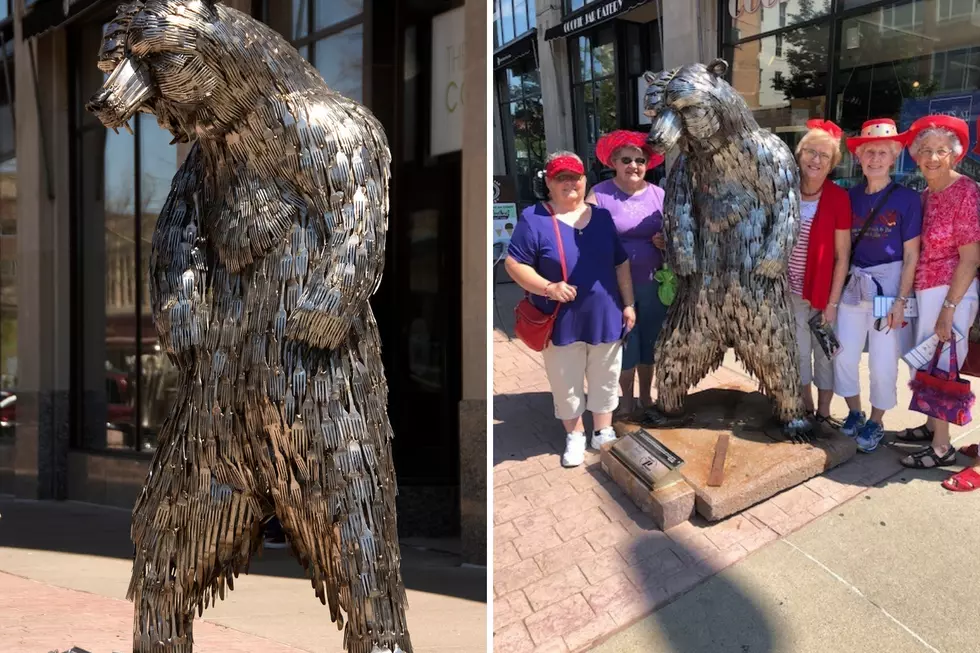 People's Choice Winner Announced for SculptureWalk Sioux Falls
SculptureWalk Sioux Falls (by permission)
The annual SculptureWalk People's Choice award has been announced and we can bearly stand it! The award goes to the artwork entitled Bear Lee, Standing. He's the guy you see at 11th and Phillips in Downtown Sioux Falls crafted from stainless steel cutlery.
Although he's mostly created from forks, look closer and you'll find knives too, all carefully crafted by Ohio artist, Gary Hovey. What you may not know is that Hovey's creations are a part of him pushing the limits in his battle with Parkinson's disease. Hovey has two sculptures in Sioux Falls this year, the second in front of the Phillips Avenue Diner, Girlilla, and Tiney.
"That minute in May when I saw Bear Lee, Standing come off the truck, I know we had another very special sculpture in a very special year," said SculptureWalk's Jim Clark. "Gary Hovey is an inspirational artist and we are thrilled to have him as a new artist with SculptureWalk and a part of Sioux Falls."
"This 15th annual exhibit of sculpture was arguably our best ever and it showed with not only the quality of the art but with the number of visitors and ballots we had returned," said Clark. "Every year the votes are close, and this year was no exception, the People's Choice Award puts a wonderful exclamation point on this special year and exhibit."
Started in 2004, SculptureWalk has exhibited 777 sculptures showcasing artists from across America, 10 countries and 4 continents.