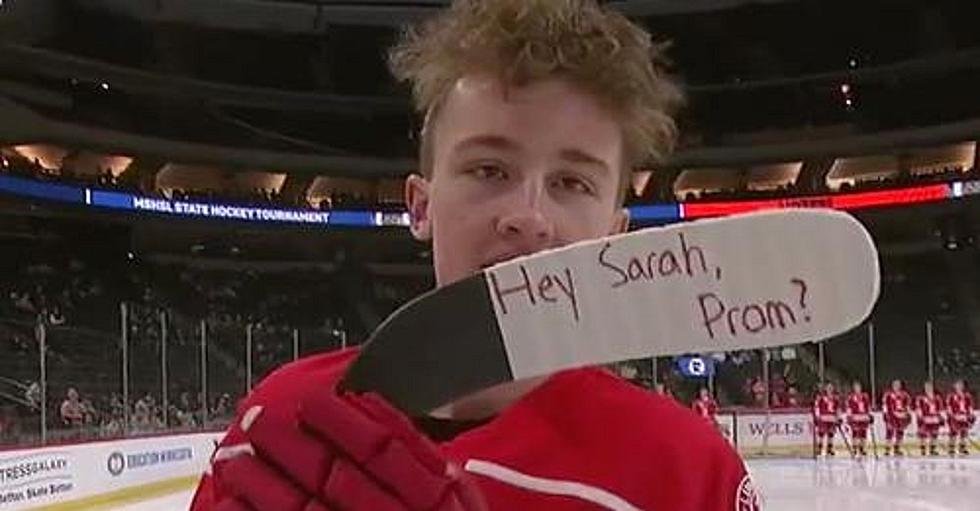 Luverne, Minnesota High School Hockey Player Goes Viral With Hockey Stick 'Promposal' On Live TV
Creative "Promposal" / Photo Credit: Credit TV45
Wednesday, March 8 was the start of the 2023 Minnesota boys state high school hockey tournament and while the games are often memorable, there are always other reasons to tune in every year.
For example, every year people look forward to the pre-game introductions so they can see who has the best hockey hair. Of course, the players also take advantage of this brief screen time to greet family, friends, and whoever else may be watching.
However, I don't think we've ever seen a player be creative enough to use their screen time to ask a girl to prom, but that's just what Luverne senior forward Brady Bork did ahead of his team's Class A quarterfinal game against the Hermantown Hawks.
Brady raised his stick to reveal his short and sweet "promposal", simply writing "Hey Sarah, prom?" on the tape wrapped around the blade of his stick.
Not surprisingly, the moment went viral very quickly as people want to know who Sarah was and what her answer would be. Shortly after Twitter and other social media blew up, Sarah let everyone know what her answer was.
Since then, Brady and Sarah have been swarmed by all forms of media, all of which were more than happy to share their cute story.
As for the game itself, Luvrene went into the tournament as an unseeded underdog and the No. 2 Hermantown Hawks jumped out to an early 3-0 lead before coasting to a 6-0 opening-round victory.
However, that certainly doesn't take away from Brady and Sarah's excitement for their upcoming prom or the fun we all had getting to see his "promposal" on live TV.
KEEP READING: Here are 50 of the most famous sports goofs
LOOK: Biggest underdog victories in March Madness
Every spring, legions of sports fans turn their attention to college basketball when
March Madness
takes the national spotlight. Using aggregated Associated Press data, BestOdds has come up with 10 of the biggest—and most unlikely—underdog wins in March Madness history.